Freedom Appeals To Cruising Families
By Nancy Schretter, Editor
Choosing the right vacation destination can make or break a family vacation. It's important to pick a venue that provides a wide variety of experiences so everyone can find something they will enjoy. With differing travel styles, particularly when dealing with teens and multigenerational groups, it's also important to build opportunities for freedom and individual experiences into the mix. That is why cruising is such a great choice for family vacations.
Cruising offers families a wide variety of things to see and do, both on land and at sea. In addition, family members can enjoy the freedom of doing their own thing – coming back together at meals to share their stories. Rather than a forcing the same vacation regimen on everyone, daily schedules can be adjusted based on individual travel styles and interests.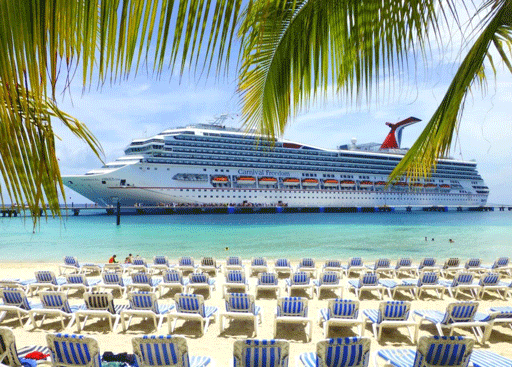 When considering a family cruise vacation, it's important to pick the right ship. Some are particularly well designed for family needs. Take the aptly named Carnival Freedom, for example. This ship has something for every age group and interest, plus it provides plenty of opportunities for family members to enjoy their vacation both together and apart.
Here are ten features that make the Carnival Freedom a great choice for families and multigenerational groups:
1. Family-Oriented Seuss At Sea Program. As part of an exclusive partnership with Dr. Seuss Enterprises, Carnival Cruise Lines has launched Seuss At Sea – a series of shipboard family focused dining and entertainment experiences. "Our guests can participate in many of the activities as a family and that is what makes the Seuss themed experiences so meaningful," says Lania Rittenhouse, VP of Product Development at Carnival Cruise Lines. Children and parents will enjoy participating in the Seuss-a-palooza Character Parade and Seuss-a-palooza Story Time. Another feature of Seuss At Sea is the Green Eggs and Ham Breakfast with the Cat in the Hat and Friends. In addition to amazing food, beloved Dr. Seuss characters such as the Cat in the Hat, Thing One and Thing Two, and Sam are available for interactive meet & greets and photo opportunities. The nominal $5 per person charge for this character breakfast is an excellent value and a good fit with the average family's vacation budget. Dr. Seuss movies and themed photo opportunities are also available during the cruise.
2. Seuss Themed Bookville Area. Parents love to encourage their children to read. Bookville, currently available only on the Carnival Freedom, is the perfect place for parents to read with their children and play together. "The whimsical furniture and 3D characters really make the space come to life," says Carnival's Rittenhouse. An extensive array of Dr. Seuss books, toys and related games are available here. Parents of little ones particularly enjoy reading and playing in this space with their kids, but adults come in to rediscover their Dr. Seuss childhood favorites, too. "Dr. Seuss is an iconic brand – everyone remembers reading Dr. Seuss books as a child," says Jim Berra, Carnival's Chief Marketing Officer. According to Berra, the brand partnership with Dr. Seuss Enterprises that launched Bookville and Seuss At Sea gives parents "an opportunity to relive their childhood with their own children as they participate in the program."
3. Awesome Camp Ocean for Kids. Great children's programs are entertaining for kids and also provide parents with some much-needed freedom on vacation. Carnival's new Camp Ocean program is focused on children ages 2 to 11 and is divided into three groups: Penguins for ages 2-5; Stingrays for kids 6-8; and Sharks for ages 9-11. Each age group has its own separate room within Camp Ocean plus there's a cool party & multipurpose room in the middle. Carnival listened to its guests and consulted with a group of toy inventors, gaming specialists, academics, media and moms in designing this new marine-themed program. "Their work evolved into the 200-plus ocean themed activities that we have rolled out thus far," says Rittenhouse, "including the Badge Challenge, which is a brilliant way to integrate learning in a fun way." Camp Ocean's hours typically last from 9 a.m. to 10 p.m. daily. On port days when shore excursions leave early, Camp Ocean opens in advance to accommodate parents who want to let their children stay onboard and play with their friends while they go exploring. Kids can also have dinner with the youth staff in the evening, giving parents the opportunity for a romantic night out.
When Camp Ocean programs end at about 10 p.m., Carnival's late night fee-based children's programming gets underway. Camp Ocean's Night Owls group babysitting service is designed to be a fun-filled slumber party at sea complete with activities. The Night Owls program is available from 10 p.m. to 3 a.m. nightly during the cruise. Different children's late night parties offered on certain nights during the cruise. Unlike many other cruise lines, children do not have to be potty-trained to participate in Camp Ocean or Night Owls – a big Carnival plus for parents.
4. Hip Tweens and Teens Clubs. Tweens and teens crave independence on vacation. Parents generally are willing to oblige, as long as they feel comfortable with their safety. Tweens and teens have their own expansive, well-designed areas on the Carnival Freedom. All events and activities in these spaces are free of charge and are supervised by dedicated directors and trained counselors who know how to make things fun, safe and cool. Club O2 caters to older teens ages 15-17 and has a hip nightclub feel. Tweens ages 12-14 congregate at Circle C, a dedicated club-type space devoted to this age group. As part of their club activities, teens can hang out with friends and listen to music, play video games, watch a movie, enjoy dance and pool parties, participate in special events, and so much more. Tweens, teens and parents alike rave about the programs on the Carnival Freedom. "It gives them the freedom they desire and the level of control I need," said one mom, "plus I get to enjoy a little time for myself."
5. Babysitting Options for Little Ones. Carnival knows parents of wee ones need to enjoy some free time, too. That's why the cruise line has set aside specific hours when the Camp Ocean Youth Staff is available to take care of kids ages 2 and under. On days at sea, parents can leave their children under 2 with the camp's Youth Staff from 8-10 a.m. for a nominal fee. The Camp Ocean facilities are also exclusively available to parents and children under 2 during those hours. If parents would like to stay and play with their children in the Camp Ocean facilities during that time period, they can do so free of charge. During days when ships are in port, Camp Ocean's care for children under two starts 15 minutes before the first tour until 12 noon, or from 1-5 p.m. for ships arriving in port after noon. Camp Ocean is only available for drop-off care on port days. To take advantage of all that the ships offer, parents can let their kids participate in Carnival's fee-based Night Owls program. Parents of little ones under 2 should be aware that children ages 2-11 will be participating in this program, too. Pillows and blankets are available for sleeping and Pack & Plays are provided for little ones.
6. Entertaining Family Events. If your family loves family game night, competitions and winning prizes, Hasbro, The Game Show is the place to be. Families can participate in games including SORRY! SLIDERS, SIMON FLASH, YAHTZEE BOWLING, OPERATION SLAM DUNK, and CONNECT 4 BASKETBALL. For guests who enjoy outdoor entertainment, the Carnival Freedom features a huge LED flat screen that overlooks the pool, offering "Dive In Movies" and shows. There are even G-rated Punchliner Comedy Club shows for families who want to laugh together. To cap it off, head over to Cherry on Top, a retail boutique featuring huge bins of colorful candies, specialty sweets, gifts and more.
7. Rockin' Spaces for Young Adults. Traveling families come in all shapes and sizes, and many families who cruise include those with young adults. The Carnival Freedom is a great vacation choice for this age group because it delivers lots of nightlife, fun bars, cool entertainment options, and high-energy onboard excitement. Don't worry, they won't be bored. The fun on the Carnival Freedom doesn't stop at 10 p.m. on the Carnival Freedom - after all, this is a Fun Ship! Trained by the award-winning DJ IRIE, the Carnival DJs can be found keeping the late night action going around the ship. The late night Punchliner Comedy Club Presented by George Lopez is another favorite with young adults. For those over 21, the Carnival Freedom features branded bars with lots of personality including the RedFrog Rum Bar, the BlueIguana Tequila Bar, EA SPORTS Bar, Alchemy Bar, and the ever-popular RedFrog Pub.
8. Adults-Only Serenity. Carnival gets that adults-only time is important on vacation. If you're looking for a place to relax while the kids are at Camp Carnival, Serenity offers just the place. Located at the front of the ship, Serenity is a quiet area just for adults and is complete with hammocks, comfy cushioned loungers and chairs, and whirlpools. Enjoy the views up here - they're fantastic. Admission to this area is free on Carnival ships, unlike on some other cruise lines.
9. Experiences Parents Love. Vacation fun isn't just for the kids – it's for parents, too. The Carnival Freedom offers adults tons of venues and branded experiences for nightlife with fun bars, cool entertainment options, and high-energy onboard excitement. Sun King Steakhouse, a classic American steakhouse, is an exceptional specialty restaurant and an excellent choice for a Parents' Night Out. Nighttime entertainment is great on the Carnival Freedom, too. The ship's new Playlist Productions, shorter high-tech revue-type shows combining music with fashion and dance, feature popular artists and themes like Heart of Soul, 80's Pop to the Max, Getaway Island, and 88 Keys: The Rock n' Roll Piano Show. The late night Punchliner Comedy Club Presented by George Lopez is another favorite with adults.
10. Free Branded Dining Venues. Families can get bored eating in the main dining room night after night on their cruise vacations. That can lead to a big specialty restaurant bill on some cruise lines, but not on the Carnival Freedom. This ship features a number of free and low-cost specialty dining options that are great for families. Developed in partnership with Food Network star Guy Fieri, Guy's Burger Joint serves up free burgers and fries poolside. On the other side of the pool deck, BlueIguana Cantina offers complimentary tasty burritos and tacos along with a large fixings bar. Both get rave reviews.
To see the Carnival Freedom's family friendly venues and experience a Freedom Caribbean cruise vacation through pictures, check out this Pinterest board.
If You Go:
For more information about Carnival Cruise Lines and the Carnival Freedom, visit www.carnival.com.
Copyright 2014. Beacon Group Holdings, Inc. All Rights Reserved.