Mount Sunapee: New Hampshire's Hidden Gem
By Jeff and Stephanie Sylva
The ski season started off with a bang this year, as Mother Nature draped the Northeast with a blanket of snow on several occasions. Skiing families should make plans for the rest of the season, as the outlook appears even better. Most ski areas have had plenty of cold nights and have added their own snow to Mother Nature's, creating a deep base that should carry them well into the spring. We just experienced what we would consider a great destination for skiing families – a ski resort that most people don't immediately think of when considering Northeast ski areas. Mt. Sunapee in southern New Hampshire may not have the star power of the bigger ski resorts, but it just may be a perfect place for families that love skiing but don't need all the frills of a big mountain resort.
A Great Family Ski Destination
What makes Mt. Sunapee so good for families? Let's start with the family programs and facilities. If you're a family that is just beginning to ski and you want to learn to ski or ride and enjoy the mountain together, Sunapee has the right program and learning area for you. Families First, which received a national award from the National Ski Areas Association, allows families (individuals ages eight and up) to learn how to ski and snowboard together in the same class. If there is a mix of skiers and snowboarders, then two instructors are assigned to the family. Peter Ettenborough, a Mt. Sunapee ski instructor, says, "With a family, everyone is comfortable with each other. The parents know the kids are safe, and the kids know their parents are right here, so their confidence level is higher."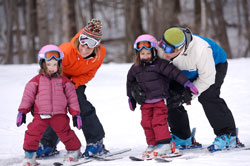 Another innovative family offering is the Tag-A-Long Lesson. This private lesson for three- and four-year-old children allows one parent to "tag-a-long" with the child and the instructor so he or she can learn some of the techniques that are used to teach three- and four-year-olds how to ski or snowboard. "Parents want to be involved in teaching their children, says Maura Gorman, director of the Learning Center, "and the Tag-A-Long program will help them be successful." For all the years that we have been skiing, we have never come across such family-centered ski programs like these.
Instrumental in Sunapee's commitment to making skiing an enjoyable experience for the family is the Children's Learning Center located at the base of the South Peak Learning Area. This state-of-the-art facility, built in 2003, puts all programs for children ages one to seven under one roof. The Mother Goose Childcare for children ages one to five offers attentive childcare in a bright, well-equipped room in the Learning Center. Three- and four-year-olds can even have a lesson. The Learning Center also is home to half-day and full-day Snow Stars instructional program for children ages four through seven. The Learning Center also houses a children's rental equipment shop and the registration desk for all children's programs. This makes for one-stop ski instruction or daycare for the kids – a big plus for the adults!
In addition to these children's instructional programs is the Mountain Explorers program for children ages eight to twelve.
The Perfect Place To Start
For those who are just starting their hill sliding experience, Mt. Sunapee is the perfect choice to learn to ski or snowboard. From the special equipment to the unique programs and perfect terrain, Mt. Sunapee will do everything it can to get you on the slopes and skiing or riding with confidence. First, the beginners' area is one of the best designed that we have seen. The 13 trails and slopes and five lifts of the South Peak Learning Area are all self-contained to this area. That means beginners are skiing or riding with beginners, and the intermediate and advanced skiers are on the adjacent main mountain. In addition to two easy-to-ride carpet lifts, there is a slow-moving quad chairlift. This makes getting on and off the lift – a harrowing experience for many beginners – into an easy and less intimidating task.
Mount Sunapee's Get Into Skiing and Snowboarding program includes everything a beginner (ages 13 and up) needs to get started on the slopes. The program includes an introductory ski or snowboard lesson, specially designed skis or snowboard that facilitate the learning process, and unlimited use of the South Peak Learning Area for $75 for the first day. Day-two and day-three "Get Into…" packages are just $37.50 per day. Those who complete a "day-two" package are entered to win one of ten complete equipment packages and "day-three" graduates receive a free Flex Card good for discounts on lessons and lift tickets for the remainder of the season.
Great Trails, Great Snow
Mt. Sunapee may be a perfect place for beginners to get started in this great sport, but it also works well for families who already know how to ski. With 65 trails in all, 10 lifts and a vertical of 1,510 feet, there is plenty of mountain for more accomplished skiers and riders to explore. While Sunapee may not have the ultra challenging trails of the more northern resorts, it does have its share of steeps, gladed trails and plenty of great cruisers. And for that matter, what is probably the single-most important thing on the mountain for most skiers? It's the snow, of course. This is where Mt. Sunapee excels. For the last two years in a row the SKI Magazine Reader Survey ranked Mt. Sunapee with the best overall snow surfaces in the East. Ranking #1 in the East for grooming (#2 in North America) and #2 in the East for snow quality. Sunapee simply has great conditions nearly all the time.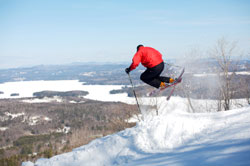 Great trails, great snow – what more could skiers want? Let's talk about fabulous views. The summit offers a 360-degree panorama of the White Mountains, the Green Mountains, and some of New Hampshire's most picturesque natural beauty; a number of the trails provide stunning views of Lake Sunapee. This natural beauty and the fact that Sunapee, located in a state park, has resisted the urge of over-development, are what make this ski area different from others – what make it New Hampshire's "hidden gem."
The Uncomplicated Mountain
Mt. Sunapee doesn't have the slopeside condos or the base village of many of the more well known resorts. What is does have is great skiing in a comfortable atmosphere. Sunapee makes it right by keeping things simple and uncomplicated. This isn't say that the resort isn't into a little pampering for the guest. Located in one of the two base lodges is the Hearthstone Room, a VIP day lounge where parties of two or more can reserve space in this intimate setting. The $30 daily fee (not including lift ticket) includes a light continental breakfast, buffet lunch, après ski appetizers, and a limited cash bar. With the slopes just steps from the Hearthstone Room, guests can take a break from the slopes whenever they feel like sitting in front of the large fieldstone fireplace in cushy couches and lounge chairs. Availability and reservation information will be posted on the website, www.mountsunapee.com. If you are able to get a group of between 20 and 30 people for the VIP lounge, the deal is unbelievable. Group rates are just $65 per person, which includes the lift ticket.
Another great feature that we saw for the first time was the "no bag left behind" policy for the lodges. One of the most frequent complaints from skiers is the clutter of bags, shoes, and coolers that people leave in the lodge to "reserve" their spots. At Mt. Sunapee all items must be stored either in cubicles, coin-operated lockers, or in the Lodge's free storage area. Guests no longer have to climb over piles of bags and shoes to find a free table to eat their lunch.
Great Skiing At An Affordable Price
While some of the bigger ski areas are approaching $100 for a weekend or holiday lift ticket, Sunapee is much more affordable for families. The top price for an adult weekend/holiday lift ticket is $64, with a young adult ticket priced at $53 and a junior ticket at $40. During the week, Sunapee's "Steals & Deals" offer some great bargains. Magic Mondays allows everyone to ski for $39; Tuesday is Ladies Day, where $44 gets ladies a lift ticket and a buffet lunch; Wednesday is "Two Fer" when two can ski or ride for $60; finally Thursday is when adult tickets are $49.
Lodging Options
Although Mt. Sunapee offers no slopeside accommodations, there are plenty of nearby options. At the base of the mountain road are the Mountain Edge Resort & Spa and its sister property, the Best Western Sunapee Lake Lodge. Mountain Edge is both a luxury condominium hotel and a vacation-ownership resort of the RCI properties. The timber and fieldstone exterior and post and beam interiors present a true Adirondack atmosphere. Featuring granite counters, solid rosewood furnishings, fireplaces, and high-speed Internet service, the one and two bedroom suites offer families a luxurious lodging option. A one-bedroom suite with a living room and separate den starts at $309 per night. We spent just one night at Mountain Edge, but wished we had more time to enjoy the indoor family pool, the indoor lap pool, and the indoor and outdoor hot tubs. We also would have enjoyed the opportunity to pamper ourselves in the resort's spa. Offering a wide range of spa treatments in a warm and soothing atmosphere, the Spa at Mountain Edge will make you feel like royalty. Mountain Spirits Tavern is located onsite and is a good choice for dining. For more information about rates and accommodations call 1-877-468-3343 or visit www.mountainedgeresort.com.
Just across the street from Mountain Edge is the Best Western Sunapee Lake Lodge, a 55-room hotel that includes an indoor pool, sledding hill, and lighted outdoor ice skating area. Rooms start at $59 midweek. There is also direct access to groomed snowmobile/X-country ski trails. Steps away is Digby's Steakhouse and Saloon. For more information call 1-800-606-5253 or visit www.sunapeelakelodge.com.
Another good lodging choice for families is the Sunapee Harbor Cottages, which are located on the shores of Lake Sunapee just three miles from Mt. Sunapee. Each of the 6 cottages is tastefully appointed in true "cottage style" with warmth, charm, and character. Don't get the idea that these are some musty country cottages. These cottages are quite charming. Each cottage has a gas stove that invites guests to snuggle up and warm their toes after a day of skiing. Each cottage also has a front porch with a gas grill, perfect for grilling dinner for the family. A visit to the website at www.SunapeeHarborCottages.com will provide you with a photo tour of the property and cottage interiors, guest reviews, and explanation of all the available amenities such as catered meals, massages, mountain ski locker, babysitting, wireless internet service, and more. Nightly rates begin at $175. For more information visit the website or call 1-866-763-5052.
A number of other lodging choices including motels, country inns, and B&B's can be found by visiting www.mountsunapee.com and clicking on the lodging & dining link. All of the lodging choices offer Stay & Ski packages.
Activities Off The Slopes
On those days that the family is looking for a rest from skiing, there are plenty of choices for winter activities. Ice skating is available at a number of public skating areas, such as those in Sunapee Harbor and New London, which is a quaint New England town only about 10 miles from Mt. Sunapee. X-country skiing is available in a number of places as well. Dexter's Inn in Sunapee has rentals and 20 kilometers of trails. Snowshoeing is also widely available. We were able to get snowshoes at Outspokin', a ski and sport shop in nearby Newbury. The staff at Ouspokin' are very eager to help and will point you to some great spots for snowshoeing. Snowmobiling is also very popular in the area. Although we didn't try it, we did see a few brochures for snowmobile rentals and tours.

Mt. Sunapee has an enviable combination of natural beauty, great snow conditions, and a wide variety of area activities and affordable pricing. All of that, combined with the attention for guest services that owners Tim and Diane Mueller have honed to perfection at their two other resorts, Okemo Mountain in Vermont and Crested Butte in Colorado, make Mt. Sunapee a great family ski destination.
©Copyright 2019. The Beacon Group, Inc. All Rights Reserved.