Take An Africa Family Safari: A Journey for the Soul
By Nancy Schretter, Editor
Nothing conjures up "epic family vacation" better than an Africa safari. For family travelers, these kinds of adventure vacations top the bucket list and are superb choices for making great family vacation memories. Few trips offer as many opportunities to get up close to wildlife, explore different cultures, share new experiences, and learn about all the world has to offer.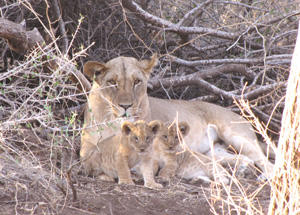 An Africa family safari requires lots of advance planning. Expert advice from tour operators with intimate knowledge of Africa family travel is key to getting the kind of safari experience you want, and then some. These experts can put you in the best spots for wildlife viewing, help you avoid travel pitfalls, and guide you to incredible opportunities for cultural interaction. Armed with this kind of insider knowledge, you're sure to have the trip of a lifetime. I certainly did. My trip to Kenya and Tanzania was all I ever hoped for – and much more.
Following The Herd
It just a few moments after dawn and my heart was already pounding. We were racing towards the Mara River in an open air safari vehicle, hoping to witness the magnificent spectacle that I'd waited a lifetime to see.
I dreamed of this safari for decades. As a child, I was captivated by Africa and its extraordinary wildlife migration. At the library, I gobbled up any books I could find on Africa, its animals, and the captivating Masai and Samburu cultures. Now, my husband and I were alone in the Northern Serengeti with no other vehicles in sight, hoping my childhood dreams would materialize before our eyes.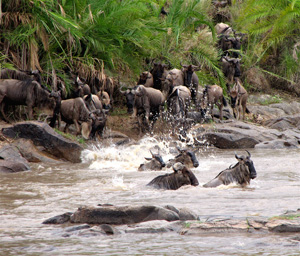 Our Sayari guide, Albert Lucas, scanned the banks on the other side of the river and spotted a huge cavalcade of animals stampeding down the hill. "They're crossing!" he yelled as he hit the gas. In less than ten minutes, we were in front row seats on the banks of the river watching head-on as herds of wildebeest, zebras and an occasional topi swam and scampered across the muddy waters.
Over the next three hours, Albert estimated more than 200,000 animals crossed the Mara River. Some leaped dramatically into the air before swimming across the water while others were more careful, pausing to strategically plot their path to safety. The air was filled with the sounds of wildebeest bleating, hooves pounding against the hard dirt, and the splashing of water. Luckily, it was too early for crocodiles to be out looking for a kill. We'd already seen that yesterday and I was in no mood for the drama. I simply wanted to bask in the heartwarming miracle of childhood dreams come true.
Dubbed "The Crossings Man" because of his uncanny ability to predict these events, Albert fulfilled my every dream during our days at Tanzania's Sayari Camp. We witnessed four crossings, watched half a million grazing animals part like the Red Sea as we crossed the plains, observed multiple lion pairs mating and lionesses caring for their tiny cubs, saw lurking crocodiles open their jaws and wrap wildebeest in a fearsome dance of death, and took hundreds of pictures of four of the Big Five - lions, leopards, African elephants and Cape buffalo.
And to think that a just few days earlier in the Mara, I'd been just a few feet away from a solitary lioness when she made her kill.
Timing and luck were with me, along with some of the best safari planning and guides available. We experienced everything that I had hoped for on this journey – and a few beyond my wildest imagination. Thanks to Kent Redding of Africa Adventure Consultants, this truly was the trip of a lifetime.
Our adventure started "Out of Nairobi" at the foot of the Ngong Hills. Our Express Travel Group guides whisked us from our lodging at the Holiday Inn Mayfair to the Daphne Sheldrick Animal Orphanage, part of the David Sheldrick Wildlife Trust. Over eighty African elephant orphans and several black rhino babies have been nursed back to health here. Tourists can become foster parents, receiving special visitation privileges that are well worth the cost. Then, it was on to Giraffe Manor to kiss and feed Rothschild giraffes followed by a moving tour of Karen Blixen's home.
The next morning, we were the only passengers on our tiny SafariLink plane leaving bustling Nairobi behind for the serenity and arid hills of Samburu National Park. Smiling Samburu warriors greeted our plane and took us on our first game drive to see herds of elephants, tiny dik-diks and packs of baboons. Tall, stately reticulated giraffes posed for our lenses. We became one with the animals as they graciously allowed us to enter their world.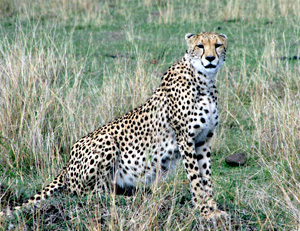 At Heritage Hotels' Samburu Intrepids, a family-friendly luxury tented camp, we learned more about the ways of the wildlife and people of this region. Samburu is a smaller game reserve than others in Kenya and the animals are more concentrated here. We quickly spotted the Samburu Five (reticulated giraffe, oryx, gerenuk, Grevy's zebra and Samburu ostrich) and were rewarded with multiple sightings of lions, leopards, cheetahs, elephants, and Cape buffalo as well. Lions and other big cats prowled in trees over our heads, mated and hunted for game just a few feet from our open Land Rover.
When a lioness adopted an orphaned baby oryx in 2002, Samburu National Park's motto became "Where Nature Defies Itself." It almost appeared that welcome was being extended to us, as wildlife often came within a foot or two of our open vehicle. Being surrounded by three inquisitive lionesses caused us to re-examine that thought, however. While our guide was quite confident, we weren't sure adoption was quite what they had in mind.
Our adventure continued in Kenya's famed Masai Mara National Park, one of the best known and most visited reserves in Africa. Our tent at Mara Intrepids Camp was situated above the Talk River, where the sounds of bellowing hippos and roaring lions serenaded us each evening. The camp is ideally located in the center of the Mara's primary game viewing area, providing us with some extraordinary wildlife sightings, including lioness and cheetah kills. Lifting off in a hot air balloon for a sunrise flight over the savannah is one of the most magnificent ways to view wildlife and scenery in this area, followed by a formal breakfast straight Out of Africa.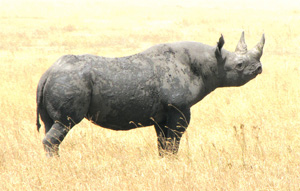 In Tanzania's wildlife parks, we had some of our most thrilling experiences. In Ngorongoro Crater, a huge black rhino meandered out of brush like an armored tank and careened its way towards our safari vehicle - thus completing our Big Five sightings in the wild. After surviving that encounter and the narrow bumpy roads, we decompressed and celebrated with a toast over a luscious dinner at Gibb's Farm.
Not surprisingly, the best was saved for last. If you're looking for adventure in Africa, walking safaris are the name of the game – and Tarangire's Oliver's Camp is the place. Stripped from the protection of the safari vehicle, walkers experience an exhilarating sense of freedom and connection with wildlife. Accompanied by an armed guard and our experienced naturalist guide, Alex, we felt safe in exploring the world around us on foot. We learned about the area's flora and fauna and were able to within sighting distance of large mammals including elephants, giraffes and even two lions - much to our heart-pounding amazement. With fourteen years of experience leading walking safaris, Alex knew how to safely allow us to have an intensely private experience and enjoy the unparalleled luxury of being one with nature.
We came to Africa for the wildlife, but the people won our hearts. At Samburu, colorfully clad women danced and sang as they welcomed us to their village. In a particularly moving gesture, several gave us intricate beaded bracelets and necklaces and enveloped us with hugs. We later donated school books and helped find a new water pump for their village. At a Masai village in the Mara, warriors jumped to impossible heights and I learned to jump right along with them. And at Tanzania's lovely Rivertrees Country Inn, Martina immersed me in Bahati, a project to improve the lives of the country's women. We came away transformed.
Safari is the Swahili word for journey – a fitting term for a trip to Africa. Be prepared to leave a piece of your heart there. For those who are willing, an Africa safari can become a voyage of self-discovery and an adventure for both the body and soul.
If You Go:
* Work with an expert. Insider knowledge and detailed planning is required to achieve the African family safari of your dreams. Wildlife is constantly moving, logistical information can be hard to obtain, and cultural experiences can often depend on having the right connections. Enlist the help of an expert who has substantial recent first-hand experience with travel in Africa and family safaris. Kent Redding of Africa Adventure Consultants (www.adventuresinafrica.com) is a gem. Check out Kent's excellent tips for planning an Africa family safari on The Family Travel Network.
* Consult your doctor. Talk with your tour operator and doctors about vaccinations and medications needed to travel in certain parts of Africa. Malaria medication is required for travel in Kenya and Tanzania. If this is something you want to avoid, consider a family safari in South Africa. In addition, make sure to purchase travel insurance for your trip.
* Choose the right accommodations. Look for family-friendly accommodations, lodges and tented camps that will give you the safari experience you desire. With its 12 acres of landscaped gardens and pool, the Southern Sun Mayfair Nairobi (formerly the Holiday Inn Mayfair) is a good choice in Nairobi when traveling with kids. Heritage Hotels (www.heritage-eastafrica.com) offer tented camps and beach hotels with family-oriented accommodations and programs for kids and teens. The Adventurers' Club for children ages 4-12 provides fun activities and adventures for younger guests. The Young Rangers' Club offers teens ages 12-17 a unique opportunity to get close to the African wilderness and learn from experienced safari guides. Asilia (www.asiliaafrica.com) offers unparalleled experiences at their unique, small scale safari lodges in remote locations. Our stays at Sayari and Oliver's Camp were particularly memorable.
* Consider private guides. If your family wants to call the shots on your game drives, talk with your tour operator about getting your own private guide at each tented camp or lodge. Many safari vehicles can hold more than one small family. A private guide will allow you to spend as much (or as little) time watching wildlife experiences.
* Check your passports. Look at your passports far in advance to make sure they are current and have enough pages for the necessary visas. Ask your tour operator about passport expiration date and visa requirements.
* Arrive early. Plan to arrive at your safari destination a day or two in advance to acclimatize and adjust to time zone differences. Your travel consultant can help you plan fun tours to fit your interests. Express Travel Group (www.expresstravel.co.ke) is an excellent source for family-friendly tour options in Nairobi.
* Take a break. Safaris can be intense experiences, so it's nice to split up days in the bush with relaxing stays at places like Gibb's Farm (www.gibbsfarm.net) and Rivertrees Country Inn (www.rivertrees.com). In addition, ask your tour operator about spending a few days at the beach after your family's safari experience. It's a great way to cap off your safari and well worth the time.
* Pack light. There are baggage weight limits on most safaris, so check these out in advance. Purchase appropriate lightweight clothing, sun hats and footwear for the family and bring along a few toys and games for the trip.
©Copyright 2010. The Beacon Group, Inc. All Rights Reserved.