Exploring Alaska's Inside Passage With Kids
By Erin Kirkland
Resplendent in all her northern glory, Alaska woos thousands of visitors each year eager to experience icy fjords, majestic mountains, and abundant wildlife. From bear viewing to hiking, Alaska's rugged outdoor appeal guarantees a family vacation unlike any other.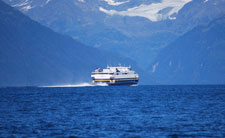 A child-friendly visit to Alaska requires careful consideration before hopping aboard an airplane or boat to the far north. Summer is a frenetically busy season, and many activities and lodging options fill up fast, especially in communities serving the thousands of people disembarking from cruise ships. As a result, many Alaskan residents find value and tons of fun as walk-on passengers via the Alaska Marine Highway System and the communities served by their fleet of ferryboats.
Southeast Alaska is a panhandle of island chains and forested mountains stretching between the Gulf of Alaska to the north and Canada to the south and east. Home to such cities as Ketchikan, Juneau, Sitka, and Skagway, "southeast," as it is called by residents, is remote, rugged, and a more than a little wild. Deepwater channels combine accessible water routes with unbelievably beautiful scenery, and a trip around the Inside Passage is a popular mode of blissful escape for Alaskan families. The Alaska Marine Highway, or AMHS, operated by the State of Alaska, offers clean, comfortable passage around the entire southeast area, affording flexible families options for stopping in port cities for independent sightseeing. Best suited for mobile family groups who don't mind odd departure or arrival times and are able to navigate both luggage and children with relative ease, journeys aboard AMHS ferries are relaxed, authentic, and decidedly Alaskan.
Kids and boats just seem to naturally go together, and while no formal children's programs exist aboard AMHS ferries, most routes have U.S. Forest Service information centers and rangers who offer commentary and some loosely scheduled activities for youngsters. Small children's play areas with movies are available; not to the scale of cruise lines, of course, but watching for whales, eagles, or dolphins while sailing is usually enough for most youngsters. Plus, with many other families on board, instant playmates are all but a sure thing. Most children preschool age and older thrive during a ferry trip, for some the first time they've ever been aboard such a large vessel. Staterooms are simple yet quite adequate for most, and restaurants and self-serve cafeterias are well stocked. Families are also welcome to bring aboard their own food favorites, keeping costs down and aiding picky eaters.
Juneau is an ideal starting point for southeast travel, especially since Alaska's third-largest city is also the state's capital, offering a glimpse into the heart of last frontier operations. Begin at the Alaska State Museum on Whittier Street, where a fabulous collection of art and artifacts entice visitors into staying a while. Don't miss the Native Alaskan displays and a huge ship in the children's area.
Kid-friendly hiking can easily be accomplished through a ride up the Mount Roberts Tramway, just above the cruise ship dock on Franklin Street. A 6-minute tram ride allows visitors a panoramic view of Juneau and environs, and also provides access to a Tlingit-owned visitor center at the top. Families with small children may wish to return via the tram, but those with active youngsters can hike 2.5 miles down the hill toward town.
A visit to Juneau wouldn't be complete without a drive to mighty Mendenhall Glacier. A visitor center offers information about the Tongass National Forest, the glacier, and area hikes. From June through August, it's also a great place to bear-watch at a salmon stream running right by the parking lot.
From Juneau, take a ferry north to historic Skagway. Flush with gold-seekers from 1897-1898, Skagway was a town of debauchery and devilment as thousands climbed over snowy Chilkoot Pass in search of uncertain fortune. Today, visitors can explore the Klondike Gold Rush National Historic District, a 6-block strip of refurbished relics from these bygone days. Eye-catching to children, stop by the National Park Service Visitor Center for information and directions toward a super walking tour, being sure to detour by Mollie Walsh Park on 6th Avenue for a playground break.
The hottest activity in Skagway, however, is the White Pass and Yukon Route narrow-gauge railroad line dating back to 1900. Riding in original cars dating back that long, passengers of all ages will appreciate the "toot-toot" of a steam whistle and spectacular scenery as the train grinds upward toward White Pass. The ride is three hours long, however, and can make very young children rather wiggly, so bring some snacks, drinks, and small toys.
For an introduction into Alaska's rich history, continue on the ferry south to Sitka. Carefully preserving the Russian history of Alaska's first white "settlers" (invaders, if you like), Sitka has managed to jell centuries old Native traditions with Russian influence, producing stunning results. Situated on the west side of Baranof Island, Sitka is reached via overnight passage on the ferry from Skagway, arriving late morning. Tlingit tribal traditions run deep in this town, as evidenced by ornate totem poles rising from the forest floor along the Totem Loop Trail, each telling a unique story.
Like most visitors, bears are high on the list of creatures to see while in Alaska. In Sitka, the whole family will enjoy visiting the Fortress of the Bear, an organization dedicated to the rescue of orphaned Brown Bear cubs that will forever enhance your "bruin-ology". Knowledgeable staff members care for these little guys with love and logic, and it shows in the health and well being of the cubs.
For an equally compelling experience, stop by the Alaska Raptor Center in Sitka for an intimate look at birds of prey who call Alaska home. A nonprofit center taking in injured birds for rehabilitation and therapy, the Raptor Center boasts an incredible flight-training center for the birds. Take the family for a short hike along the center's nature trail leading to a salmon stream and marvel at the circle of life, Alaskan style.
The ferry is an intimate way to see Alaska. Shorelines slip by in the company of sea otters or dolphins, and folks in passing fishing boats wave as they come home with a day's catch reaped from the briny sea. Kids need this sort of experience, sometimes - and so do parents. Why not find it, together, the Alaskan way?
If You Go:
Arriving in Alaska: Alaska Airlines is the only major carrier offering flights from the Lower 48 (usually Seattle) to Juneau. Connections can be made to Sitka, however, and it is worth investigating all the options before purchasing tickets. www.alaskaair.com
Alaska Marine Highway System: Find complete itineraries, timetables, ticket information, and policies for walk-on passengers on the Alaska Marine Highway System site. Consider flying in to Juneau and out of Sitka, or extending travel back to Juneau to complete the loop. Allow at least a week for the above-described itinerary. www.dot.state.ak.us/amhs/
Transportation: Most major automobile rental agencies are located in Juneau, the only city where a car makes sense. Most cities also offer public transportation or taxi service.
Visitor Centers: Find information on lodging, activities, transportation and dining on the following sites: Juneau, www.traveljuneau.com; Skagway, www.skagway.com; Sitka, www.sitka.org.
Erin Kirkland is a freelance writer living in Anchorage, Alaska. She is the editor of AKontheGO.com, a website dedicated to promoting family travel and outdoor recreation in Alaska, a columnist for Alaska Coast magazine, and the co-host of the Alaska Travelgram Show, a weekly travel radio program heard throughout Alaska on KOAN 95.5 FM. Erin and her husband James have two boys, ages seventeen and six, and spend the majority of Alaska's long summer days exploring the nooks and crannies of the 49th state … with bear spray, of course.
©Copyright 2011. The Beacon Group, Inc. All Rights Reserved.