Atlantis: A Family Paradise in the Bahamas
By Ellen H. Parlapiano
Billed as a "destination resort" for families, the grand-scale Atlantis (located on Paradise Island in the Bahamas) is part family beach haven, part waterpark, and part aquatic habitat. This majestic, towering hotel complex appears to rise right out of the ocean. If your family loves swimming, water slides, and getting up close and personal with marine life, this is a great place to choose for a family vacation.
Atlantis welcomes family members of all ages—from the tiniest babies, to school age kids, to grandma and grandpa—and has a variety of accommodations to suit every family's style. There are activities to please all at this enormous place, and each day you'll get a schedule that tells you what's going on throughout the resort.
Water, Water Everywhere
Themed around the legend of Atlantis—a prosperous ancient city that is thought to have suddenly sunk undersea thousands of years ago—everything on the property reflects the power of the ocean. The focal point is The Great Hall of Waters, a spectacular 2.7-million-gallon aquarium that snakes through the lobby of the Royal Towers, in the center of the resort. It is the largest indoor marine habitat in the world, housing over 50,000 sea creatures. It's fun to watch young and old alike press their awe-struck faces up against the Plexiglas to get a closer look at the sharks, eels, rays, and schools of rainbow-colored fish. There's also a connecting section called "The Dig," where you can amble through underground passageways designed to resemble the ruins of Atlantis and peek into the tank through huge windows. On my last stroll through "The Dig," the area was teeming with children. Toddlers pointed out fish that looked like "Nemo," preschoolers searched for Zeus the Manta Ray, and older kids asked the guides questions about the fish and their habitat. The resort employs a full staff of marine life experts, and there's even a fish hospital on the premises that kids in the children's program can tour.
Atlantis is clearly committed to protecting the sea life of the Bahamas. Salt water is pumped in from the ocean, and 90% of the fish in the aquarium are collected from local waters. Besides being a place to have fun, Atlantis is a resort where your kids will learn about nature. There are several fish feedings daily, and even kids as young as 3 can participate through the complimentary Aqua Tots program.
Outside, the water themes continue. The property is dotted with lushly landscaped waterfalls, fountains, and lagoons filled with graceful rays and other sea creatures. There are two stretches of beach to choose from. If you have young children, head for the more sheltered Paradise Lagoon, where the water is calm and there's plenty of space for building sandcastles. You can rent kayaks, peddle boats and non-motorized water bikes, and there's also a roped-off snorkeling section, perfect for first-timers. More adventuresome types can walk to the beach on the Atlantic side, where the waves are rougher.
The grounds at Atlantis are sprawling, so make sure to bring along a lightweight stroller if you have young children. Also be aware that some of the areas around the pool and beach can be difficult to navigate with a stroller. It's a good idea to tackle these areas with a helper—whether it's your spouse or a teenage family member—who can hold the baby, while you maneuver steps or other obstacles.
Everyone in the Pool!
There are seven swimming pools on the grounds. The busiest ones are the Royal Baths and the Mayan Temple Pool — both near the Royal Towers. These are especially popular because they're close to the Mayan Temple, an imposing structure that houses 5 exciting water slides. The centerpiece is the 60-foot "Leap of Faith," an almost-vertical body slide that propels you through an acrylic tunnel into a lagoon filled with sharks. If that's a little too intense for you, try the Serpent Slide, where you plop on a tube and shoot through a twisty, dark tunnel; then float leisurely through a clear Plexiglas enclosure, as sharks swim all around you. The Mayan Temple also features racing slides, and a high-speed jungle slide that carries you though caves. Kids must be at least 48 inches to ride the Temple slides, though tots can enjoy the tamer mini-slides in the Ripples kids' pool. As you might imagine, the Mayan Temple area can get mobbed with older children, especially at peak times of year. If you have younger tykes and prefer a quieter scene, consider the Lagoon Pool or the River Pool, located on the other side of the resort, near the Beach and Coral Towers. You'll find more sedate slides over there, plus the Poseidon Kids pool, with its shallow water and squirting fountains. This is also home to the relaxing Lazy River Ride, where you can drift for as long as you like through a jungle-themed waterscape.
Pick a Room to Suit Your Style
Atlantis has more than 2,300 rooms, split among 3 main sections of the resort: The Beach Tower, the Coral Tower, and the Royal Towers. There's also an additional separate section by the marina called Harborside, where you can rent villas with living rooms and kitchens, starting at $265 a night. Frequent shuttles transport Harborside guests to Atlantis and full access to the Atlantis waterparks and other facilities is included in the Harborside rate.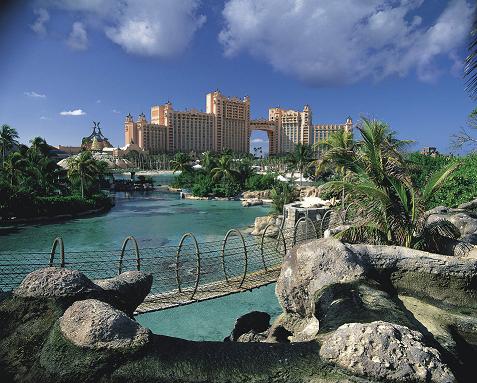 Which area is best for you? That depends on your vacation style — and your budget. Rooms in the Beach Tower are the most casual and affordable, starting at $225 a night. The vibe there is bright and breezy, and the informal, wicker furniture in the lobby almost invites kids to jump on it. The cool Club Rush teen retreat is also located here.
A short stroll away is the Coral Tower, where the rooms are a bit more luxurious, but the atmosphere is still fairly low-key. Rooms start at $270 a night. Downstairs you'll find the Discovery Kids Camp, an educational children's program that's open days and evenings. If your kids will be spending lots of time in the children's or teen's programs, the Beach and Coral Tower will be most centrally located for you.
The most luxurious accommodations are in the Royal Towers. The lobby is opulent, with marble flooring that seems to extend for miles, and 70-foot, gold-rimmed vaulted ceilings that soar above you. With its cascading fountains, glittery columns, and the Great Hall of Waters in the center, you'll feel like you're in King Triton's palace. Rooms here start at $315 a night. The Royal Towers connect to the resort's huge casino, and are just a quick walk from the water slides at the Mayan Temple.
Go Out and Play
Of course, with all the activities offered, you'll be spending very little time in your room. Kids and adults have plenty of places to play here. Everyday, by the beach or pool, there are organized family events like basketball shoot-outs, water races, volleyball tournaments, and trivia games. The Sports Center has tennis courts, basketball courts, and a lap pool, and offers sports clinics for youngsters and grown-ups. And if golf is your game, you can shuttle to the 18-hole course at the nearby One & Only Ocean Club resort. Atlantis also offers Bingo, family movie nights, pottery making, and other arts and crafts for parents and kids to do together.
If you need a little alone time, you won't feel guilty about putting your kids in this children's program. Operated in conjunction with The Discovery Channel, the Discovery Kids Camp lets kids ages 4 to 12 explore the world around them through lots of hands-on science activities. Your children are likely to have so much fun, they won't even realize that it's educational. The camp features a replica of the Atocha, a Spanish galleon that sank off the Bahamas in the 1600s (except this ship has a sandbox). There's also a Science Outpost with microscopes, touch tanks with live snakes and turtles; the Technology Lab with computers, flat-screen TVs, and video games; and the Nature Crafts room, where kids can make shark tooth art and other sea-themed creations. Counselors also take the kids on field trips to "The Dig," the marine life feedings, and the fish hospital, as well as give them plenty of pool and beach time. Children are divided into 3 age groups: 4 to 6; 7 to 8; and 9 to 12, with a ratio of 1 counselor to every 8 kids. (For costs, see the "If You Go" section.)
For children ages 3 and under, there's also an hour-long, afternoon "Mommy, Daddy & Me" program, where you and your kids can play and learn together in a section of the Discovery Kids Camp. It costs $10. In-room babysitting is also available from 7 am to 10 pm for $15 an hour. After 10 pm, in-room babysitting costs $20 an hour. Each additional child costs an extra $3 per hour.
Tweens and teens can hang out at Club Rush, where no adults are allowed. This sophisticated, stylish space features a DJ and dance floor, movies, video games, plasma TVs, and a very popular dance arcade game, where kids stomp along to the choreographed steps on the screen. Preteens can visit Club Rush from 4 pm to 7 pm. From 7 pm until midnight, however, Club Rush is restricted to teens ages 13 to 17. There's a $15 cover charge per child for Club Rush.
What can you do while the kids are occupied? How about a workout in the fitness center, or a facial or massage in the spa? You might consider signing up for an off-site snorkeling or diving excursion, or catching the nightly comedy show in the resort's Joker's Wild club. Have an adults-only dinner in the new, upscale Café Martinique, run by famous chef Jean-George Vongerichten, or in the trendy oriental-flavored Nobu, due to open in December 2005. After that, try your luck in the casino, or boogie the night away at Dragons dance club. Or simply take a romantic stroll through the resort. It looks particularly beautiful at night, with its dramatic back-lit aquarium and special-effects outdoor lighting.
Get a Taste of the Cuisine and Culture
When it comes to family dining, you'll have a smorgasbord of choices. Whether your taste runs from Chinese to Cajun to classic French, you'll find virtually every type of international cuisine represented at Atlantis. In the Royal Towers area alone, there are two elegant restaurants with dramatic views of the Great Wall of Waters, plus more informal offerings like the buffet-style Marketplace, and the Atlas Grill & Bar, located just off the casino floor. There are also several casual, less expensive options throughout the resort, such as Murray's New York-style Deli. And plenty of fast-food snack bars are scattered around the beach and pools. Most of the restaurants offer children's menus and high chairs.
For real Bahamian flavor, check out the resort's newly opened Marina Village. With its sherbet-colored houses and costumed Bahamian street performers, the island atmosphere at this vibrant marketplace is truly authentic. Marina Village features 5 restaurants, including the playful Bimini Road, with Caribbean-style fare. Kids will love the entertaining Junkanoo band, and you'll enjoy the unique tropical drinks. Marina Village is also home to Seafire, an elegant steakhouse; Carmines, the famous New York family-style Italian eatery; Chef Jean Georges' sophisticated, Café Martinique, where children must be 16 or over to dine; and the very kid-friendly and affordable Johnny Rockets. For a quick snack, grab a Guava Duff Tartlet or one of the other local pastries offered at Starbucks. Or get a cool treat at Jamba Juice or Village Creamery ice cream parlor.
As you stroll through Marina Village, you'll pass many stores and vendor carts selling Bahamian handicrafts. Be on the lookout for a shop called The Plait Lady, where artisans demonstrate straw weaving outside. It's a great place to find one-of-a-kind pocketbooks, jewelry, and Christmas ornaments. Stop awhile to dance to the steel drum rhythms, or shade yourself under the lush palms. As you relax on mosaic-tiled benches, you'll have the whole marina as your backdrop. And, you're bound to find yourself fantasizing about which yacht you'd like to go party on. After all, once you experience the rich and royal lifestyle of Atlantis, you may never want to return to the "real world" again.
IF YOU GO:
Contact your travel agent, or book through Atlantis directly: 1-800-ATLANTIS; www.atlantis.com. Standard rooms fit up to four; but a fifth guest can be accommodated if he or she is 4 years old or younger. Children under age 11 stay free with parents. There are no sleep sofas in standard rooms, but you can request a rollaway cot. Rooms also feature satellite TV, in-room movies, safes, mini-bars, and direct-dial phones.
If you're traveling with a baby or young child, let the hotel staff know. Cribs, strollers, bottle warmers, and refrigerators are available for a $15 per day fee. You can also borrow games and toys from the Atlantis Library. Ask about the complimentary Aqua Tots program, where a select number of children age 3 and under are chosen each day to feed and interact with the fish. (Children will need water shoes to participate.)
The Discovery Kids Camp is very flexible, with partial- and full-day programs. However, it fills up fast in peak seasons, so it's a good idea to book when you make your lodging reservations. The full day program (from 9 am to 5 pm, including lunch) costs $79. There's also a Sunset Program (1 pm to 10 pm, including dinner) for $89; and a deluxe program (9 am to 10 pm, including lunch and dinner) for $125. But you can also book hourly, for $12.50 an hour; or schedule half-day sessions. Morning sessions (from 9 am to noon) are $35; lunch (from noon to 1 pm) is $12.50; afternoon sessions (from 1 pm to 5 pm) are $45; dinner (from 5 pm to 6 pm) is $15; and the evening session (from 6 pm to 10 pm) is $49.
Preteens and teens will need a photo ID (such as a passport or birth certificate) in order to get into Club Rush.
Food can be pricey here, but there are a few ways to cut costs. Try combining breakfast and lunch into one meal, or having the kids order appetizers as their main course for lunch or dinner in sit-down restaurants. For quick and inexpensive service, try Murray's Deli or Johnny Rockets. If your family has a hearty appetite, it might be worth it to buy one of the two types of dining plans, available in select participating restaurants. The "Gourmet Dining Plan" ($87 per day per adult; $45 per day per child) offers a full American Breakfast, and dinner at some of the swankier restaurants (with appetizer, soup or salad, entrée, dessert and coffee). The "Full American Plan" ($57 per day per adult; $28 per day per child) offers a full American breakfast daily, lunch (either a sandwich or salad, plus coffee) at one of the snack stands; and dinner (with appetizer, soup or salad, entrée, dessert and coffee) at a choice of one of the 13 more casually-styled restaurants that participate. Children age 4 and under eat free from the children's menu when accompanying parents have purchased the dining plan.
Guests staying at the nearby Comfort Suites have free access to all of the Atlantis facilities and can also enroll their kids in the Discovery Kids Camp. The Comfort Suites is an easy stroll to Atlantis, and a free continental breakfast is included with the room rate. This can be a good option for families on a budget.
Cruise passengers and others not staying at Atlantis can still tour the marine habitat. Rates are $29 per adult and $14.50 for children ages 4 to 12. These tours, however, do not include access to some of the most popular Atlantis facilities, such as the pools and slides. If you are going on a cruise that will be stopping in Nassau, check on the cruise line's list of shore excursions to see if a more inclusive Atlantis tour is offered. Though you won't get access to the waterpark, many cruises (such as those on Disney Cruise Line) offer a beach day at the resort.
Ellen Parlapiano is an award-winning writer who has covered family travel for magazines such as Parents, Child, Woman's Day and Working Mother. She lives in Eastchester, New York with her husband and two children, and has traveled extensively with her family.
©Copyright 2019. The Beacon Group, Inc. All Rights Reserved.