Atlantis Paradise Island – A Family Playground in the Bahamas
By Nancy Schretter, Editor
The search for the perfect family vacation resort is often a difficult one. Parents are always looking for a travel destination with something for every family member – particularly those families with hard-to-please 'tweens and teens. Atlantis Paradise Island is one of those kinds of family vacation spots.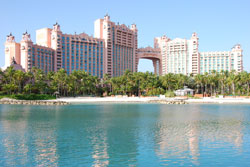 This ocean-themed destination was named one of the top family resorts in the world by Parents, Conde Nast Traveler and Travel+Leisure Family magazines – and it's easy to see why. This fanciful resort is a vacation paradise for families who want to escape the real world for a while and indulge in a wide variety of activities. Here's the scoop:
What's Special:
AQUAVENTURE, a 140-acre waterpark that includes a seven-acre snorkeling lagoon, a lazy river, giant Mayan-themed water slides, and Splashers – a children's water play area for kids under 54 inches and their parents.



Dolphin Cay, a dolphin interaction and education center where guests can swim and interact with dolphins – and even be a Trainer for a Day. Sea lion programs are available as well.



The resort's incredible marine habitats – the largest of their kind worldwide - including 14 lagoons and giant aquariums filled with over 50,000 sea creatures as well as The Dig, a maze of underground passageways with sea life views. All of the Atlantis facilities, including Dolphin Cay, are accredited by the Association of Zoos & Aquariums.



Atlantis Kids Adventures (AKA), an 8,000 square-foot state-of-the-art kids' club for resort guests ages 3-12. This new center offers innovative programs, including culinary lessons, and sets the bar for incorporating cutting-edge technology with entertainment in kids' program areas.



Club Rush, a fully supervised "No Adults" private club for teen and 'tween resort guests with a dance floor, snacks, the latest video games, supervised Internet access and more.



The luxurious 30,000 square-foot Mandara Spa, with its wide array of treatments for adults and Generation Y Spa for teens.



Free amenities for parents of babies and toddlers, including a Gentle Travel Kit for babies with Johnson & Johnson products, a nightlight, a lullaby CD and tips for parents; a Prompt Response Line for baby needs such as extra crib sheets, baby bathtubs, bottle warmers, sterilizers and a small fridge for bottles and baby food; and custom meals for kids with food allergies. Kids 3 and older have the chance to participate in the free Aqua Tots program and feed the fish with the Atlantis Seakeepers.



Cool entertainment for families, including playing video games at Gamer's Reef Arcade, making pottery at Earth & Fire Pottery Studio, building and racing remote control race cars and monster trucks at Atlantis Speedway, and creating special stuffed animals at Atlantis Pals.



The resort's dazzling architecture, decorations and larger than life scale. Think Disney meets Vegas – on steroids. Check out 2.7 million gallon aquarium and the 70-foot ceiling in the Great Hall of Waters and the amazing glass sculptures in The Entertainment Center's casino.



Summer LEGO Atlantis Fantasy Camps at the resort – going hand-in-hand with AKA's LEGO Construction Zone area filled with thousands of bricks.



The breadth of activities for sports-loving families, including the Sports Center, the Atlantis Tennis Center, the championship 18-hole Ocean Club Golf Course, and Climber's Rush, a state-of-the-art rock climbing facility.



Choose Your Digs
There are thousands of rooms at Atlantis, so families have a wide choice of accommodations. Which is best for you? That depends on your budget and your family's needs. Located directly on Paradise Beach, The Reef was named as one of the Top 10 Family Hotels in Mexico & the Caribbean in TripAdvisor's Travelers' Choice 2010 awards. These luxurious studio, 1- and 2-bedroom units feature kitchens and washer/dryer facilities. A small grocery store is located in the lobby. The Cove Atlantis, another luxury resort option, offers large suites on Paradise Beach. Guests at The Reef and The Cove Atlantis have access to their own private family pool.
Looking for more budget-friendly options? Take a look at the Beach Tower and the Coral Towers. The Beach Tower rooms are casual and the most affordable option at Atlantis. It's also the home of Club Rush, the resort's teen retreat, as well as some quieter pools. The rooms at the Coral Towers are slightly larger and it's close to the Marina Village complex, where families can dine at Johnny Rockets or Jamba Juice.
The iconic Royal Towers are located at the center of the resort, close to the AQUAVENTURE water attractions, The Dig and the Atlantis Kids Adventures facility. The lobby here is huge and opulent, with the Great Hall of Waters in the center and the casino nearby. Rooms here are larger – and pricier - than those at the Beach and Coral Towers and feature flat screen televisions.
Families who want condominium-type amenities without the price tag of The Reef should check out Harborside, a series of 1-, 2- and 3-bedroom villas bordered by the Marina and Nassau Harbour. These units have full kitchens and a whirlpool tub in the master bath, but they are more of a walk to AQUAVENTURE and the beach. Frequent shuttles take Harborside guests to the main areas of Atlantis.
Dining Tips
Atlantis offers 41 dining venues from which to choose. Food can be pricey here, but there are a few ways to cut costs. Try buying breakfast items at the local grocery store (or bringing them from home) or having the kids order appetizers as their main course for lunch or dinner in sit-down restaurants. For quick and inexpensive service, try Murray's Deli, Marina Pizzeria, or Johnny Rockets. Seagrapes, located in the Beach Tower, is a good option for buffet dining.
Atlantis does not offer an all-inclusive dining plan. If your family enjoys eating full course meals, it might be worth it to buy one of the two types of dining plans available for use in select participating restaurants. The Gourmet Dining Plan offers a full American Breakfast and dinner at some of the fancier restaurants, including an appetizer, soup or salad, entrée, one dessert and coffee, tea and sodas. The Casual Dining Plan offers a full American or continental breakfast daily and dinner (with appetizer, soup or salad, entrée, one dessert and coffee, tea or sodas) at a choice of one of the more casual restaurants that participate. Dining plans must be booked at least 3 days prior to arrival.
Some amazing master chefs have their own restaurants here. Bobby Flay brings his vibrant Southwestern cuisine to Atlantis with his Mesa Grill restaurant. Italian-born Chef Angelo Elia offers Tuscan dishes at Casa D'Angelo. Guests can also enjoy Chef Nobu Matsuhisa's famed Japanese cruise at Nobu. While meals at Mesa Grill and Casa D'Angelo are included in the Gourmet Dining Plan, dinners at Nobu are not. Gourmet dining plan credits can be applied toward dinner at Chef Jean-Georges Vongerichten's Café Martinique – featured in the James Bond classic, Thunderball.
Waterworks and More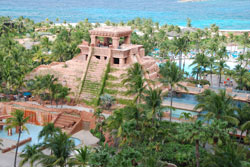 A vacation at Atlantis is not cheap, but let's be real. The room rates at Atlantis buy much more for your family than just beds and baths. A large part of what you're paying for is unlimited access to the resort's amazing waterparks, marine aquariums (including the largest open-air habitat in the world), beaches, amenities, and the lush over-the-top experience. Think of it as a combo package including a room at a lovely Caribbean resort plus daily aquatic theme park tickets for every member of your family. For water-loving families who enjoy thrills and sea life, it doesn't get much better than this.
The AQUAVENTURE waterpark is best for families with teens, 'tweens and school-aged kids. Children must be at least 48" tall to ride the slides, so kids that age will be able to take advantage of most – if not all – of what the park has to offer. Daredevils should head straight for the Power Tower, the 120-foot tall grand icon of Atlantis. The Abyss, a body slide that drops a near-vertical 50 feet in complete darkness, is a must for those who feel the need for speed. Three inner tube slides – The Drop, The Falls and The Surge, use "master-blaster" technology to create roller coasters from jets of water. Guests generally have a favorite slide - mine is The Surge.
Closest to the Royal Towers is a life-sized replica of an ancient Mayan Temple featuring several water rides. Kids will enjoy racing each other on The Challengers while other riders can view sharks through a clear tube on The Serpent slide. Those seeking the ultimate challenge should try The Leap of Faith, a slide that drops 60-feet straight down and ends in a clear acrylic tunnel submerged in a shark-filled lagoon. Don't worry – you'll be flying so fast you won't have time to think about the sharks.
Families love chilling in inner tubes on the mile-long river loop here. This river is anything but lazy – it rocks! The Current contains almost 3 million gallons of water and features and area called The Rapids. A wave generator simulates wave surges and helps move riders along. While you'll find white water in some places, there are also plenty of slow-moving sections as well.
Little ones aren't left out at Atlantis. Splashers, a Mayan-themed kids waterplay area and pool, has slides for the under 54" crowd, rope bridges, water cannons, and a 320-gallon bucket that periodically showers kids playing underneath. Other good areas for little tykes are the Ripples Pool with its tiny slides and Poseidon's Kids Pool, complete with fountains.
All of these waterpark features are great, but let's not forget the beach. Paradise Beach, located in front of The Reef, is a gorgeous white sand crescent beach with the gentlest surf of all the Atlantis strands. While the family pool at The Reef is private, all Atlantis guests can enjoy Paradise Beach. Paradise Lagoon is another good spot for those with tots.
Sophisticated Entertainment for Kids
Parents seeking a little alone time on their vacation always dread hearing, "Oh no, do I HAVE to go to the kids club?" Parents staying at Atlantis – say goodbye to the guilt.
Atlantis Kids Adventures (AKA), the resort's new 8,000 square-foot kids club, lets kids personalize their own adventure and plays to the interests of each child. Every child (Adventurer) is matched with a staff Adventure Guide to customize their own activity each day – including culinary lessons, interactive electronic art, theater, outdoor play and more.
In addition, trained AKA team members help with kids activities in each of the following rooms: the Arts & Crafts room, Culinary Kitchen, the EVERY video game ever made room, a Wizardology reading room, the fully-stocked "grocery store," a computer area, a theater performance room, and a LEGO Construction area complete with thousands of LEGO blocks. There's also a large outdoor area for play as well.
AKA is offered daily for kids ages 3 (potty-trained only) to 12. Partial and full-day programs are available, including special evening programs such as Secret Agent Shakedown and Buccaneer's Bash themed nights. Daytime programs also offer themes for 3-5 year-olds and 6-12 year-olds. Check AKA's Calendar of Activities for more details. Parents aren't allowed in the facility, but ask the kids about the bathrooms. The decorations are truly one-of-a-kind.
Teens ages 13-17 can hang out at Club Rush – another place where parents aren't allowed. This cool spot features a DJ and dance floor, a lounge with cozy seating, video games, Internet access, and movies on the club's wide cinema screen. The hours for teens are 8:30 p.m. to midnight. Preteens ages 6-12 can come in from 4-7 p.m., but must clear out when the teens arrive.
With all of the high technology and sophisticated activities available, it's easy to forget that what families crave most is time together - and kids also enjoy the simple things. Spend time strolling along the beaches looking for shells or go to the marina to check out the amazing yachts. Pose for pictures on Poseidon's throne near the casino, marvel at the resort's fanciful architecture and enjoy your vacation escape. Unfortunately, you'll have to head back to the real world soon.
If You Go:
For more information about Atlantis, visit the resort's website at www.atlantis.com. The resort frequently posts deals and special offers there, so make sure to check before booking.



The best rates at Atlantis are typically available from August through November. Children 11 and under stay and play free. Be aware that there are mandatory taxes, housekeeping gratuities, utility service frees and service charges added to the room rates.



The grounds at Atlantis are huge, so make sure to bring along a lightweight stroller if you have young children.



If you're looking for something to do in the evening, take the kids to see one of the free movies at the Atlantis Theatre.



Good deals on Atlantis signature clothing, souvenirs, kids' play toys and more can be found at Atlantis Signatures Outlet in the Beach Tower.



Bring your children's passports or birth certificates when you go to AKA for the first time. Teens should also bring proof of age when they go to Club Rush. Current charges for both programs are available on the resort's website. Babysitters trained in CPR and childcare are also available.



If you're in the mood for a full buffet breakfast and aren't on the meal plan, go to Mosaic at The Cove. It's a couple of dollars more expensive than Marketplace – but the selection and ambiance are worth it.



If you have special dietary needs (including Kosher, vegetarian, etc.), notify the Chef's Office at least two weeks prior to arrival.



Looking for Bahamian crafts or a taste of local culture? Check out the Bahamas Craft Centre on Paradise Island or you can head over to Nassau's Straw Market. Marina Village also features Bahamian handicrafts from local artisans. Bimini Road, a family restaurant in Marina Village, serves mostly Bahamian fare.



Guests staying at the nearby Comfort Suites have free access to all of the Atlantis facilities and full signing privileges at the resort's restaurants. The Comfort Suites is an easy stroll to Atlantis and a free continental breakfast is included with the room rate. This can be a good option for families on a budget. Sometimes, however, special deals at Atlantis can bring Beach Tower rooms down to the same rate. Check the Atlantis website before booking.



Direct flights to Nassau are readily available from major cities in the United States and Canada. JetBlue joined Atlantis in sponsoring our trip, and our experience with the airline was excellent. The airline offers a variety of free in-flight snacks and seatback TVs with 35 channels of free DirecTV programming – perfect for families. Our flight was packed with families and the kids were so quiet! The first-run movies on our flight to Nassau were free. Be aware that U.S. citizens clear customs in the Bahamas before boarding.



©Copyright 2003. The Beacon Group, Inc. All Rights Reserved.