Awesome Family Adventures On An Alaska Un-Cruise
By Nancy Schretter, Editor

We were kayaking on a peaceful bay in Alaska's wilderness when we heard the loud "phoof" sound. The unmistakable blow of a humpback whale came from behind us - and at close range. We both simultaneously stopped paddling and turned around. The crest of the humpback was less than 70 feet away. We sat, absolutely mesmerized, as another whale surfaced directly behind it.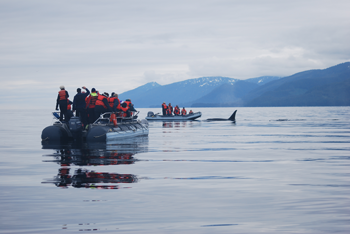 This is what we had come to Alaska to see. For several minutes, we had front row, eye-level seats for one of the most beautiful and awe-inspiring shows on earth. Astoundingly, it was to be repeated four times over subsequent days on kayaking trips and skiff excursions. Once two whales came within 50 feet of our kayak, so close that we could almost feel the fine mist from their blowholes as they exhaled. At another time, a pod of orcas made straight for the skiffs and one tugged at the hydrophone cord.

This is the way to see the "real Alaska."

Over the course of our week-long American Safari Cruises voyage, we got up close and personal with humpbacks and orcas, watched black bears and massive grizzlies - sometimes with cubs, had a rare sighting of wolves peacefully interacting with a grizzly bear, and so much more. Small ship Alaska cruises allow passengers to avoid the crowds, get close to wildlife and nature, visit spectacular national parks and tiny inlets, and experience this treasured land in a way not possible on large ships.

The Un-Cruise Experience
American Safari Cruises and its sister company, InnerSea Discoveries, take their guests on unique all-inclusive vacations aboard small ships carrying 22 to 88 guests. Aboard our 86-passenger Safari Endeavour, for example, guests explore Alaska's hidden treasures and spectacular scenery for seven nights without setting foot in any major Alaska city after embarking. Departing from Juneau on day one, the ship spends two full days among the massive glaciers and wildlife of Glacier Bay National Park. While passengers on large megaliners just cruise on by, Safari Endeavour guests are lucky to be among just 2,000 travelers per year setting foot on land in Glacier Bay National Park.

My fellow companions on the Safari Endeavour and I reveled in the experience. After two bliss-filled days spent kayaking, hiking, stand up paddleboarding and taking small boat rides to pristine glaciers in the national park, our little band of adventurers moved on to explore the unspoiled wilderness in secluded areas around Icy Strait, Frederick Sound, Ford's Terror and Endicott Arm. Throughout the journey, our companions were orca whales, sea lions, foraging bears, sea otters, bald eagles, harbor seals, tiny porpoises and humpback whales - not hoards of other cruise passengers pouring off massive cruise vessels.

There are plenty of opportunities for up-close wildlife viewing on the Safari Endeavour, like watching slack-jawed as a large pod of humpback whales engage in bubble net feeding, squealing with delight as orcas breach repeatedly or swim directly in front of the zodiac, seeing massive bears prowling near the shoreline, kayaking in placid coves with humpback whales and inquisitive seals, observing Sitka black-tailed deer and bald eagles while hiking, and so much more. On these "un-cruises," guests have the opportunity to linger whenever there's action. The Safari Endeavour's staff knows that wildlife and sea creatures are the celebrities in Alaska and passengers want to stay to see the show. There's no rush, no strict schedule to keep, no crowds, and no hassles.

Because there are no more than 86 guests onboard, passengers and staff members quickly become close friends. In fact, the cruise experience aboard this small ship has a feel of an intimate boutique hotel. Well-traveled guests interact frequently and are on a first-name basis with the Captain, Expedition Leader, guides and the crew. Dress is casual on the Safari Endeavour and there are plenty of opportunities for guest and staff interaction as part of the daily activities as well as at the evening cocktail hour. On my recent cruise, our band of voyagers became close friends. When the time came to say goodbye at the end of our voyage on Sunday, tears filled guests' eyes and no one wanted to leave.

In addition to appealing itineraries, Safari Endeavour sailings feature onboard certified naturalists who offer insights into Alaska and its wildlife. The ship's small size provides unparalleled access to Alaska's wonders, allowing entry into tiny inlets and coves. Guests take part in many adventure activities throughout the cruise including hiking through pristine temperate rainforests and across glaciers, kayaking near waterfalls in quiet coves, stand up paddleboarding, and skiff explorations through blue ice-filled waters to get as close as legally possible to calving glaciers.

Of course there's also time for morning yoga, taking long soaks in the hot tub, experiencing an invigorating polar bear plunge, and wine tasting. The itinerary is flexible, allowing the captain to change course for whale sightings or linger longer if bears are foraging on the beach. If guests decide they want to spend more time kayaking or hiking, so be it. Although the course is set, no two cruises are exactly the same. Each Safari Endeavour adventure is unique, just like its guests.

On a small ship like the Safari Endeavour, guests have the opportunity to take in the peaceful calm of Alaska's waters, enjoy a tranquil walk along the shore, explore tide pools, watch for native wildlife, and be lulled into a relaxing night's sleep. Listening to the sounds of a waterfall, the blow of a nearby humpback whale, or the shrill cry of a bald eagle is a real treat. It's the sounds of silence and the peaceful stillness in Alaska that echo the loudest.

Worried that you'll be missing out on gourmet food because you're on a small ship? Think again. The chefs onboard the Safari Endeavour turn out fresh gourmet cuisine and delicious baked goods for guests' enjoyment. A full breakfast is served each morning along with eggs made to order. Three delicious entree choices are provided at dinner, including fresh meats, a vegetarian option, and seafood accompanied by premium wines, spirits and non-alcoholic drinks. Some of our delectable choices included options like Roasted Leg of Lamb Noisettes, Seared Sea Scallops with Mojo Verde, Spinach and Feta Phyllo Parcels, King Salmon with Creme Fraiche Mustard Sauce, Aged Ribeye Steak with Shallot Sauce, Barbecued Wild Boar Ribs, and Dungeness Crab. Personal preferences and food allergies are catered to with a smile. Sure, you won't find the gargantuan midnight buffets and 24-hour meal service that you get on the mega-liners, but you won't get the bill for wine, mixed drinks or soft drinks either.

All meals, drinks, port charges, and taxes are included. So are kayaks, skiff tours and hiking excursions, transfers, and even a complimentary massage. Make sure to sign up for your massage early - they're heavenly. There's no charge unless you wish to add something special, such as a few more massages. Gratuities for the ship's staff and very high end wines and spirits are additional.

All In The Family

Many passengers on American Safari Cruises are couples or single travelers, but families are warmly welcomed, too. My voyage had three families onboard with children ranging in age from 9 to 17. All said it was their best vacation ever.

These Alaska trips work well for families, partially because of the intimate, intensely engaging atmosphere created onboard the Safari Endeavour. Guests and crew get to know each other over meals and activities and bond quickly. Kids form their own little pack and join the Polar Bear Club by taking icy plunges together. A very articulate 17 year-old vacationing with her family summed it up perfectly. "Everyone is so friendly and nice onboard this ship - it feels like one big family."

For those who prefer an even more child-focused experience, American Safari Cruises (and InnerSea Discoveries) feature their "Kids in Nature" program on selected family oriented departures with special activities for children. Themed cruises are also offered on a variety of topics aboard the Safari Endeavour. Check with American Safari Cruises for dates and more details.

We live in a world filled with constant jarring demands and interruptions from cell phones, e-mail, televisions and the Internet. It's hard to unplug from the world's overpowering drumbeat these days. Cruising in Alaska on the Safari Endeavour gives families a rare chance to get off the grid for a few days and reconnect with those they treasure - and with themselves as well.
If You Go
For more information on American Safari Cruises and InnerSea Discoveries, visit their website at www.innerseadiscoveries.com.



To avoid problems associated with flight delays, cancellations and lost luggage, make plans to arrive in Juneau at least one night before your cruise. The Westmark Baranof Hotel is a top notch place to stay, offering large rooms, a convenient location, comfy beds and superb service. The Westmark Baranof is also used as the meeting point for American Safari Cruises Safari Endeavour guests, making it the optimal choice as well.



The Safari Endeavour provides waterproof rain gear and boots for all guests, a huge plus for those traveling by air with only carry-on luggage. Plan to dress in layers for your Alaska un-cruise and bring a fleece for warmth.



Whales breach, spy hop and move quickly, and it's much easier to get good pictures if you have a camera with a long lens and a fast shutter speed. Bring along an SLR camera with a long lens if you have one. Due to possible wet conditions, it's important to protect your camera equipment so bring a dry bag or several large zip-lock bags on your trip.



If you have time, plan to spend several days exploring Juneau before or after your cruise. This area of Southeast Alaska has so much to offer. Take a Wings Airways floatplane trip to idyllic Taku Glacier Lodge for a delicious salmon lunch, visit Mendenhall Glacier, plan to hike or view the scenery from Mount Roberts Tramway, and explore the temperate rainforest at Glacier Gardens. Don't miss dining at Tracy's King Crab Shack and The Hangar on The Wharf - the food is delicious.



For more information about what to do in Juneau, make sure to visit the Juneau Convention & Visitors Bureau website at www.traveljuneau.com.


©Copyright 2012. The Beacon Group, Inc. All Rights Reserved.