Awesome Antigua Vacations
By Nancy Schretter, Editor
Picking the right spot for a vacation can be tough. Choose a lush tropical island with 365 beaches like Antigua, though, and how can you go wrong? Elite Island Resorts makes island vacations easy, providing just the right resort for any type of travel. Taking a family vacation with the kids or getting away for a romantic parents-only escape - it's all up to you.

Formerly a British colony, Antigua is located in the Eastern Caribbean's English-speaking Leeward Islands. While the destination is known for its beautiful white sand beaches, there's more to Antigua than a stretch of sand. Here you'll find expansive coral reefs for snorkeling and diving, soft adventure opportunities, sheltered sailing harbors, and historic sites such as Nelson's Dockyard National Park.

Elite Island Resorts operates three vacation properties on Antigua, each with its own options for relaxation and enjoyment. St. James's Club & Villas and The Verandah Resort & Spa are perfect for families with kids of all ages and Galley Bay Resort & Spa caters to couples and families with older children. One of the best things about Elite Island Resorts is that they're not your typical cookie-cutter type of brand. While all of the resorts are upscale and all-inclusive, each is unique in its own right. Within this group of Antigua resorts, vacationers will find a property that will fit them just as perfectly as their favorite pair of jeans.

St. James's Club & Villas - A Playground for Families

Located on a private 100-acre estate close to English Harbour and Shirley Heights, the St. James's Club & Villas pampers families with loads of amenities. Fresh from a multi-million dollar renovation, the resort features two white sand beaches, six swimming pools, four restaurants, a kids program, a full service spa, complimentary non-motorized water sports, and much more. Six tennis courts, a fitness center, and the Mamora Bay Dive Shop will keep active vacationers happy.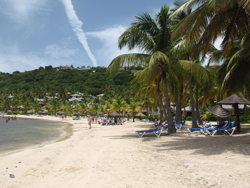 Guests can choose from over 250 well-appointed rooms, posh villas and sumptuous suites located throughout the sprawling property - most with convenient beach access. Guest rooms and restaurants are located in The Club area, while The Village provides a lush oasis for families staying in luxurious two- or three-bedroom residential-style villas. These units are great for multigenerational vacations, parents who want a bit more privacy, and families with teens who need more space to spread out. For couples and adults seeking more personalized service, the St. James's Club's spacious Royal Suites provide their own concierge, spectacular waterfront views, and huge bathrooms with his and hers showers and a large soaking tub. Complimentary Internet service is offered as well. Both all-inclusive and room-only dining plans are available in all categories.

For families, one of the nicest aspects of the St. James's Club is its wide choice of options throughout the property. The resort sits on a peninsula with the ocean on one side and the bay on the other. Families with young children can enjoy the calm, shallow-entry waters of the bay while those who want to snorkel can enjoy the surf side beach. With its excursions, movies, sports facilities and events, the resort's schedule of daily activities will keep energetic kids and family members happy - even on rainy days.

The award-winning Just for Kids Club near Mamora Bay provides supervised activities for children ages 4-11 from 10:15 a.m. to 11 p.m. daily. Kids can even dine at the club while parents enjoy a private adults-only dinner. Babysitting can also be arranged for an additional fee. The resort's beachside teen hangout is well equipped with a pool table, foosball, ping-pong and air hockey tables. Teens-only parties are held during high season and peak holiday weeks.

The Verandah Resort - Suite Paradise for Nature Lovers

Hidden away on the unspoiled northeastern coast of Antigua adjacent to Devil's Bridge National Park, The Verandah Resort & Spa is a sumptuous eco-friendly retreat. Marked walking trails meander through the 30-acre waterfront property and the uninhabited Green Island and Bird Island nature sanctuaries can be easily reached by boat. While the award-winning property is Green Globe certified, this upscale resort's emphasis is clearly on unwinding, reconnecting and enjoying the company of family and friends.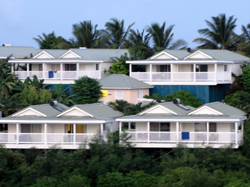 The Verandah Resort & Spa was awarded the 2010 Gold Magellan Award in the family resort and hotel category. Guests here stay in luxurious cottages built on pillars and surrounded by lush green foliage. Each of the resort's 200 large (700 square-foot) villa suites feature kitchenettes, vaulted ceilings, flat-screen televisions, and expansive verandahs with beautiful water views. In addition, the balcony doors between verandahs can be opened to allow parents and children (or groups of friends) to stay in individual suites and still remain connected. Families can reserve these adjacent suite accommodations with connecting balconies for 50 percent off. Luxurious two-bedroom villas have also recently been added.

The Verandah Resort has all of the amenities needed for family fun. The resort boasts the island's largest free-form swimming pool, an adults-only grotto pool, a mini-golf course, and spectacular snorkeling along Dian Bay's reef. Two powder-soft beaches frame the turquoise bay here, and it's easy to spend hours lounging away in the sand. For those who would prefer to be a little more active, there are non-motorized water sports, tennis courts, a fitness center, and hiking trails. For those seeking pampering and indulgence - Spa Tranquility is the place. Three restaurants offer both a la carte and buffet dining and both all-inclusive and room only plans are available.

The adult-supervised Kids' Club (complete with its own mushroom pool, fenced playground with huge play structure, and shaded back porch) is open daily from 9 a.m. to 10 p.m. for children ages 4-11. Potty-trained tykes ages 2 and up can participate as well. Kids ages 8 and older can enjoy sailing, kayaking, paddle boating, guided nature walks and swimming. The Kids' Club counselors lead beach games, arts and crafts projects and other age-appropriate activities. Teens can have fun in the Pirates Den game room. Babysitting services are also available for an additional fee with at least 24-hours notice.

Guests say it's hard to find the time for all the activities available here. If you go, make sure to take the short walk over to visit nearby Devil's Bridge, a natural limestone arch carved by the sea. This rock bridge-like sculpture is one of the few still remaining intact in the Caribbean.

Galley Bay Resort - Where Romance Reigns

Sometimes, in the crush of work, children and life - important things are lost. Things like private time, romantic strolls, stolen kisses, and the "Do Not Disturb" sign on the door. When you're looking for a secluded spot for an adults-only romantic getaway as a couple, the Tahitian-inspired Galley Bay Resort & Spa is the place to be.

Set on 40-acres of tropical gardens between a three-quarter mile spectacular white sand beach and a bird sanctuary lagoon, all-inclusive Galley Bay is the perfect retreat. This unique, low-key resort is just the place for you to rediscover each other all over again. The rhythms of nature rule here. Endangered hawksbill and leatherback turtles nest on the beach at night here and the sound of the sea serenades guests through open windows.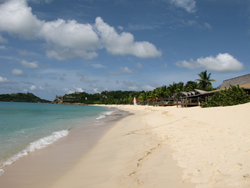 Once a historic sugar plantation, the lushly landscaped Galley Bay channels romance with its West Indian-meets-South-Pacific style decor, posh rooms and attentive service. The beach is breathtaking - so gorgeous that Giorgio Armani chose to build his villa on the bluff overlooking its pearly white sands. Guests can choose from 94 luscious guest accommodations including beachfront suites and an array of charming cottages. Beachside premium suites offer decadent oversized bathrooms, soaking tubs for two, beautiful views and all of the latest high-tech features. Pick a superior room and the sand is just (literally) a step away. Most resort rooms have direct beach access and some of the Tahitian-style cottages even have their own individual plunge pools.

Visit Indulge, the resort's state-of-the-art spa, for the ultimate in pampering. Soothing treatments include a variety of facials and massages. For true inner peace, try your massage on one of the elevated massage decks overlooking the lagoon. Those in the mood for a bit more activity can enjoy the tennis court, swimming pool complete with cascading waterfall, fitness facility, complimentary bicycles, non-motorized water sports, and lagoon fishing. A wide array of island and watersports excursions are available for an additional fee.

Galley Bay offers its guests a wonderful assortment of dining options at its lounges and three restaurants - The Seagrape, The Gaugin, and Ismay's. Each of the restaurants serves dishes with a Euro-Caribbean flair. For the ultimate in romance, dine beachside under the stars at one of The Gaugin's outdoor thatched palapas.

Guests must be at least 16 years of age to stay at Galley Bay, so there won't be any little ones around to interrupt your long-awaited romantic interlude. Don't miss taking an evening stroll along the beach and savoring your moment in tropical paradise - the sunsets are divine here.

If You Go:
For more information on Elite Island Resorts or to make a reservation, visit www.eliteislandresorts.com or contact your favorite travel agent.

To learn more about the island of Antigua, visit www.antigua-barbuda.org.

Rates at Elite Island Resorts' Antigua properties are the highest from the December holiday period through late April and much lower during the rest of the year. Excellent low season rates and package deals are offered. Make sure to check the Elite Island Resorts website for specials.

Nelson's Dockyard was developed as a base for the British Navy in the 18th century. As the only Georgian dockyard in the world, it's a great place for kids hankering for a Pirates of the Caribbean experience. It's fun to head to Shirley Heights, up above the harbor, for the great views across the Caribbean as well as live music and festivities on Sundays.

Endangered leatherback sea turtles nest at Galley Bay from April to early June and the equally rare hawksbill turtles nest from June to September. Hatchlings generally appear 50- 55 days later. Turtle patrols scout the beach at night here. Ask Guest Services to be notified if turtles nest or hatchlings emerge, as they did during our stay. It's an incredible experience.

The beaches at all three Elite Island Resorts are stunning. If you'd like to sample more of what Antigua has to offer, however, Half Moon Bay, Long Bay, Darkwood Beach, Dickenson Bay, and Turners Beach are a few of the best.



Copyright 2011. The Beacon Group, Inc. All Rights Reserved.