Resort Spotlight: Barceló Los Cabos Palace Deluxe
By Nancy Schretter, Editor
Families love all-inclusive resorts for family vacations - in fact, it's a major family travel trend. Finding a reasonably priced family all-inclusive with great food and top-notch amenities can be tough, however. Barceló's new flagship resort, the Barceló Los Cabos Palace Deluxe, offers family vacationers all that and much more.
While families are drawn to all-inclusives for a wide variety of reasons, one common complaint is the quality of the food. "We love going to all-inclusives because of the ease of vacationing there," says Karen Kilgore, mother of three. "They're easy on the family budget and we never have to worry about prices or saying 'no' to the kids." But according to Kilgore, "the downside is always the food." Rooms can be average as well.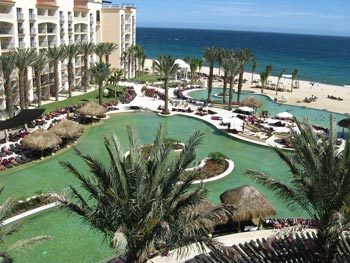 Not so at the Barceló Los Cabos Palace Deluxe. This new hotel addresses these issues with top-notch dining venues as well as huge family suites with high-tech features. My daughter, Katie, and I visited the resort last month and came away very impressed. The combination of a hot destination and a cool amenity-laden resort are a home run for family fun.
Check out these great features:
What's Special
· Huge suites: This new all-inclusive, all-suite resort features 619 spacious 1-, 2- and 3-bedroom suites that are perfect for families. The property also has 34 specialty swim-up suites, the first and only of their kind in the Los Cabos area.
· "Smart rooms": Each of the hotel rooms contains a flat-screen TV that functions as a computer, controlling the room's temperature settings, drapery positions, privacy alerts, wake-up times, room service requests, and even Internet access at no charge. Wi-Fi is available in guest rooms and throughout the resort.
· Spectacular beachfront location: The Barceló Los Cabos Palace Deluxe is located directly on a long, wide stretch of white sand beach only 20 minutes from the airport.
· Cool pools: The resort's huge lagoon-style pools serve as a key centerpiece for the Barceló Los Cabos Palace Deluxe. The three unique pools, totaling more than 50,000 square feet, provide a haven for water lovers. Kids flock to the property's new splash park, older teens and adults bask at their own separate "adults" pool, and sunning is the main draw at the massive infinity pool overlooking the sea.
· Family amenities: Parents rave about the resort's Barcy Club for ages 4-12 and its friendly, attentive staff. Families also enjoy playing together in the resort's game room and gathering around the outdoor fire pits at night.
· Excellent food: The resort offers five gourmet international specialty restaurants as well as two buffet dining options. Food selection, décor and preparation are significantly better than what's found at most all-inclusive resorts.
· World-class spa: Parents and teens 18 and older can be pampered at the property's 18,000 square-foot SPA Life – treatments can be enjoyed in three outdoor palapas as well.
· Club Premium program: This upgrade offers families preferred dining reservations, the use of a private lounge, late checkout and more.
Great Food and Amenities
If you have a family of food-lovers or picky eaters, you're in luck at the Barceló Los Cabos Palace Deluxe. The hotel's seven restaurants provide families with a wide array of excellent dining options, including French, Mexican, Italian, and Spanish cuisine, as well as extensive buffets for casual dining. Our favorites were La Hacienda (Steak) and Lotus (Japanese). During the day time, La Hacienda functions as a grill serving hot and cold food to guests by the pool. At night, the restaurant converts into a beautiful outdoor steakhouse where families can enjoy a superb steak or grilled fish dinner. Try the tuna – it's terrific!
Lotus offers multiple dining experiences under one roof, so make sure to specify your preference when making reservations. We liked the Japanese Tepanyaki tables, where chefs dazzle their audience with their cooking displays. This one is a favorite with the kids. For those who want an authentic Japanese experience, the restaurant has a Tatami section where guests can take off their shoes and sit on plush cushions.
Looking for personalized service and extra amenities? The hotel's Club Premium program gives guests the opportunity for more personalized service and easier access to resort's many dining options. The service provides individualized check-in and check-out; early check-in and late check-out without an additional fee subject to availability; a private lounge for exclusive use by Premium Club guests; concierge service; upgraded in-room amenities; and preference for all types of resort reservations including dining reservations. The service provides a "club within a resort" feel to your vacation stay and makes it easier for families to obtain multiple specialty restaurant reservations and other services. The Club Premium lounge provides a variety of tasty snacks during the day as well as attentive concierge service.
Guests 18 and older can enjoy treatments at the resort's gorgeous SPA Life, which includes a hydrotherapy room with multiple jet filled pools and showers. The spa menu is extensive and offers a wide variety of treatments and packages, including body wraps, massages and facials for both men and women. Salon services are also available.
Get Out and Play
There's water everywhere at the Barceló Los Cabos Palace Deluxe. Families will enjoy the resort's three swimming pools, which include a central pool complete with water sports activities, an infinity pool, an adult pool, and a children's splash deck. The hotel also features first floor swim-up suites, which are connected to pool areas via a deck. Guests can also get active on the resort's tennis court, half basketball court, and in the fitness center.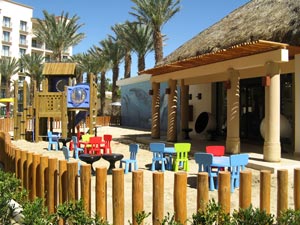 Another special amenity for families is the Barcy Kids' Club, a children's mini-club for ages 4-12. The kids' club is open daily from 9 a.m. to 5 p.m. and offers a constantly changing menu of activities for the kids. Additional family-oriented events are available at selected times. The cool Barcy Water Park, a splash playground featuring water cannons, water umbrellas, and interactive jets – is located right next to the Kids' Club. The water park has proven to be a big hit with kids, especially the younger ones. Babysitters are also available at the resort upon request.
Guests looking for nightly entertainment have several options. Nightly shows, such as Latin dance and magic shows, are featured in the theater. Parents will enjoy the resort's seven bars – including an American sports bar and a beautiful piano bar. There's also a game room that includes two Nintendo Wii stations, pool tables, foosball tables, and an air hockey table. At night, families can relax under the stars around the fire pits on the beach or near the pool.
Exploring Los Cabos
The greater Cabo area is brimming with a wide variety of things to do, making it a popular family vacation destination. The region is filled with sports attractions, ecotourism and nature, shopping, delectable dining spots, and some cool options for thrill-seekers. In addition, with more than 300 days of sunshine yearly, Los Cabos is an excellent choice for families with sun-loving teens and young adults who crave a tan.
With its many golf course venues, Los Cabos area is known as the "Pebble Beach of Mexico." Courses are located within easy commuting distance from the resort. Extensive water sports and recreation options are available nearby, including kayaking, water skiing, jet skis and scuba diving. Local vendors offer horseback rides daily on the beach. The Cabo area is also known for year-round fishing and charters can be arranged at the activities desk as well as at local marinas. These sports are not included in the all-inclusive guest package.
Only a five-dollar cab ride away, charming San Jose del Cabo is filled with shops and restaurants. Families can find a fabulous selection of jewelry, clothes, and other souvenirs at reasonable prices here. For casual dining with the kids, have lunch or dinner at Tropicana. La Panga Antigua, Damiana Restaurant and Mi Cocina at Casa Natalia are all good choices for a romantic parents' night out.
Whale watching is a popular activity in the Los Cabos area from December through early April and excursions can be purchased at the tour desk at the Barceló Los Cabos Palace Deluxe. Ocean Riders is a good choice for thrill-seeking families who want to combine a little adrenaline rush with their whale watching. The company uses high-speed boats that can travel up to 50 mph to reach areas where the whales are congregating. The guides are entertaining and knowledgeable, so families will have fun and learn a lot about the migrating whales.
Adventure seekers can go on ATV tours, take scenic helicopter rides, or soar across deep canyon ravines on a zip line. Cabo's Wild Canyon Adventure is the home of ten zip lines, including the longest one in Baja. Guests can ride in tandem or even up to four at a time on some of the sections, making this attraction great for adrenaline-junkies. Family members should be at least 10 years of age and must be able to walk up a 20 degree slope for at least 5 minutes without stopping, since there are a significant number of steps and uphill treks on this adventure.
If You Go:
· Be aware that most of the beaches in the Los Cabos area are not safe for swimming, including the one in front of the resort. The resort's huge pools are designed to make up for that fact.
· Temperatures in Los Cabos are warm during much of the year, so the resort's pools are not heated. The infinity and adult pools are the warmest during cooler months.
· Make your specialty restaurant reservations as soon as you arrive for the best selections and times.
· Men should plan to wear closed toe shoes, shirts with sleeves, and long pants at the resort's specialty restaurants. Flip-flops are not permitted.
· If you can't bring your own lifejackets, floaties or sand toys, they can be purchased at Mega supermarket, just a short 5-minute walk away. Beach umbrellas are available here as well.
· Make sure to see the sunrise at least once during your stay – the colors are truly amazing.
· Bring plenty of $1 bills for tips.
For more information on the Barceló Los Cabos Palace Deluxe or to make reservations, visit the Barcelo website at www.barcelo.com, or contact your favorite travel agent.
©Copyright 2010. The Beacon Group, Inc. All Rights Reserved.