Fun For All Ages At Barcelo Maya Palace Deluxe
By Nancy Schretter, Editor
Finding a resort that will work well for young children, teens and college-age kids is tough for vacation planning parents and grandparents. It's difficult to find a property with wide array of amenities and enough space for separate age groups to make it work. The all-inclusive Barcelo Maya Palace Deluxe is a resort that will please everyone, from the pre-kindergarten set to stressed out adults.
Families love all-inclusive resorts for vacations, especially that deliver top-quality accommodations, dining options and amenities. Barcelo's upscale all-deluxe resorts meet their needs by providing large family rooms with separate spaces for parents and kids, gourmet dining (with exclusive kids menus, of course), and a wealth of all-included activities. Families' distinct needs and tastes are provided for and expected at these properties.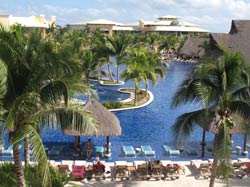 Located on Mexico's Riviera Maya and bathed by the clear azure waters of the Caribbean Sea, the resort's postcard-perfect setting includes white sand beaches, lush tropical landscapes and magnificent pools. The Barcelo Maya Palace Deluxe is one of five Barcelo all-inclusive resorts in this sprawling Maya Beach Resort complex. Guests staying at the Maya Palace Deluxe can use the facilities at all five resorts, providing the variety that many families and multigenerational groups need.
What's Special:
Spectacular beachfront location: The Barcelo Maya Palace Deluxe is located on well over a mile of pristine white sand beach. Snorkeling here is outstanding with sea turtles and many fish coming close to shore.
Waterworks: The resort's massive lagoon-style main pool with a huge Jacuzzi and natural rock waterfall serves centerpiece of the hotel. There's also a secluded adult swimming pool with lounging beds shaded by large palapas, a lap pool, and a fun children's waterpark area with a zero-entry pool.
Family-friendly design: The family suites and junior suites at the Barcelo Maya Palace Deluxe are created with families in mind, offering separate areas for parents and kids. Kids love the resort's free Barcy Club for ages 4-12 and the cool kids' waterpark. In addition, the Jaguars nightclub located near the Barcelo Maya Colonial Beach on property gets rave reviews from college-age kids and young adults.
Dining options: This all-inclusive resort offers five gourmet international specialty restaurants as well as two buffet dining options. Food selection, preparation and quality are a cut above what's found at most all-inclusive resorts. In addition, Palace guests can dine at additional specialty restaurants at the other four Maya Beach Resort hotels.
Club Premium program: This upgrade offers families preferred dining reservations, free Internet access, the use of a private lounge with computers, snacks/drinks and a concierge, assistance with specialty dining reservations, late checkout and more.
Choose Your Playground
It's nice to have lots of options, especially on a multigenerational vacation or a getaway with kids with a wide range of ages and interests. Some family members love to lounge by the pool while others enjoy more active pursuits like snorkeling, windsurfing, basketball and tennis. With all of the amenities that the multi-hotel Maya Beach Resort offers, the Barcelo Maya Palace Deluxe provides the best of all worlds.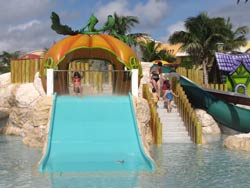 I spoke with many families who were spending ten days to two weeks at the Palace and had never left the property. The resort's amenities kept them completely entertained. "There's so much to do here, so no one's getting bored," said Karen Rogers from New York. "The grounds, pools and shows are fantastic … and my kids love the Barcy Club and the waterpark," the mom of three exclaimed happily as she watched her kids playing on the slides. "We can't get them a way from here!"
A multigenerational group from Vancouver echoed Rogers' opinions. For them, the Barcelo Maya Palace met every family member's needs – from a grandmother who liked to sit in the shade and read to active boys who liked windsurfing, playing basketball and competing at air hockey and foosball near the pool. "Sometimes we're together during the day, but often we're in different places doing things and we come together at meals to talk about it all," said the Canadian mom of two.
Our experience was no different. On our first day of vacation, the kids spent their time frolicking in the Palace pool and tanning on the sun loungers while my husband and I snorkeled and swam with sea turtles and brightly colored tropical fish. On other days, we took turns strolling the beach, checking out the pool and facilities at the other resorts, kayaking, playing mini-golf, or walking to the complex's Plaza Mexicana shopping center to look for silver jewelry, handmade purses and blouses from Chiapas, and other souvenirs. Daylight hours were reserved for the beach or the pool – when we weren't going off property for shopping or other adventures. Evenings were filled with delectable dinners at the buffet or specialty restaurants and checking out the shows at the different hotels. It was hard to tear ourselves away from the property, but there's so much in the surrounding areas to explore.
Family Adventures
The Barcelo Maya Palace Deluxe is located deep in the Riviera Maya, one of the best areas for shopping, adventurous exploration and cultural tours. Nearby Playa del Carmen is a fun excursion for bargain hunters and those seeking a little retail therapy. The pedestrian walkways on Avenida 5 (Fifth Avenue) and the Paseo del Carmen are the places to be. Browse the many shops for silver jewelry, Mexican artisan items, handmade purses and scarves from Chiapas, t-shirts, pottery and tequila. There are many excellent restaurants in the area as well, along with the requisite Starbucks and Haagen-Dazs ice cream outlets. For those who love island hopping, the ferry to Cozumel leaves from Playa del Carmen as well.
Wildlife, nature and eco-adventure opportunities abound in the Riviera Maya. Dolphin Discovery, a large facility where families can interact with dolphins, manatees and sea lions, is located just about a mile up the road from the Barcelo Maya Beach complex. Dolphin encounters and swims are popular excursions, so make your reservations early. Xcaret and Xel-ha, two eco-adventure parks, are another fun way to spend the day. Xplor, a new theme park best for teens and adults, features zip lines and suspension bridges, swimming in an underground river, and driving amphibious vehicles (drivers must be 18 and older – seats two.) Nature lovers will also enjoy a trip to the Sian Ka'an Biosphere Reserve, a 1.3 million acre UNESCO World Heritage site. Rio Secreto, a "walk-in" cenote filled with stalactites and stalagmites, also gets rave reviews – although it's not a good choice for claustrophobics. For active explorers who don't want to go far, the cenote at EcoPark Kantun-Chi is located right across the street from the Barcelo.
This region is also an excellent place to learn about Mayan history and culture. Tulum, a 60-acre Mayan excavation site, is one of the most visit spots in the Yucatan peninsula. The impressive hilltop ruins backing to the turquoise waters of the Caribbean Sea is the perfect place for a family photo. Coba, a partially excavated archeological site hidden deep within the rainforest, is another impressive Mayan cultural site within driving distance. Chichen Itza – a UNESCO World Heritage Site and one of the New 7 Wonders of the World, is another tour possibility for those willing to take a long day trip.
If You Go:
For more information on the Barcelo Maya Palace Deluxe, visit www.barcelomayapalace.com, call 1-800-BARCELO or contact your favorite travel agent.
There are a limited number of spacious multi-room family suites at the resort and they're great if you want privacy. Reserve these early before they get snapped up.
The Barcelo Maya Palace Deluxe is located approximately an hour to an hour and a half from Cancun International Airport, depending on traffic and the type of transfer chosen.
Make your specialty restaurant dining reservations as soon as you arrive for the best selection. If you are on the Club Premium program, the club's concierge can make reservations at check in – just ask for assistance. We liked the French restaurant (Le Brasserie) the best and the evening buffets are outstanding as well.
The free Barcy Club at the Barcelo Maya Palace Deluxe is open from 9 a.m. to 9 p.m. daily. Children are usually divided into two groups for activities: ages 4-8 and ages 9-12. Counselors will take the children to lunch and/or dinner if requested.
Snorkeling is outstanding at this resort. One hour of free snorkeling equipment rental is provided per day subject to availability. If you plan to snorkel a lot, bring along your own gear.
Many of the shows at the resorts in the Barcelo Maya Beach complex are quite good. Don't miss the Michael Jackson show – it's excellent.
The buildings within the Barcelo Maya Palace Deluxe resort and the Barcelo Maya Beach complex are spread out. We enjoyed walking, but if you have small children, make sure to bring a stroller.
©Copyright 2011. The Beacon Group, Inc. All Rights Reserved.