12 Reasons Families Love The Carnival Breeze
By Nancy Schretter

Cruising is a great choice for family vacations, especially on ships packed with lots of kid-pleasing features. Carnival Cruise Lines' newest ship, the Carnival Breeze, is one of the best ships for families afloat. This truly is a "Fun Ship" unlike any other. The 3,690-passenger Carnival Breeze is loaded with family-focused programs and amenities, earning rave reviews from parents and kids alike.

Carnival estimates that it will carry 710,000 kids and teens on its fleet of 24 ships this year, making it the leader in family cruising. With the launch of the Carnival Breeze, Carnival Cruise Lines has created a high-energy vacation venue that offers more for families than ever before. In fact, there's over 19,000 total square feet of space dedicated to kids and teens programs and activities on this ship.

Parents and grandparents shouldn't fret, though. Adults aren't left out on the Carnival Breeze. There are many innovative areas geared just for adults, including the ship's relaxing Serenity area and the tranquil new Library Bar. In addition, both kids and parents will appreciate the spacious family accommodations, fun shows, entertainment and wide array of dining venues aboard the Breeze. This ship is an excellent choice for families with young adults and multigenerational family vacations as well.

Here are twelve things that families love about cruising on the Carnival Breeze:

1. Great Family-Friendly Accommodations. The Breeze's contemporary Caribbean-themed décor makes it feel like an upscale resort hotel conveniently floating on the high seas. The Carnival Breeze has 20 deluxe ocean-view staterooms that can accommodate up to five with two twins that convert to a king, two bunk-style beds and a sofa that turns into a twin bed. The ship's ocean-view family cabins also have two bathrooms - a huge plus. Regular triple and quad staterooms on the Carnival Breeze are some of the roomiest afloat and many of the ship's cabins can accommodate five guests. Families can also book suites or two of the numerous connecting cabins for added space and privacy. A 24-inch flat-screen television (larger in the suites) makes TV-watching fun. And, of course, a Carnival cruise wouldn't be complete without the ever-popular towel animals waiting to delight families upon return to their staterooms each evening.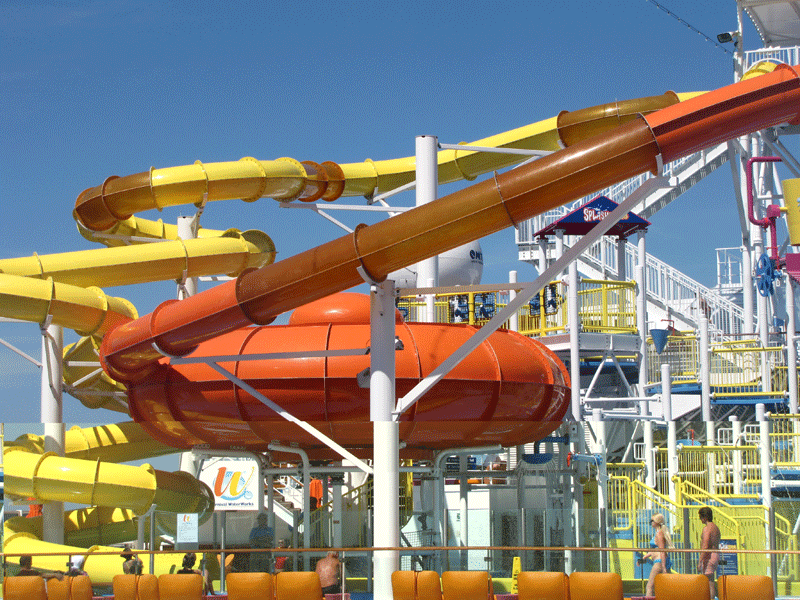 2. WaterWorks Aqua Park. The Carnival Breeze's huge WaterWorks area is one of the largest waterparks afloat with two huge curving waterslides: the rippin' fast 312-foot-long Twister and the huge funnel-type DrainPipe. There's also a water play area, two small slides for little ones, and a 300-gallon soaker bucket that fills and then tips, dumping loads of water on the squealing kids below. Groups of children can often be found congregating and giggling under the bucket, just waiting to be splashed. WaterWorks is a huge hit with families, particularly after long shore excursions and on steamy weather days.
3. SportsSquare. Sports lovers and adventure-seekers will want to head for SportSquare, the Carnival Breeze's recreation complex. This top deck area features a miniature golf course, an open-air workout area, and a cool suspended ropes course called SkyCourse. The SkyCourse is incredibly popular with families. Participants are strapped into a safety harness while traversing the course's rope bridges, swinging steps and balance beams. There's also an 1/8th mile jogging track, a lighted basketball/volleyball court, ping-pong and foosball tables, and much more.
4. Interactive Thrill Theater. This newest kid-pleasing Carnival attraction generates multi-dimensional excitement with a variety of movies – as many as 10 different features in one cruise. The 24-seat Thrill Theater combines a high-definition projection system, 3-D movies and glasses, moving and vibrating seats, and special effects (squirting water, bubbles, seat poking and more) to generate a totally immersive experience. Movies include such short duration titles as Happy Feet, Sponge Bob & Mumble's Wild Ride, Bamboo Express, Speed Racer, and the thrill favorite – Extreme Log Ride. The price for the Thrill Theater is $7.95 for one ticket and $14.95 per person for unlimited movie viewings throughout the cruise. Kids tend to get hooked, so it's wise to choose the unlimited viewings option.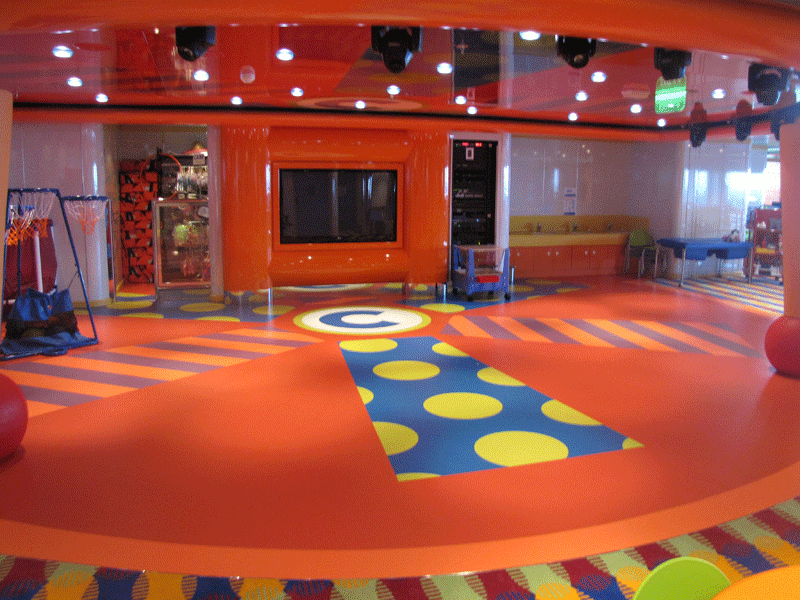 5. Camp Carnival for Kids. Children get special attention on the Carnival Breeze – which is important since there were more than 800 kids and teens on my sailing. The cruise line's free Camp Carnival program is focused on children ages 2 to 11 and is divided into three groups: 2-5; 6-8; and 9-11. The Breeze's Camp Carnival space is a massive 5,000-square-foot play area divided into three sections and well equipped with toys, games, arts and crafts supplies, and Wii and PlayStation2 terminals. Activities vary by age group and a detailed daily calendar of activities by age group is delivered to each child's stateroom. All counselors are trained in child development and CPR. Camp hours are long and vary somewhat by day, but typically last from 9 a.m. to 10 p.m. daily. On port days when shore excursions leave early, Camp Carnival opens in advance to accommodate parents who want to let their children stay onboard and play with their friends while they go exploring. Kids can also have dinner with the youth staff in the evening, giving parents the opportunity for a romantic night out. When Camp Carnival programs end at about 10 p.m., Carnival's late night children's programs and events get underway. The Camp Carnival Night Owls parties are divided into three different age groups: Owl Jams for ages 2-11; Fun 'Til One for ages 6-8; and Fun at Sea for ages 9-11. The Night Owls program also features nightly group babysitting services. Designed to be a fun-filled slumber party at sea complete with activities, Carnival's babysitting program is available from 10 p.m. to 3 a.m. nightly during the cruise. While the daily Camp Carnival programs are free, the late-night Night Owls and babysitting programs are available for a small fee per child.

6. Chill Tween and Teen Spaces. Tweens and teens have their own expansive, well-designed areas on the Carnival Breeze. Club O2 caters to older teens ages 15-17 and has a hip nightclub feel. In this 2,740-square-foot club, older teens will find a huge dance floor, a state-of-the-art sound and lighting system, a wide array of video gaming and music-listening stations, a soda bar, and areas perfectly arranged for chatting while watching videos on TV monitors. Tweens ages 12-14 congregate at Circle C, a dedicated club-type space devoted to this age group. This club also has a large dance floor, video jukebox, video gaming and Internet stations, and a bar area for sodas. As part of their club activities, teens can hang out with friends and listen to music, play video games, watch a movie, enjoy dance and pool parties, participate in special events, and so much more. All events are free of charge and are supervised by dedicated directors and trained counselors who know how to make things fun, safe and cool.

7. Rockin' Nightlife for Young Adults. Traveling families come in all shapes and sizes, and many include young adults. The Carnival Breeze is a great venue for this age group because of all the nightlife, fun bars, cool entertainment options, and high-energy onboard excitement. The fun doesn't stop at 10 p.m. on the Carnival Breeze - after all, it's a Fun Ship! Trained by the award-winning DJ IRIE, the Carnival Breeze's DJs can be found keeping the late night action going in the Liquid Nightclub, at fiestas and deck parties, and throughout the ship. The ship's new Playlist Productions, shorter high-tech shows that combine music with fashion and dance, feature some of today's most popular artists including Beyonce, Madonna, Jennifer Lopez, Enrique Iglesias and Shakira. The late night Punchliner Comedy Club Presented by George Lopez is another favorite with college kids and young adults. For those over 21, the Carnival Breeze features bars with lots of personality including the RedFrog Rum Bar, the BlueIguana Tequila Bar and the ever-popular RedFrog Pub.

8. Fun Family Entertainment. If your family loves family game night, competitions and winning prizes, Hasbro, The Game Show is the place to be. Debuting on the Carnival Breeze to enthusiastic audiences, Hasbro, The Game Show is a series of TV-quality, larger-than-life shows held in the ship's Ovation Theater. Families can participate in games including SORRY! SLIDERS, SIMON FLASH, YAHTZEE BOWLING, OPERATION SLAM DUNK, and CONNECT 4 BASKETBALL. For guests who enjoy outdoor entertainment, the Carnival Breeze features a huge 270-square-foot LED flat screen that overlooks the Beach Pool, offering "Dive In Movies," sporting events, concerts, and shows. Located near the teen clubs, The Warehouse Video Arcade contains a wide array of arcade and video games. Keep an eye on this one, though, as each game played will be charged to your card. It might be best to stick to all the fun games available for free at SportsSquare.

9. Specialty Dining Options. The Carnival Breeze is loaded with memorable dining choices. Families should plan to enjoy at least one dinner at Cucina del Capitano, the Carnival Breeze's family-style Italian specialty restaurant. The restaurant's menu items – several made from favorite recipes contributed by the cruise line's Italian captains – range from exquisite pasta dishes to hearty short ribs of beef. Fahrenheit 555, a classic American steakhouse, is another exceptional specialty restaurant and an excellent choice for a Parents' Night Out. Carnival's first full-service sushi restaurant, Bonsai Sushi, serves sushi, sashimi, rolls and other items in the evenings 'till midnight. There are additional fees associated with these specialty dining options, but they're well worth the cost. Other great specialty dining venues on the Breeze are completely free, however. Check out Guy's Burger Joint for juicy burgers and hand-cut fries created with Food Network star Guy Fieri, authentic tacos and burritos at BlueIguana Cantina, delicious nightly samplings from The Taste Bar, awesome offerings from the Lido Marketplace including Indian Tandoori and the Mongolian Wok, and yummy brunch treats at The Punchliner Comedy Brunch Presented by George Lopez. Don't miss Fat Jimmy's C-Side BBQ available on sea days only, but plan to wait in line a bit for this free fare.

10. Cherry On Top. Kids (and kids at heart) will love Cherry on Top, a retail boutique featuring huge bins of colorful candies, specialty sweets, cards, gifts and more. Here guests can find massive balloon-sized lollipops, candied apples, and every sort of candy and sweet you could imagine. Bulk candies in bins are sold by the pound - make sure to try a few.

11. Adults-Only Serenity. Carnival knows that parents need some adults-only time on vacation. For parents looking for a place to relax while the kids are at Camp Carnival, Serenity offers just the place. Located at the front of the ship, Serenity is an adults-only escape complete with double hammocks, comfy cushion-topped loungers, and huge whirlpools. Admission to this area is free, unlike on some other cruise lines. Those who don't want to leave can enjoy light fare in Serenity's dining area or a drink from its tucked-away bar. Savor the sea views up here - they're fantastic.

12. Cloud 9 Spa. Those seeking some "me" time and pampering on their cruise vacation should float on over to the Cloud 9 Spa. The spa provides dozens of treatments including massages, facials, acupuncture programs, body scrubs, medi-spa services, and a whole lot more. Specials may be available on port days. The Thermal Suite and the Thalassotherapy Pool on the Breeze are relaxing options as well. The Cloud 9 Spa also offers Generation Z teen spa treatments for younger guests ages 13-17. Teen spa treatments include the Fabulous Fruity Facial, Surfer's Scrub, and the Hot Chocolate Wrap. In addition, there's a well-equipped salon and a full fitness center here that offers instructor-led classes daily.

For more information about Carnival Cruise Lines and the new Carnival Breeze, visit http://www.carnival.com.


©Copyright 2013. The Beacon Group, Inc. All Rights Reserved.