Carnival Makes Family Cruise Magic
By Nancy Schretter, Editor
Cruising is a great choice for family vacations, especially on ships packed with lots of family-pleasing features. Carnival Cruise Lines' newest ship, the Carnival Magic, aces this test and is clearly one of the best ships for families afloat. Fun-loving family travelers will find vacation nirvana here.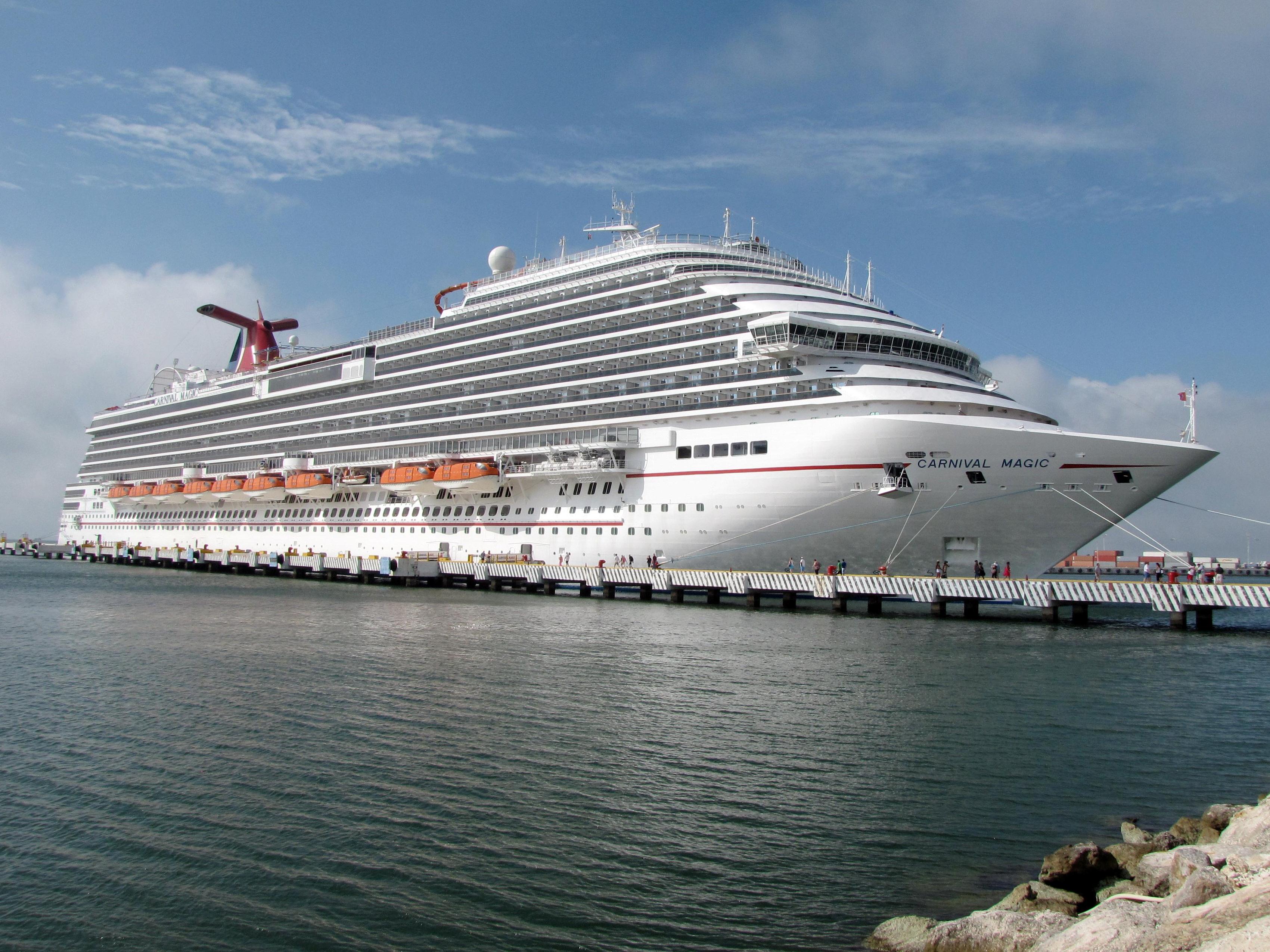 Approximately 670,000 children and teens sail on Carnival ships each year, making it the leader in family cruising. With the launch of the Carnival Magic, Carnival Cruise Lines has delivered a "Fun Ship" loaded with amenities that will wow every family member. There's over 19,000 square feet of space dedicated to kids and teens programs and activities on this ship. But don't worry - parents aren't left out on the Carnival Magic. There are many innovative new areas geared just for adults as well. In addition, both kids and parents will appreciate the Magic's spacious family accommodations, fun shows, entertainment and yummy dining venues. This ship is perfect for multigenerational family vacation, too.

Here are twelve things that cruising families will love about the Carnival Magic:

1. Great Family-Friendly Accommodations. The Carnival Magic has 193 staterooms that can accommodate up to five with two twins, two bunk-style beds and a sofa that turns into a twin bed. The cabins also have two bathrooms - a huge plus. Parents should note: the two twin beds in these quint staterooms cannot be converted into a king. Regular triple and quad staterooms on the Carnival Magic are some of the roomiest afloat. In addition, families can book suites or connecting cabins for added space and privacy. A 24-inch flat-screen television (larger in the suites) makes TV-watching fun. You can order room service and shore excursions, or simply see what's for dinner in the dining room, using the television as well.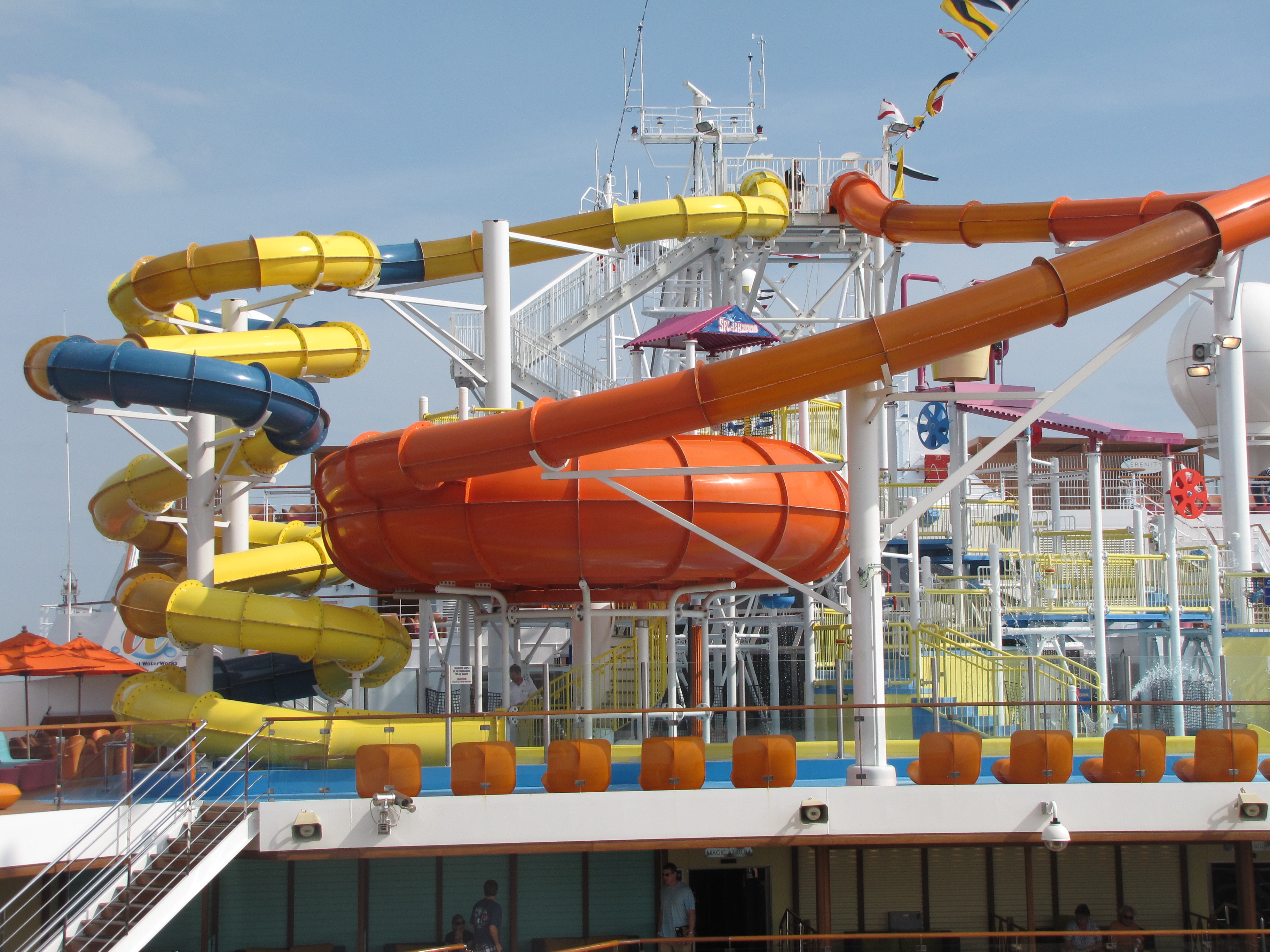 2. WaterWorks Aqua Park. The Magic's WaterWorks area is one of the largest waterparks afloat with two huge curving waterslides: the rippin' fast 312-foot-long Twister and the huge funnel-type DrainPipe. There are also two small slides for little ones and a 500-gallon soaker bucket that fills and then dumps water on some lucky aqua park guests. It's definitely a fun way to get wet and kids can generally be found congregated below, just waiting to be splashed. Families with kids should plan on spending hours here.

3. SportsSquare. Sports lovers and adventure-seekers on the Magic will want to head for SportSquare, the Carnival Magic's recreation complex. This top deck area features some of the ship's most innovative features, including a two-level miniature golf course, an outdoor weightlifting and workout area, and the first suspended ropes course at sea called SkyCourse. The SkyCourse is incredibly popular with families. Participants are strapped into a safety harness while traversing the course's rope bridges, swinging steps and balance beams - and parents and kids can choose between the easy or difficult route. There's also a 1/8th mile jogging track, a lighted basketball/volleyball court, a giant-sized chess set, ping-pong and foosball tables, and much more.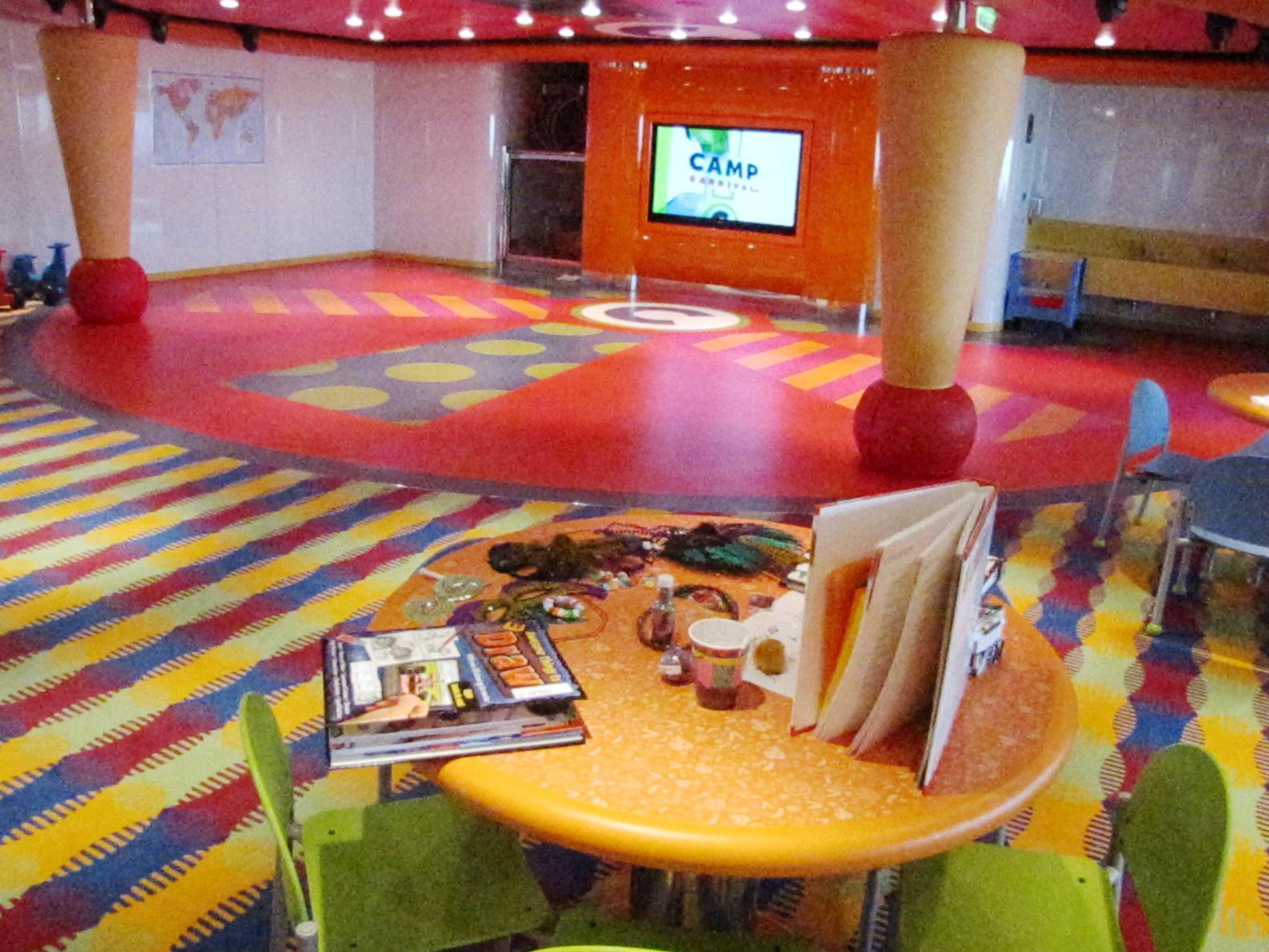 4. Camp Carnival for Kids. Kids and teens get special attention on the Carnival Magic. Camp Carnival is focused on children ages 2 to 11 and is divided into three groups: 2-5; 6-8; and 9-11. The Magic's Camp Carnival space is large and very well equipped with toys, games, arts and crafts supplies, and Wii and PlayStation2 terminals. Organized activities vary by age group and a daily detailed calendar of activities by age group is delivered to children's staterooms. All counselors are trained in child development and those we met were very enthusiastic and excited about their work. Camp hours are long and vary somewhat by day, but typically last from 9 a.m. to 10 p.m. daily. When Camp Carnival programs end at about 10 p.m., Carnival's late night children's programs and events get underway. The Camp Carnival Night Owls parties are divided into three different age groups: Owl Jams for ages 2-11; Fun 'Til One for ages 6-8; and Fun at Sea for ages 9-11. The Night Owls program also features nightly group babysitting services. Designed to be a fun-filled slumber party at sea complete with activities, Carnival's babysitting program is available from 10 p.m. to 3 a.m. nightly during the cruise. While the daily Camp Carnival programs are free, the late-night Night Owls and babysitting programs are available for a small fee.

5. Rockin' Tween and Teen Spaces. Tweens and teens have their own expansive, well-designed areas on this ship as well. Club O2 caters to older teens ages 15-17 and rivals many major city clubs in features and décor. Here, older teens will find a huge dance floor, a wide array of gaming and music-listening stations, a soda bar, and areas perfectly arranged for chatting while watching videos on TV monitors. Tweens ages 12-14 congregate at Circle C, another dedicated club-type space devoted to this age group. This club also has a large dance floor, video jukeboxes and Internet stations, and a bar area for sodas. As part of their club activities, teens can hang out with friends and listen to music, play video games, watch a movie, enjoy dance and pool parties, participate in special events, and so much more. All events are free of charge and are supervised by dedicated directors and trained counselors who know how to make it fun, safe and cool. Teens-only shore excursions may also be arranged.

6. Fun Family Entertainment. The Carnival Magic's Seaside Theatre - a huge 12' x 22' jumbo LED screen and accompanying 70,000-watt sound system - is awesome for families. Movies and concerts are shown nightly, so kids can play in the pool while watching popular family favorites while parents look on and relax. Family-friendly shows are also available at the Showtime theater on most evenings. Don't miss "Destination: Unknown" a cool extravaganza that combines magic with Broadway-style musical numbers. For those who are game-addicted, the Warehouse contains an air hockey table and a wide array of arcade games. Watch this one, though, as each game played will be charged to your card.

7. Incredible Specialty Restaurants. For a truly memorable meal, families should plan to spend an evening at Cucina del Capitano, Carnival's first Italian specialty restaurant. The restaurant's menu items - several made from favorite recipes contributed by the cruise line's Italian captains - range from exquisite pasta dishes to hearty short ribs of beef. Prime Steakhouse is another exceptional specialty restaurant on the Magic and is an excellent choice for a Parents' Night Out. While high quality cuts of prime beef are certainly the main attraction here, other choices include lobster, lamb, chicken and sea bass. There is additional fee associated with these two specialty restaurants, but they're well worth the cost.

8. Cherry On Top. Kids (and kids at heart) will love Cherry on Top, a new retail boutique featuring huge bins of colorful candies, specialty sweets, cards, gifts and more. Here you'll find massive balloon-sized lollipops, candied apples, and every sort of candy you could imagine. Think "Willy Wonka gone wild." Bulk candies in bins are sold by the pound - make sure to try a few.

9. Adults-Only Serenity. Carnival gets that parents need some adults-only time on vacation. If you're looking for a place to relax while the kids are at Camp Carnival, Serenity offers just the place. Located at the front of the ship, Serenity is a quiet area just for adults and is complete with double hammocks, comfy cushioned loungers and chairs, and two huge whirlpools. Enjoy the views up here - they're fantastic.

10. RedFrog Pub. The Magic's RedFrog Pub is another great adults-only place where parents can while away the day or evening hours. This Caribbean-style pub (think cool Caribbean/Key West beach bar at sea) features great live entertainment, yummy food, and its own private-label draught beer - ThirstyFrog Red. There's also a wide selection of Caribbean brews, frozen concoctions and rum drinks. The RedFrog also has its own assortment of tasty pub snacks, such as coconut shrimp, firecracker Jamaican chicken wings, grouper fingers and sliders.

11. Cloud 9 Spa. If you're looking for some "me" time and pampering while on vacation, the Magic's Cloud 9 Spa could be the answer. The spa provides dozens of treatments including a variety of massages, facials, acupuncture programs, body sculpting, teeth whitening, and a whole lot more. Specials may be available on port days. While the Spa's traditional services are available to guests ages 18 and over, selected treatments are also available for younger guests ages 12-17. There's also a well-equipped fitness center here that offers classes daily.

12. Easy-To-Find Pictures. Family cruises are one of the best times to get family pictures done. It's a lot easier to get the kids to participate in these kinds of formal portraits when everyone else is doing it. The Carnival Magic provides loads of opportunities for formal and informal portraits, so take advantage of the chance to have someone capture your vacation memories. Sometimes, however, the problem is finding the pictures. On the Carnival Magic, however, it's ... well - magic! Simply pop your Sail & Sign card into one of the Photo Finder kiosks onboard and your pictures will show up on the screen. The card has your embarkation photo embedded into it. If you want to find pictures of just your children, though, you'll need to use their Sail & Sign card to make it work.


If You Go:
The Carnival Magic cruises year-round from Galveston, Texas. For more information on Carnival Cruise Lines and the Carnival Magic, visit http://www.carnival.com, call 1-800-CARNIVAL or contact your favorite travel agent.
Families wishing to book family-friendly accommodations such as quint cabins, connecting staterooms, suites and quad cabins should plan to book early for the best selection and availability.
Make sure your kids, teens and tweens go to their programs on the first available night. This is the time when kids and teens get to know each other and informal groups are formed.
If you have rules and expectations - such as no cell phone usage, curfews, budgets, and eating together at meals, make sure to talk about those in advance before the cruise starts.
Book specialty restaurant dining times and shore excursions early. The specialty restaurants on this ship are excellent and popular shore excursions can sell out fast.

©Copyright 2011. The Beacon Group, Inc. All Rights Reserved.