Resort Spotlight: Club Med Ixtapa Pacific
By Nancy Schretter, Editor
Forty years ago, Club Med revolutionized the family vacation by introducing the children's Mini Club Med to their already popular all-inclusive vacation concept. This innovative move raised the bar for family vacation options to a whole new level - and family travel landscape has never been the same. Parents enjoyed the ease of vacationing with their children in idyllic locations, bonding and enjoying each other's company apart from the hassles of the everyday world.
Since that time, many other all-inclusive properties introduced a wide variety of children's programs. All age ranges were covered, from babies through teens. Now, Club Med goes to the head of its class once again with the newly transformed Club Med Ixtapa Pacific. As a result of the resort's $20 million renovation, families can now enjoy a more upscale, family-centric all-inclusive vacation experience with all of the unique benefits the new Club Med now offers.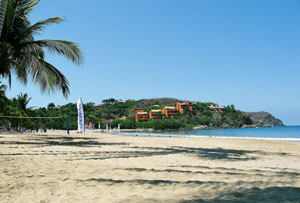 Club Med Ixtapa Pacific is set on a long, lovely stretch of beach aptly called Playa Quieta, near the Pacific coastal town of Ixtapa, Mexico. It's not just the kids programs that are exceptional at this resort, nor is it simply the food or the physical surroundings. Club Med Ixtapa Pacific serves up the whole enchilada and much more. Everything stands out at this family hacienda themed resort, but the staff is the true superlative. Parents and children experience a special feeling here - gracious, warm, welcoming, and extraordinary.
The Club Med Approach
"It takes a village to raise a child," says a well-known African proverb. This outlook certainly applies to the Club Med vacation experience. The village's G.O. residents may not raise the children, but they certainly help them to have a fantastic time. The entire resort village and its staff are committed to bringing vacation happiness to their young guests and parents as well.
Club Med's resort villages are now centered primarily around families. Approximately 80% of guests are families at Club Med Ixtapa Pacific, and the enthusiastic multilingual staff members are there to help them have fun and enjoy their stay completely.
One of Club Med's strengths is its management team and staff of G.O.s, shorthand for "gentils organisateurs" or "gracious organizers." The G.O.s at all Club Med properties are multicultural and multilingual, hailing from around the world. The G.O.s at Club Med Ixtapa Pacific are very friendly and their sincere interest in their guests shows in everything they do. The G.O.s socialize with resort guests (called G.M.s or "gracious members") during meals and activities and go out of their way to make sure no one feels left out.
Parents and kids can interact with the staff and take advantage of programs as much or as little as they'd like. There's no pushiness here. Kids naturally seem to gravitate to the children's programs and become close to their G.O. staff. Jean-Marc Desy, Ixtapa Pacific's Chief of Village, is ever present on the property, keeping staff energy levels high and making sure guests are having a good time.
According to Chief Executive Officer Henri Giscard D'Estaing, Club Med has learned that families want lots of choices on their vacations. "Families want the opportunity for each member of the family to do extraordinary things on their vacation, both together and separately," he says. As part of Club Med's new family-oriented strategy, programming devoted to children and families was expanded, and new resort programs and activities were added.
Club Med has always included a wide range of programs, sports and activities as part of their all-inclusive vacation package. At Club Med Ixtapa Pacific, sports activities include:
Kayaking and catamaran sailing (with instruction for beginners)
Tennis (with instruction), archery (with instruction for beginners), volleyball (beach and hard court), basketball, bocce ball, water polo, table tennis, billiards, miniature golf and in-line skating (with instruction for beginners)
Circus school and flying trapeze (with full instruction and evening shows)
A variety of fitness programs with lessons for all levels, including Club Med Fitness, power walking, wall climbing, cardio splash and cardio tennis. Yoga and other related sports activities are also available.
In addition to all of the above, guests at Club Med Ixtapa Pacific can enjoy three swimming pools with one exclusively for kids, eight hard-surface tennis courts (four lighted), a weight room, bicycle rentals, an Internet room with multiple stations (available at an additional charge), and WI-FI Internet access in the common areas, conference rooms, reception area and by the pool. Cooking demonstrations and arts & crafts workshops are held during the week, and nature discovery adventure activities are available. Evening entertainment is generally extensive, with shows, beach parties, live music performances, entertainment by the pool, circus shows, DJ fiestas, and traditional Mexican dance performances. The children's weekly Mini Club show is also very popular with parents and guests.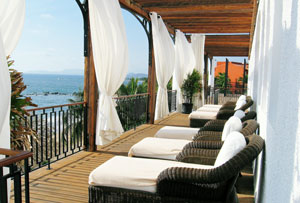 Guests looking for added relaxation should head for Club Med's new Inti Spa, featuring indoor treatment rooms and oceanfront palapa treatment areas, an herbal tea room and a Zen area. Padded lounge chairs out on the balcony also offer a restful place to relax before or after treatments and look out over the ocean. A wide variety of spa treatments are available for an additional charge here, including seven types of massages, facial and body treatments, manicures and pedicures, and other hand and foot treatments. Since the resort's focus is on family, spa services are also available for kids ages 12 and up, when accompanied by their parent or guardian.
There's so much to do at Club Med Ixtapa that guests tend to spend little time in their rooms. The new renovations have brought the rooms up to more luxurious standards, however, and families will be pleased with the changes. All of the resort's 296 guestrooms were completely renovated and refurbished to include new bedding, furniture, flat screen TVs and Internet access. Connecting rooms, family rooms, and 60 family suites are available. The Sol "boutique resort within a resort" concept with its own private concierge is also available here.
Paradise For Kids and Families
Club Med has always has always achieved rave reviews their children's activities, and there are extensive programs available for every age group. According to Public Relations Director Kate Moeller, Club Med has found that two major factors contribute to their success: programming and the right talent. "Our staff members, or G.O.s, truly love what they do and this is particularly true for the G.O.s who work with children," says Moeller. All Club Med G.O.s who work with children are specially certified. "Great programming options like Hip Hop Kidz, Circus School and Baby Gym give these passionate G.O.s the tools they need to captivate kids," Moeller adds.
As many resort guests arrive on Saturdays, group children's programs are available weekly from Sunday through Friday. Here's the inside scoop:
Babies and Toddlers
Club Med Ixtapa Pacific goes out of its way to cater to its youngest guests. Children from 4 months up to 4 years of age are included in programs for little ones: Baby Club Med and Petit Club Med. There is an extra charge for the programs for children in this age group, but the programs for all other age groups are free of charge. In-room babysitting is also available for an additional fee.
Parents rave about the G.O. staff that work with the kids in the Baby Club Med and Petit Club Med programs. They are attentive and enthusiastic, generally speak several languages, and are great at caring for and bonding with the kids. One mother said, "The staff here makes all the difference. I haven't felt comfortable leaving my youngest child with the staff at other all-inclusives we've visited, but I feel totally comfortable here at Club Med. My daughter loves it!"
Baby Club Med is for children between 4 and 23 months of age. The program is divided into two groups by age and operates from 9 a.m. to 5:30 p.m. from Sunday through Friday. The ratio of caregivers to children is one to four. Babies are assigned special cubbies and have the same crib all week for their naptime. A personal chef prepares fresh baby food daily from all natural ingredients. At 7 p.m., the little ones can return for a Pajama Night Party from 7 p.m. until 1 a.m. in the morning. Parents must register for the Pajama Night Party by 2 p.m. on the desired date and a small additional fee is charged for this service.
Petit Club Med is for ages 2 through 3, and is usually divided into two age groups. The hours for the program are from 9 a.m. to 5:30 p.m. Sunday through Friday. The ratio of staff to children is one to six for this program. At 7 p.m., kids can return for a Pajama Night Party from 7 p.m. until 1 a.m. in the Tigers Room at Petit Club Med. Parents must register for the Pajama Night Party by 2 p.m. on the desired date and a small additional fee is charged for this service.
Parents of babies and toddlers will also appreciate the Club Med Baby Welcome program. The service provides a variety of amenities for babies and toddlers, such as changing tables, high chairs, bottle warmers, potties, portable cribs, strollers, baby baths, and toys. In addition, all of the restaurants at Club Med Ixtapa Pacific are equipped with microwaves, bottle warmers, blenders, high chairs and booster seats. Parents of infants can also use a 24-hour convenience room equipped with sterilizers, blenders and bottle warmers. In addition, the special Baby Zone area at the buffet style El Encanto restaurant offers baby food and special dining amenities for little ones.
Children Ages 4-10
Mini Club Med caters to children between the ages of 4-10 and this program is free of charge for all guests. The Mini Club program usually divides children into three age groups: Geckos ages 4-5; Iguanas ages 6-7; and Kids Club ages 8-10. Each age group is led by enthusiastic, well-trained GOs who clearly love their work. The staff to child ratio for this age group is typically one GO for every 7 or 8 kids.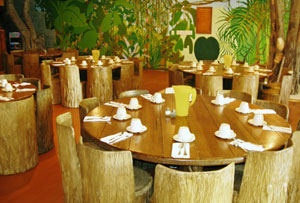 The Mini Club facilities at Club Med Ixtapa Pacific are the most extensive I've seen at any all-inclusive resort. The Mini Club center features its own pool with special water features, a playground, a large arts & crafts area and Sirena, a restaurant exclusively for children. The restaurant has its own chef and serves meals exclusively for children ages 4-10, with entertainment provided at every course.
Club Med's Mini Club is open on Sunday through Friday from 9 a.m. to 5:30 p.m., and again from 6:30 p.m. to 8:30 p.m. in the evening. Activities are different for each age group, and include such things as arts & crafts, cooking classes, treasure hunts, soccer, costume parades, sandcastle building, yoga, stage productions, sailing, kayaking mini golf, inline skating, pool time and more. Special signature Club Med programs for kids of this age also include Hip Hop Kidz (for ages 4-17), Circus School, "Mini Scientist," Petit Tennis, "Putumayo World Playground Adventure," and other activities. Kids Catamarans, called "Catsies," are available to teach the basics of sailing to children ages 6-10. Additional family events and nighttime parties are also offered.
Pajama Night, the after-hours program for children between the ages of 4 months and 8 years of age, is also popular with the younger children in the Mini Club program. The program is available from 7 p.m. until 1 a.m. in the morning. Parents must register for the Pajama Night Party by 2 p.m. on the desired date and a small additional fee is charged for this service.
Pre-Teens and Teens
Club Med offers a year-round Juniors program for children ages 11-13 and a special Teens program during school holidays and peak periods for kids ages 14-17. The Juniors program is available on Sundays through Fridays from 9 a.m. to 5:30 p.m., and the group also meets for dinner at 7 p.m. in the buffet-style El Encanto dining room. Teen Night events are also offered. Activities include circus school, archery, mini-golf, inline skating, sailing, kayaking, pool activities, arts & crafts, tennis, Hip Hop Kidz, and other activities.
Kate Moeller says that the resort uses the words "peak holidays only" for the teen program to manage expectations about program size. "The Junior Club G.O.s are always there, as in all our villages," says Moeller, "and if only one teen shows up, they will organize programming for the teen." Teens are provided with a special place of their own, a large palapa on the beach. It's a great place to meet and mingle, but no high tech games or special mixing tables are available there. Teens spend much of their time socializing, sailing, kayaking, using the climbing wall, playing soccer and basketball, and attending evening activities. The resort's Internet facilities are also popular, and a wide variety of spa treatments are also available for an additional charge.
Five-Star Cuisine
Although the family programs are exceptional at Club Med Ixtapa, so is the cuisine. This is quite unusual for a family-friendly all-inclusive resort, as many parents complain that food quality is the major sacrifice that is made in choosing an all-inclusive resort for their vacations. The mass produced food can be bland, over-cooked or repetitious, and the excitement of dining out is often lost.
This is not so at Club Med Ixtapa Pacific. The menu items served at El Encanto, the buffet style restaurant, make meals something to plan one's day around – an extraordinary feat for an all-inclusive main restaurant. While sitting on the beach, I overheard two male guests talking about this very aspect of the resort. The first man said, "This place is amazing. It's all about the kids here." The other male guest responded, "Are you kidding? It's all about the food!" In all of the years I've vacationed at all-inclusive properties, I've never heard anything remotely like this about the on-property meal service.
El Encanto serves breakfast, lunch and dinner in several uniquely themed dining rooms. Unlike the Club Med of old, guests can choose from tables for two, four, six, or larger groups. Chefs provide a huge selection of freshly prepared items for each meal. Breakfast favorites included extensive selections of fresh fruit, fruit crepes, omelets, and a huge assortment of breads and pastries. Don't miss the white chocolate bread – it's delicious. Dinner menu items included lobster, Beef Wellington, steak, jumbo shrimp, grilled salmon, roast duck with tangerine sauce, oysters, caviar and other delicacies. The pastry chef is particularly gifted at this resort.
Specialty restaurants on property include Miramar and Luna Azul. Miramar, an open-air restaurant overlooking the Pacific Ocean, serves a late breakfast, late lunch, and Brazilian steakhouse fare for dinner. Luna Azul is beautifully lighted in the evening, and this offers contemporary fusion cuisine served a la carte in an intimate environment.
Off-Property Diversions
With all of the activities and events offered at Club Med Ixtapa Pacific, it may be hard to tear your family away from the resort. Club Med's Discovery Program staff tries to make it easy by offering a variety of tours and activities to tempt your family. Some of the choices include an interactive dolphin experience (a favorite with many families), horseback riding, an ATV jungle & beach tour, custom fishing and boat charters, snorkeling and lunch at nearby Ixtapa Island, shopping and sightseeing in nearby Zihuatenejo, a full day visit to the culturally rich city of Morelia, and a tour of a pre-Hispanic historical site.
The location of Club Med Ixtapa Pacific is a significant part of its appeal. Palm-studded Playa Quieta is true to its name, a wide golden sand beach on a calm, protected stretch of ocean. The resort is tucked away from much of Ixtapa's development, but close enough to make both Ixtapa and the Zihuatanejo easily accessible. During our visit, we went to Zihuatenejo to see the fishermen bring in their catches, went shopping in stores and artisans markets, and enjoyed a tasty lunch of assorted Mexican dishes on lovely La Ropa beach. On another day, we took the boat over to Ixtapa Island for snorkeling and a fresh lobster lunch.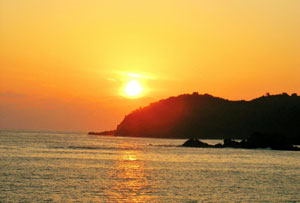 Our days at Club Med Ixtapa Pacific were filled with sailing, kayaking, swimming and enjoying each other's company. Every member of our group always found activities they wanted to experience, both together and apart. Each evening, however, we always made a pact to come together on the deck overlooking the Pacific Ocean to enjoy the sunset. Like everything else at Ixtapa Pacific – the sunsets are extraordinary.
For more information about Club Med Ixtapa Pacific, visit the Club Med website at www.clubmed.us, call 1-800-CLUB MED or contact your favorite travel professional. For a fun look at Club Med Ixtapa Pacific, take a look at their YouTube video featuring Club Med's Mini Club theme song, "Dance in the Sun."
If You Go:
Families with young children may wish to request accommodations in the Iguana set of buildings. They are located closest to the Mini Club, Baby Club Med and Petit Club Med facilities.
Many buildings do not have elevators. If you have lots of baby and toddler gear, you may want to request a room on the ground floor.
Remember that children's programs do not operate on Saturdays and plan accordingly.
The weather in the Ixtapa region tends to be sunny during most of the year with little rain. Make sure to bring plenty of high SPF sunscreen and bring along some insect repellent to apply for evening outdoor activities.
When you check in, sign up for Internet service access (additional fee) if you plan to use it during your stay and obtain the code for the infant supply room if you need it.
The specialty restaurants, the Discovery Programs tours, and the Inti Spa's treatments are all very popular, so be sure to make reservations in advance.
Club Med Ixtapa Pacific has an excellent roving band of photographers. This provides a great opportunity to get some picture perfect family shots, especially on the beach and at sunset.
©2003. The Beacon Group, Inc. All Rights Reserved