Costa Rica With Kids … the Easy Way
By Nancy Schretter, Editor
"Fifteen red poison dart frogs!" yelled seven-year old Cammy Resnick excitedly as she hopped up and down on the jungle path.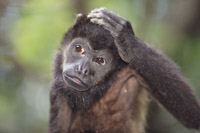 "Now it's sixteen… No, seventeen!" her nine-year old sister Katie hollered back.
It turned out to be an eventful morning. By the end of our short hike, our small group of family adventurers saw eighteen red poison dart frogs, nine tiny long-nosed bats clinging to the bark of a tree, an assortment of howler monkeys, several colorful toucans, a pair of raucous scarlet macaws, a large brown caiman, an army of leaf cutter ants, and two nests filled with tiny baby birds. Our naturalist guide, Federico, made it easy. He knew just where to look to spot the wildlife in this verdant Costa Rican jungle.
As an avid independent traveler, I must admit to having been a bit wary of group family tours and planned vacations. My recent trip to Costa Rica with Austin-Lehman Adventures changed all that, however. Travel with a tour and naturalist guide in Costa Rica is clearly the best way to go – especially for families who want to see abundant wildlife and experience adventures while still enjoying a stress-free vacation.
Costa Rica is teeming with wildlife, but families may miss much of it without a naturalist guide. Animals do not appear on cue like characters at Disney World, and children's attention spans and patience can quickly vanish when wildlife is not spotted promptly. Highly experienced guides know where to look for nature in this jungle paradise, and can point it out even when it is camouflaged by water or lush foliage. Some of the highlights of our trip were close-up views of flamboyant toucans, languid sloths, animated howler and spider monkeys, brilliant blue morpho butterflies, a red-eyed tree frog, dazzlingly iridescent hummingbirds, and giant nesting sea turtles.
For over 20 years, Austin-Lehman has led family-oriented trips to a wide variety of destinations. This year, the company introduced a special family trip to Costa Rica designed specifically for families with children ages 5-12. Rather than re-purposing their already existing trip for the younger age set, Austin-Lehman designed a new trip from the ground up taking into account shorter attention spans, differing safety requirements, and the special needs and interests of families with younger children. The result is a brilliant itinerary that provides a wonderful balance between fun and learning, organized activities and freedom.
In eco-rich destinations such as Costa Rica, exceptional naturalist guides are key. Austin-Lehman's tour operators and guides have "been there, done that" many times before and can save families time, money, and make more memories as a result. Experienced guides know where the wildlife can be found at different times of the day, where to take the best pictures, and hidden spots to make holiday dreams come true when time and vacation days are in short supply.
While nature and wildlife are an important part of any trip to Costa Rica, no vacation to the region would be complete without experiencing a little bit of adventure. On this trip, Austin-Lehman managed to bring adventure safely down to the level of an elementary school child. Our small group experienced an exhilarating whitewater rafting trip, mounted surefooted horses for a leisurely afternoon ride, paddled kayaks along narrow jungle waterways, hiked to cascading waterfalls, took a nighttime beach walk to watch Atlantic Green sea turtles lay their eggs in the dark sand, and cruised through an intricate web of jungle canals.
Opportunities for cultural enrichment also added a unique family focus to our itinerary. Special activities for families include a morning visit to a local farmers' market, classroom activities with third-grade students at a public school, lunches at local area restaurants, a visit to a banana plantation and banana processing plant, and interactions with residents in the village of Tortuguero. Our little group learned much from these cultural activities and all of us came away with vivid memories of these experiences.
Family travel tours such as Austin-Lehman's distill the best of Costa Rica into a short period of time, allowing families to make the most of their vacation. On our trip, we managed to pack in a number of activities within driving distance of San Jose, as well as in Tortuguero and the Orosi valley regions. Itineraries are "road tested" by tour operators and families, so vacationers get the best of what works and is most appealing to parents and their younger children.
As any parent knows, family car trips in unfamiliar foreign destinations can often be a nerve-wracking and painful form of torture – especially with younger children. On this trip, however, navigation and transportation were a breeze thanks to Felipe, our experienced van driver, and Federico, our kid-friendly guide. They knew all of the best places for souvenir purchases, unexpected bathroom stops, and roadside refreshments for our group. Federico captivated the children with nature stories and tales of Costa Rican culture, the kids sang songs together to keep themselves entertained, and a series of interesting planned stops helped to break up any long travel times.
An added bonus of our Austin-Lehman Family Adventure was the camaraderie that developed between members of the group. These unique tours allow families with children ages 5-12 to travel together, enabling kids to make new friends and contributing to a more relaxing vacation for adults. Designated family departures are designed to meet the needs of families with younger travelers and the specially selected tour guides understand the importance of kid-friendly foods, parental concerns about safety, entertainment on van trips, and other common family travel issues. Itineraries have been adjusted to match the rhythm of family travel with younger children and distinctive kid-friendly accommodations with pools were chosen for a peak family holiday experience.
Parents who enjoy independent travel on most family vacations will find that Austin-Lehman Family Adventures meets their needs for spontaneity and individual experiences. The guides and operations staff work hard to ensure that they exceed each vacationer's expectations. Although group activities have been designed for families with elementary school aged kids, there is enough free time to accommodate individual activities and the particular interests of adult group members. For even more customization, family groups of ten or more can put together their own exclusive group adventure or take over one of the existing Austin-Lehman trip departures. For families with teens, Austin-Lehman's Costa Rica Multi-Sport trips are just the ticket, providing more intense excitement and adventure.
For more information on Austin-Lehman Family Adventures, call 1-800-575-1540 or visit the company's website at www.austinlehman.com.
If You Go:
Make sure to take along a good camera, several disposable cameras for the kids, extra batteries or a battery charger, binoculars, rain gear, insect repellant, sunscreen of at least SPF 30 or higher, sunglasses, copies of all passports, a travel clock with an alarm, travel Woolite, at least two sets of clothes that dry quickly, and plenty of film. If you will be visiting during turtle nesting season and plan to participate in the evening turtle walk, dark slacks, shirts, and closed-toe shoes are also needed.
Be aware of seasonal weather differences and plan your vacation accordingly. Costa Rica's rainy season (often called the Green season) generally stretches from May through late November, while the dry season is generally December through April. Peak travel season is during the drier months, so trips will be more expensive during those times. If seeing nesting Atlantic Green sea turtles is important to your family, the months of June through early September are best for travel.
If your family enjoys beach destinations, consider planning a trip extension to Costa Rica's Pacific coast. The beaches are beautiful and there are a number of family-friendly resorts and unique nature-oriented destinations along the coast. Tour companies such as Austin-Lehman can help in making travel plans. In addition, Cruise West (www.cruisewest.com) offers small ship cruises to unique destinations along the Pacific Coast with family departures during the summer months.
Advise Austin-Lehman in advance if your family has any special preferences or needs. Austin-Lehman is highly customer focused, and the company sends every guest a questionnaire in advance to help learn more about their requirements. In addition, if any specific aspects of the itinerary are particularly important to you, make sure to let the company know in advance so that they can help in choosing the best departure date for your interests.
Costa Rica's schools are often in need of supplies. For your school visit, consider bringing along inexpensive supplies such as pencils, markers, pens, and other items. Postcards and maps from home are also appreciated. If you are interested, contact Austin-Lehman in advance of your visit to find out what items might be most useful at the time.
The Caribbean Conservation Corps in Tortuguero offers the opportunity for visitors to adopt a sea turtle. The adoption package is beautiful and was highly personalized at the time of our visit, making it a wonderful souvenir. If you are interested in adopting a sea turtle, make sure to budget the $25 needed for each adoption kit.
©Copyright 2003. The Beacon Group, Inc. All Rights Reserved.
Picture credits: Austin-Lehman Adventures