Disney's New Ship Is A Fantasy of Fun
By Nancy Schretter, Editor

Disney Cruise Line has a winner in its new Disney Fantasy, the fourth and newest ship in its fleet. Disney's ships are specially designed and built for families, and it clearly shows. This ship is perfect for family travel and it's an exceptional choice for any family vacation, including multigenerational events.

The Disney Fantasy has everything families could want on a cruise ship. With 1,250 staterooms and suites, including a variety of spacious family accommodations, the Disney Fantasy can carry up to 4,000 passengers. A sister ship to the Disney Dream, the 130,000-ton Disney Fantasy offers many of the line's tried-and-true popular venues and a number of innovative new features as well.
Here are ten of my top picks for things to do aboard the Disney Fantasy: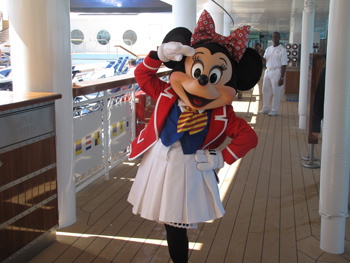 1. Meet the Characters. Disney characters are everywhere on the Disney Fantasy. It's not unusual to hear children scream, "Min-neee, Min-neee!" as a smiling Minnie Mouse skips towards them on the pool deck and poses for pictures. Characters can be found in abundance, and they seem to be even more accessible on the ship than at the parks. In the span of a few hours, I met most of the Disney princesses, exchanged air-blown kisses with Chip and Dale, waved to Aladdin and Peter Pan, and posed for pictures with Minnie and Micky Mouse. Character appearances are published daily in the ship's Personal Navigator delivered directly to guests' staterooms. While photographers are readily available, parents can also snap pictures with their own cameras.
2. Get Wet. One of the Disney Dream's favorite features is AquaDuck, a fabulous 765-foot long water coaster. The Disney Fantasy has its own AquaDuck along with AquaLab, a 1,800-square-foot children's water play area on the Fantasy's upper deck that features geysers, pop-up jets, two 10-foot-long squirting walls and much more. AquaLab is a great "get wet" alternative to the main pools for kids, while younger tots still in swim diapers can play at Nemo's Reef. In the main pool area on Deck 11, Donald's Pool sits in front of a huge LED screen perfect for watching evening dive-in movies. Mickey's Pool is just two feet deep, just right for younger guests. Families can also enjoy a new wading pool with a fountain on the forward area of Deck 12.
3. Relax and Chill Out. Guests 18-years of age and older will enjoy relaxing at Satellite Falls, a large circular splash pool area with benches and a soothing rain curtain found on Deck 13 of the Disney Fantasy. This water feature is surrounded by lots of deck space where guests can sun in loungers or chill out in the shade under a canopy. The Quiet Cove Pool with its own Cove Bar is another popular adult spot as well. Those seeking even more pampering should check out the Senses Spa for adults 18 and over, offering a wide array of treatments, a rainforest-themed aromatherapy steam room, and whirlpool hot tubs and heated mosaic tile relaxation chairs with stunning ocean views. Chill Spa provides a separate spa area with treatments for teens.
4. Play With the Muppets. Only on the Disney Fantasy can guests can join the Muppets in an interactive adventure. Designed for cruisers ages nine and older, "The Case of the Stolen Show" is a self-paced experience where families can help the Muppets find missing show props by uncovering clues hidden around the ship. The quest utilizes unique game cards and over a dozen pieces of Enchanted Art, allowing players to experience several possible endings and multiple randomized events. This is one of three Midship Dectective Agency games that can be played onboard using the ship's Enchanted Art.

5. Be Wowed by Kids Areas. The kids' and teens' spaces aboard the Disney Fantasy are the most impressive I've seen. Once kids are inside, it's hard to tear them away from all the interactive games, activities and delights Disney's programs have to offer. Disney's Oceaneer Club captivates children ages 3-10 with rooms decorated around Disney fairies, friendly monsters, cool toys and undersea adventures. Connected to the Oceaneer Club by two workshop areas, Disney's Oceaneer Lab focuses on discovery and exploration. Filled with fanciful style and whimsy, It's a Small World Nursery caters to infants and toddlers ages 3 months to 3 years. Tweens gravitate to Edge, a high-tech lounge just for tweens ages 11 to 13. Not to be outdone, the Vibe teen club for ages 14-17 has its own 9,000-square-foot indoor/outdoor space with a media room, state-of-the-art video editing area, dance club, fountain bar, and an outdoor private deck ith wading pools, fountains, pop jets and misters. Entrance is by "teen-only" swipe card, making the club even more exclusive.
6. Bring Drawings to Life. Like the Disney Dream, the Disney Fantasy features the Animator's Palate dining room. On the Fantasy, however, families are able to experience the process of animation through a new show called "Animation Magic." Once seated, guests are asked to draw a character of their own design with a marker on a special placemat. Servers then whisk the placemats away and they are used as part of the show. After dinner, Mickey Mouse appears on the dining room's screens and brings guests' characters to life in a cool marching and dancing sequence. The newly designed characters also show up in scenes from Disney movies alongside characters such as Minnie Mouse, Snow White and Cinderella. At the end of the show, guests see their names listed in the credits as guest animators. Kids and adults love this experience and it demonstrates how the animation process works - with a little bit of magic and pixie dust, of course!

7. Indulge in Epicurian Delights. Enjoy superb adults-only dining experiences at Disney Fantasy's two alternative restaurants: Palo and Remy. Palo offers outstanding Northern Italian cuisine complemented by an extensive wine list and outstanding service, all served in a setting with sweeping ocean views. At Remy, guests can sample sophisticated French-inspired gourmet cuisine created by two award-winning chefs. Make your reservations far in advance, as these dining venues book quickly.
8. Party European Style. Adults can have their own fun aboard the Disney Fantasy and enjoy nightlife European style. Sophisticated clubs and lounges inspired by places in Italy, France, London and Ireland can be found in Europa, the Fantasy's entertainment district designed exclusively for adults. Disney Cruise Line describes Europa as "a continent of adult nighttime fun without borders." Skyline is a bar that entertains guests with aerial ever-changing views of European city skylines. O'Gills Pub is a stereotypic Irish pub and Ooh La La is an upscale French champagne bar. The Tube is a hip metropolitan club that brings to mind the London nightlife scene, while La Piazza is a centrally located open lounge with an inviting Italian theme. Meridian is another wonderful lounge, located on Deck 12 between the two adults-only restaurants, Remy and Palo. It's a nice clubby spot to enjoy a drink, either indoors or out on the deck.
9. Enjoy the Show. Guests on the Disney Fantasy can enjoy five shows, including the premiere of two new Broadway-style performances. The first, "Wishes," is a 45-minute spectacular about three best friends who learn the importance of staying connected to their inner child. Character shows are always a favorite, and "Disney's Aladdin - A Musical Spectacular" is a popular hit. In this musical comedy, Aladdin meets a Genie who grants him three wishes. In line with the movie script, Aladdin falls in love with Princess Jasmine, battles Jafar, and has many adventures along the way. The magic carpet ride portion of this show is particularly impressive.
10. Play Dress Up. It's fun to watch kids turn into princesses and pirates with the help of the Bibbidi Bobbidi Boutique and The Pirates League, new on the Disney Fantasy. The pricey costumes and accessories sold on the Fantasy are only available on this Disney ship. Newly bedecked little princesses will love showing off their look for dinner at the Royal Court restaurant and having their pictures taken with Disney Princesses during the Princess Parade. Adults and children can transform themselves into pirates for "Mickey's Pirates IN the Caribbean" night with the help of The Pirates League. Say "Arrrggh!"
The Disney Fantasy sails from Port Canaveral, Florida, offering seven-night itineraries that alternate between eastern (St. Maarten and St. Thomas) and western (Grand Cayman, Costa Maya and Cozumel) Caribbean routes. All sailings include a visit to Disney's private island, Castaway Cay. For more information, visit www.disneycruise.com, call Disney Cruise Line at 888-325-2500, or contact your favorite travel agent.
©Copyright 2012. The Beacon Group, Inc. All Rights Reserved.