Families Go Wild for South Africa's Eastern Cape
By Nancy Schretter, Editor
South Africa ranked as one of the world's top five "most ideal family travel destinations" in a recent Virtuoso travel poll. The country's strong appeal is no surprise to Family Travel Network readers - it placed equally highly for international family travel in our own readers' survey.
Of course, it's no wonder. South Africa's unparalleled ability to combine extraordinary wildlife viewing, cultural experiences and relaxation opportunities make it the family vacation destination of a lifetime.
Pairing an exciting African wildlife safari with world-class beaches is the recipe for a dream family vacation for many parents and grandparents. Add incredible opportunities for learning, culture, ecotourism and adventure and you'll have South Africa's magical Eastern Cape. The icing on the cake? This region of Africa is malaria-free, making it a stress-free choice for those traveling with children.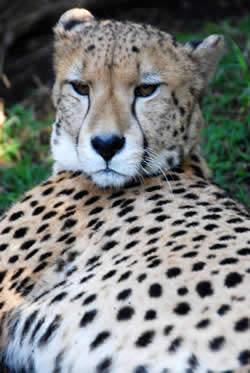 Up until recently, South Africa's Eastern Cape was one of the Africa's best-kept secrets. Now, tourists have discovered this destination's many attractions. The Eastern Cape region is home to almost 500 miles of coastline filled with sun-drenched beaches and enchanting seaside towns. In addition, vast tracts of land throughout this large province have been transformed into Big Five game sanctuaries and private wildlife reserves, transforming the region into a must-see destination for families.
But wait, there's more. The Eastern Cape has played an important role in South Africa's history, offering numerous learning opportunities for families. The province is birthplace of legendary political figures including Nelson Mandela and Steve Biko, and it played an important role in the country's anti-apartheid movement. The Eastern Cape is home to many different cultural groups including people of the Xhosa tribe, who still practice their native customs here. While visiting the area, families have the chance to learn more about the Xhosa rituals, rites of passage, and lifestyle. In addition, parents and children can learn about European settlers to this area, their frontier battles, and their efforts to create lives for their families in a new land.
Those traveling with adventurous 'tweens and teens should make a beeline for this part of South Africa. The waves in this region, particularly in Jeffrey's Bay, are legendary in the surfing community. With an average of 7 1/2 hours of daily sunshine year-round, there's plenty of time to catch one perfect wave after another, making it an incredible spot for watersports enthusiasts of all types. The Eastern Cape's Wild Coast is also fantastic for hiking, horseback riding, sandboarding and other sports.
The Eastern Cape is a region of great abundance and diversity - both in its landscape and the attractions it offers for family vacationers. With its modern cities and cultural heritage, even shoppers will find much to love here. It's hard to find a destination that offers something for every member of the family, but the Eastern Cape delivers beyond expectations.
Endless Sun and Surf
The trip to South Africa may seem daunting for families, but South African Airways (SAA) makes it easy with direct daily flights to Johannesburg from New York City and Washington, D.C. The non-stop nature of the New York to Johannesburg flight is a huge plus for families, as it provides vacationers with the opportunity to sleep on the plane and arrive rested - particularly in SAA's ultra-plush business class. Stopping over in Johannesburg offers a convenient opportunity for families to linger a few days to enjoy the many attractions of this modern, cosmopolitan city. For those who can't get enough of waves and wildlife, however, SAA's quick flight to the Eastern Cape city of Port Elizabeth will get your family straight into the action. The Radisson Blu Hotel here makes families feel right at home.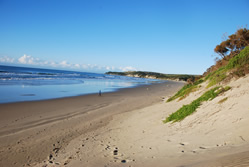 Whether you're craving dreamy deserted shores or golden strands rockin' with attractions - the Eastern Cape has the perfect beach to fit every vacationer. Four of the Eastern Cape's beaches hold coveted Blue Flag status, meaning that they are the best for water quality, amenities, security, and environmental practices. The sun-soaked beaches of Port Elizabeth are the ideal spot to start an Eastern Cape family vacation. In addition to luscious seashores lapped by the Indian Ocean's warm waters, these beach areas also house other popular family attractions like swimming pools and entertainment centers. Although quite commercial, King's Beach is a safe swimming beach for families and offers great facilities, including the McArthur Baths Swimming Pool Complex.

Surfing and watersports enthusiasts will want to hit popular spots around Port Elizabeth including The Fence, the Pipe, Millers Point, and Bluewater Bay. Of course, no visit to the region would be complete without visiting Jeffrey's Bay - called J-Bay by locals. J-Bay was featured in the movie Endless Summer and is considered to be one of the top surfing locations in the world. The town hosts the Billabong Pro surfing competition each year and superb surfers can often be seen riding the waves at locations like Supertubes, Bruce's Beauties and Magna Tubes. Surf lessons are a popular family activity here, along with horseback riding, sand boarding, and just about every watersport under the sun.
Families who love the outdoors will want to spend the day at Tsitsikamma National Park. The Tsitsikamma indigenous rainforest is home to over 250 species of birds and offers great hiking trails. The popular Tsitsikamma Canopy Tour, with its 10 ziplines to platforms placed high in giant Outeniqua Yellowwood trees, is also located in the vicinity. Family members of all ages will enjoy flying through the canopy almost 100 feet above the forest floor. At nearby Bloukrans Bridge, adrenaline-junkies can plan a bridge walk - or take the highest commercially operating bungy jump on the planet (at about 710 feet above the river) from the largest single concrete arch span in the world.
Further up the Cape, East London's unspoiled beaches beckon. This area enjoys sub-tropical weather and glorious sunshine year-round. Swimmers and surfers flock to Nahoon Beach and Eastern Beach, while Orient Beach provides very gentle surf for those with little ones. The East London Aquarium located near Eastern Beach features African penguins and over 400 species of marine life. Another big draw is the facility's Whale Viewing Deck, the perfect place to spot bottlenose dolphins or breaching humpback whales during whale season.
Families wishing to combine a relaxing beach vacation with some of South Africa's amazing cultural and wildlife experiences should consider staying at Prana Lodge. Located on the Eastern Cape's Wild Coast and within easy driving distance of many attractions, this 17-acre private boutique beach hotel is directly situated on over thirteen miles of unspoiled beach. Prana Lodge's seven luxurious suites, delectable dining and direct beach access make it a perfect home base for families. Activities include surfing, hiking, spa treatments, horseback riding on the beach, tennis, golf, and fishing. A wide variety of custom family-friendly excursions can also be provided by companies such as Edgeworld Tours.
Wildlife in Abundance
While the sunny beaches of the Eastern Cape are magnificent, no visit to this region would be complete without taking a wildlife safari. All of the Big Five (lion, leopard, rhino, elephant, and Cape buffalo) can be found in this region, along with spectacular sightings of cheetah, Kudu, zebra and giraffes. Reserves here are malaria free and many are easily accessible by car from Port Elizabeth.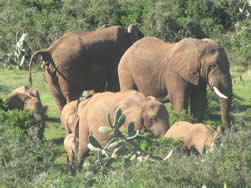 If you want to see elephants, Addo Elephant National Park is the place. This large Big 5 reserve comprises almost 445,000 acres and is home to over 450 elephants as well as lions, Cape buffalo, almost 50 endangered black rhino, leopards, spotted hyena, zebra, antelope and more. Located about an hour's drive from Port Elizabeth, the Addo Elephant National Park has the most intensely concentrated population of elephants in Africa and is well worth a visit. Take a private tour or head to the watering holes for the best sighting opportunities. Although this is a relatively easy day trip from Port Elizabeth, a number of lodging options are available within and nearby the park.
The Eastern Cape region has many private game reserves that are great for family safaris, including Lalibela, Kwandwe and Shamwari. A standout family favorite, however, is the Samara Private Game Reserve located in the Great Karoo region of the Eastern Cape, about a three-hour drive from Port Elizabeth. Although Samara is not a Big Five game reserve, this can be a plus when you're traveling with young children. This 70,000-acre game conservation area caters to families with children of all ages and offers some of the most superb kids' programs and activities available in a safari setting. Guests can stay at three elegant lodging options, including the luxurious Karoo Lodge. Samara's spacious individual garden cottages called Karoo Suites offer spacious accommodations for parents and up to two children. Kids under 3 years of age stay free of charge at Samara and special children's rates are also available.
Samara's Aardvark children's program is a delight for families. Pastimes include face painting, arts & crafts, story telling, treasure hunts and more. Don't expect the children to spend all their time indoors, as they are often whisked away into the bush for activities such as tracking, orienteering, spoor identification, and adventure safaris. The Aardvark children's program is available daily and children ages 8 and older are allowed on scheduled game drives. During the evening, babysitters are available upon request.
Although Samara is home to over 60 species of mammals, this five-star game reserve focuses on the highly endangered cheetah. In 2003, an originally wild cheetah came to Samara after extensive surgery and rehabilitation. This female cheetah, called Sibella, was released into Samara along with two males. Since that time, Sibella has thrived in the wild and has successfully raised 18 cubs – approximately 2% of the wild cheetah population in South Africa. Guests have the opportunity to observe Sibella and her offspring while on safari and watch these exceptional animals stalk their prey.
Containing four of South Africa's seven biomes, Samara is as rich in landscape as it is in wildlife. In addition to up-close experiences with cheetah, guests can go on landscape and aardvark night safaris; take game drives to view white rhino, Kudu, Hartebeest, oryx, black wildebeest and giraffes; see well-preserved Khoisan paintings and ancient fossils; enjoy a treatment at the Samara spa; participate in the reserve's volunteer projects; or simply relax and enjoy nature with the family. Nearby Graaff-Reinet and the spectacular Valley of Desolation are must-visit spots as well. After spending time in this hauntingly beautiful setting, both parents and children will go away rejuvenated.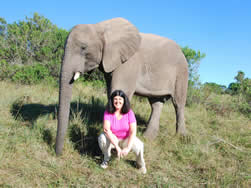 Families seeking a Big Five experience closer to the shore should check out Inkwenkwezi Private Game Reserve. Tucked away on the Eastern Cape's Wild Coast within an easy driving distance of East London, Inkwenkwezi offers visitors guided game drives, horseback riding and quad tours, and a variety of unique experiences such as personalized elephant interactions and elephant safaris. For the wildlife lover who dreams of close encounters with these gentle giants, Inkwenkwezi's programs are not to be missed.
Cultural and Learning Interactions
The Eastern Cape region plays an important role in South Africa's history and in the evolution of today's modern world. The living hero of Invictus, Nelson Mandela, was born here and still maintains a residence in his native town. Black Consciousness leader and freedom fighter Steve Biko was born here as well, and families can learn his story and follow parts of his journey in Port Elizabeth.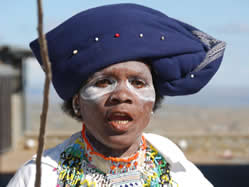 Those interested in history and culture should incorporate a tour of the Nelson Mandela Museum and his childhood village in Qunu into their family vacation. Here, parents and children can learn about Mandela's early life and his political and historical impact on South Africa. Families also have other opportunities to visit African cultural villages and organizations to learn more about the nation's heritage. At Khaya La Bantu, families can enjoy traditional food, dancing, and insights into Xhosa rituals hosted by Mama Tofu and her daughter, Zinzi. Cata Village also offers wonderful cultural experiences, allowing families to experience an ordinary Xhosa village, meet local children, and learn a little of the Xhosa language. This is a fun and entertaining way for children to learn in a participatory way and soak up the region's diversity.
If You Go:
There is so much for families to see and do in South Africa's Eastern Cape region. For detailed information on attractions and vacation options in this province, visit www.ectourism.co.za.

To learn more about planning a family vacation to South Africa, visit the South African Tourism website at www.southafrica.net.

For information on flights to South Africa, visit the South African Airways website at www.flysaa.com. The airline's direct non-stop flights from New York's JFK Airport to Johannesburg make flying to South Africa easy, particularly in their luxurious business class fully flat reclining seats.

Port Elizabeth has a number of family attractions including Bayworld, which incorporates the Oceanarium, Snake Park, and two museums. This attraction is being renovated and upgraded at the moment - check their website for updates. Seaview Game and Lion Park is another option for day excursions in the area.

The Eastern Cape's four Blue Flag beaches currently include Humewood Beach, Kelly's Beach Port Alfred, Gonubie Beach, and Kelly's Beach Kenton on Sea.

Companies such as Edgeworld Tours can provide customized multi-day tours and day outings for families. Founder Rob Prentis has spent his career working with parents and children and understands their needs well. For more information, visit www.edgeworldtours.co.za.


ęCopyright 2003. The Beacon Group, Inc. All Rights Reserved.