Family Adventures in Guatemala's Highlands
By Nancy Schretter, Editor
One of the biggest family vacation challenges is choosing a family travel destination that appeals to every family member. Guatemala is a good choice for a family trip because it offers attractions to match almost every interest. Guatemala is one of the best places for family vacations that combine cultural interaction, historic exploration, adventure excursions, and authentic shopping experiences.
Guatemala has five major regions for travelers to visit - all of them quite diverse. This Central American country stretches from the Caribbean Sea all the way to the Pacific Ocean and features major cities, colonial towns, UNESCO World Heritage and Mayan historic sites, massive volcanoes, blue mountain lakes, and beach areas. Guatemala's Highlands area is a region of incredible natural beauty and extraordinary culture - and it's one of my new favorite family vacation areas.
One of the best places to begin a family trip to Guatemala is lovely Antigua. Only about an hour's drive from Guatemala City, Antigua is filled with opportunities for cultural exploration, shopping, and adventure. Founded in the early 16th century, this UNESCO World Heritage Site is filled with cobblestone streets, shady plazas, and captivating colonial architecture. Families can hike active volcanoes, visit authentic Mayan communities and working coffee plantations, and shop for crafts and handmade textiles during their stay. This article on The Family Travel Network provides lots of ideas for family adventures in and around this quaint town. While Antigua is a wonderful spot for a family vacation, those who get out of town and head for the hills for a few days will be richly rewarded.
Exploring Guatemala's Highlands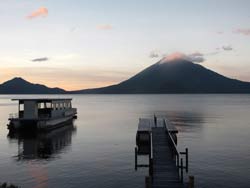 Located just a few hours away from Antigua, Lake Atitlán is one of the world's most beautiful lakes and a "must see" destination in Guatemala. Situated in the scenic Sololá District, the azure blue waters of Lake Atitlán are surrounded by three 10,000-foot volcanoes: Atitlán, Toliman and San Pedro. Mayan towns, rich with thousand-year-old cultural traditions, surround the 12-mile long lake and are accessible via water taxi. Each of these indigenous villages has its own distinct culture, dress and customs. This is definitely a place where families will want to spend several days.
Panajachel, the largest city on the shores of Lake Atitlán, is a tourist attraction in its own right. Shopping in the Calle Santander and at the main market in the old town are certainly some of the highlights. Others include seeing hundreds of butterflies, spider monkeys and other animals at the Reserva Natural Atitlán, flying through the air on a zip line, visiting the Museo Lacustre Atitlán to learn about the region's history, and letting the kids join in one of the many local soccer games. Kayaking and horseback riding trips and guided daylong hikes up the slopes of the San Pedro volcano are also available.
It's also nice to simply hang out in Panajachel and enjoy the region's panoramic landscape – particularly at the lovely Hotel Atitlán. This Spanish colonial-style hotel offers guests spectacular views of the volcano-rimmed lake. One could easily sit by the pool for hours, just admiring the stunning vistas. In addition, this hacienda-like hotel features extensive ornate gardens filled with exotic colorful birds, hand carved wooden furniture, rooms with tile floors and hand-woven bedspreads, and a cool California vibe. Don't miss the views of the lake at sunrise and sunset, when everything turns pink and gold. The food at the hotel's restaurant is equally delicious.
Panajachel also serves as a base of operations to visit the neighboring towns around Lake Atitlán. Take a boat ride across the lake to visit the nearby towns of San Juan La Laguna, Santiago de Atitlán, and Santa Catarina Palopó. All of these indigenous Mayan villages have their own highly developed art, folkloric handicrafts and textile traditions - each one different from the rest. In San Juan La Laguna, visit one of the women's textile cooperatives to learn how the native women make their own natural dyes and create beautiful intricately designed scarves, ponchos and other items using a backstrap loom. This type of loom has been used by the Maya for centuries.
In Santiago de Atitlán, one of the most picturesque lake villages, families can see more of the colorfully embroidered huipiles (blouses) worn by local women. Here, the huipile blouses of the Tzutujil women are lilac and feature colorful birds and animals. Some of the women in traditional dress also wear a tocoyal, a 12-yard-long band of fabric wrapped around their heads. Santiago de Atitlán is a good place to purchase artwork, delicately embroidered wall hangings and other pieces suitable for framing. It is also one of the places to visit Maximón, a Maya deity. Your guide or one of the locals may be able to direct you to his yearly residence in a local home - a small donation is expected. Here you will see a shrine to Maximón, swathed in clouds of incense and surrounded by candles and praying worshippers. Silence and respect is very important in this setting, so if your children can't be quiet, have them remain outside with a parent. Santiago de Atitlán's central marketplace and its massive white stucco Catholic Church, built in 1547 and dedicated to St. James the Apostle, are also worth visiting. Here, one can see how the town's many traditions exist together.
Santa Catarina Palopó is another lovely lakeside town popular with tourists and vacationers. Women wear brilliant blue and green huipiles here and the men can often be seen in traditional dress. If you get a chance, visit the lovely Casa Palopó to have lunch out on their terrace. The views of the volcanoes from this spot on the lake are incredible and the food is divine as well. Casa Palopó has beautiful rooms and large sumptuous suites, perfect for families with children ages fifteen and older who are seeking a luxurious place to stay.
Shopping in Chichicastenango
Chichicastenango is a handicraft and bargain shopper's paradise. Home of the largest Maya handicrafts market in the world, Chichicastenango (called "Chichi" by locals) comes to life every Thursday and Sunday when hundreds of Maya vendors from across the country converge on this highland town. Buyers from major department stores and catalog companies, along with average tourists, come here to purchase exquisitely embroidered tablecloths and runners, colorful hand-woven wall hangings, purses and carry-on luggage bags, handmade quilts and pillowcases, leather goods, delicately made textiles, wooden masks, woolen blankets, beautiful area rugs and more. Prices are often 40-75% less than those in Antigua and about five to ten times less than what they would be in the United States.
The mountain roads leading to Chichicastenango are winding and can be difficult to navigate, so it may be best to come with a guide or tour company. Plan to arrive the night before and stay at a local area hotel in order to take in the action early the next morning. Colorfully painted local buses (called "chicken buses") packed with vendors start arriving in the wee hours of the morning on market days. Standing on the hotel steps at 6 a.m., you'll see vast seas of people in traditional dress moving down the streets towards the market, many balancing huge bundles on their heads or carrying live chickens under their arms.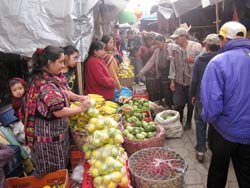 The market is huge. Wooden stalls crammed with goods, food and produce fill the town's square and overflow into the neighboring streets and alleys. A large part of the market is made up of artisan items, but locals shop here, too. Going down the street towards the cemetery, you'll see women selling live chickens, turkeys, flowers, and more. The scene in Chichi is not for the claustrophobic or the faint of heart, but bargain shoppers and those who love indigenous cultural experiences will be in heaven. Families should plan to stick together or even hold hands, as the crowds here are intense.
There is more to Chichicastenango than just the market. The white Church of Santo Tomás in the center of the town square is magnificent, dating from 1540. Both Catholic and Mayan ceremonies are practiced here, so you may witness morning mass followed by shamans conducting purification rituals on the church's outdoor steps. On Sundays, religious processions led by cofradias (religious societies) often wind through the streets. Tourists also often visit the postcard-perfect cemetery with its brightly pastel painted mausoleums and the Pascual Abaj, a hilltop shrine dedicated to the Mayan god of the Earth. If you visit either or both of these, it's best to do so with your tour guide or one of the local INGUAT representatives.
Traditional Cultural Celebrations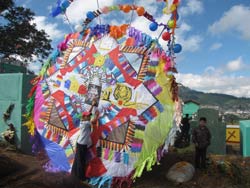 If families are lucky enough to visit Guatemala from October 31 to November 2, they may experience the country's unique Day of the Dead holiday events in different communities. These popular celebrations and rituals date back over 300 years and draw from the country's multicultural heritage. In Guatemala, departed relatives and loved ones are welcomed back to earth with giant brightly colored kites and by decorating mausoleums and grave sites. In addition, special traditional dishes such as fiambre, an entrée made with up to 50 types of meats, pickled vegetables and sausages, are prepared and served. Narrow streets fill with wooden stalls serving freshly cooked tortillas, hot pieces of chicken, grilled corn, and plantains. The sights and smells are amazing.
It is a Mayan tradition to celebrate the dead rather than mourn them, so the atmosphere around these events is festive. Colorful cemeteries resplendent in bright colors of pink, sky blue, turquoise, greens and yellows are filled with families bringing along picnics of food and drink. Vendors wander up and down the rows of gravesites, selling ice cream to children and adults sitting on blankets or perched on the steps of the family's mausoleum. It is truly a sight to see.
Two of the best places to experience the Day of the Dead take place on November 1 in Santiago Sacatepéquez and Sumpango. Located within driving distance of Antigua, these two towns date back to the 1700's and are home to traditional Kaqchikel communities that celebrate this holiday in a truly unique and spectacular fashion. Giant colorful kites of up to 30 feet tall are carefully built out of wood and tissue paper – each incorporating a specific theme and intricate designs. Messages for the departed are attached to the kites' tails. Many of the smaller kites are flown, but even a few of the larger ones take to the sky. This is a memorable occasion for families and a special event for those who love to take part in a living cultural heritage experience.
Semana Santa (Easter's Holy Week) is another incredible time to be in Guatemala. In Antigua, the cobblestone streets are lined with intricately designed carpets made from flowers and colored sawdust. Float-laden religious processions and pageants take place daily.
If You Go:
For more information on planning vacations in Guatemala, visit the official government INGUAT tourism website at www.visitguatemala.com.
American dollars are accepted in Guatemala, but in local indigenous markets it is often easier to bargain and pay for items using local quetzales. It is best to bring small bills ($1, $5, $10 and $20 denominations) and $100 bills are strongly discouraged as they are difficult to exchange. Banks and local merchants are selective in accepting U.S. currency, so only bring new bills with no markings or rips.
Call your credit card companies and your bank (for your ATM card) in advance of leaving to let them know you will be traveling in Guatemala. This will ensure that your cards will work when you arrive.
Temperatures and weather in Antigua differs from that of the Highlands, where it may be much cooler. Dress in layers and bring along a rain slicker just in case.
If you are planning to use your cell phones in Guatemala, make sure to call your service provider in advance to arrange for international service.
Guatemala's indigenous Maya many cultural traditions and beliefs. Be sensitive and ask for permission before taking pictures of people, particularly children.
Although traveling on your own is fine in Guatemala, there are many places where it might be best to hire a car and driver or go with a reputable tour operator. You will learn so much more about the country's history, customs and culture and you'll be able to relax when transiting the winding mountain roads. Reputable family-friendly tour companies, such as Adventure Life, Wildland Adventures and AdventureSmith Explorations offer multi-day tours in Guatemala.
©Copyright 2011. The Beacon Group, Inc. All Rights Reserved.