The Winnetu Resort: Fun For Families on Martha's Vineyard
By Julie Hatfield
Although we didn't bring any of our five children nor our one grandchild with us when we visited The Winnetu Resort here on South Beach (also called Katama Beach), almost as soon as we arrived, we wished we had. The first hint that this is not only an elegant hideaway for adult couples but a heavenly place for children as well was the 1941 Ford fire truck that goes back and forth the three miles from the resort into town, almost always filled with laughing children. The second were the small Adirondack chairs placed on the huge front lawn of the Winnetu that overlooks the beach and the Atlantic Ocean. They're about the perfect size for a 3-year-old.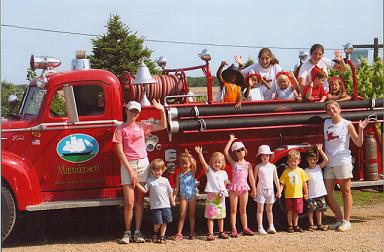 Lots of resorts now feature some sort of children's program with activities for the little ones while Mom and Dad (and perhaps Grandma and Grandpa) are golfing, or playing tennis or gallery-hopping (the Vineyard is especially good for the latter activity). This one, in addition to the three-hour morning sessions in the new Adventure and Wellness Center (including complimentary yoga!), boasts a "Farmer For a Day" program courtesy of the next door 200-acre Farm Institute, a self-sustainable teaching farm that encourages children from toddler age on up to learn about farmland and the animals on it. This is not a petting zoo; a sign in the barn reads "Unattended Children Will Be Put to Work," and children who come over from the Winnetu for this Saturday morning program will find themselves planting a seed, picking lettuce, perhaps observing the birth of a calf (older children, with parental permission, can view a slaughter as well). When we visited, a group of toddlers had been invited into the chicken coop to hold and feed two-day-old chicks. Winnetu has a hotline to alert the front desk of impending arrivals on the farm, and guests can time their stay to coincide with the birth of their child's favorite baby animals, whether chickens, goats, lambs, calves or turkeys. They can also enroll their children aged 4 to 14 in a four-day farm camp that delves deeper into the land preservation and nutritional issues of small farming.
We would be torn if we were children, as to which way to turn at this place so many miles closer to home than is Disney World, and as much fun. Besides the Pee Wee and junior tennis clinics and for teens, personal trainers from the Sports and Physical Therapy Associates, the official physical therapy provider for the Boston Red Sox, the Boston Bruins and consultants to the New England Revolution soccer team, there's the beach right out there, not to mention the biking paths and the kayaking and the Teen Program which includes socials and movies in town. The Garden Pavilion, which used to be the entrance to the inn, is now filled with games and toys for every age. Just outside near one of the three pools (two adult pools and a kiddie pool) is a life-sized chess board with a giant chair for adults to climb on and pretend to be a child again, a la Lily Tomlin's famed little girl character.
The resort just learned in March that they placed top for the Northeast in Child Magazine's 10 Best Family-Friendly Resorts, and number two out of the entire U.S. No wonder. What other resort has model boat races on the turtle pond in front of their living room/library? They'll even bring out their beautiful models of early Martha's Vineyard steamboats that are usually enclosed in Plexiglas cases in the resort's dining room, for an occasional trip around the pond. The complimentary children's program includes a supervised morning of play every day except Sunday, as well as evening activities, with a weekly barbeque with neighbor in the nearby South Beach community and renters and owners in the resort's extended properties, called Mattakesett. Wampanoag Indians were on Martha's Vineyard before the white man, and "winnetu" is Wampanoag for "beautiful," while "mattakesett" is Wampanoag for "waters too rough for canoe."
While the barbeque is a friendly social affair, the most fun dining on the property, to our minds, is inside The Winnetu, next to the gourmet Lure Restaurant overseen by Executive Chef Ed Gannon. Gannon comes from a decade as executive chef at Boston's Four Seasons Hotel and the critically acclaimed Aujourd'Hui Restaurant where he earned an AAA Five Diamond award. An avid fisherman, the chef has designed Lure to emphasize fresh Katama oysters, line-caught swordfish, specialty fish and lots of meats and poultry from the Farm Institute, but for children, he has opened their own restaurant next to the main dining room. It has a buffet of chicken and hamburgers, fish sticks and all the things children love, and is built for the height of a small child. Parents can join their kids to eat here if they wish, choosing from this or the gourmet menu of Lure, but the children go through the buffet line themselves, and at a certain point in the evening, the buffet is turned into a make-your-own sundae buffet (the only one on Martha's Vineyard) after which movies are shown.
This is the perfect multi-generational resort, to our minds, offering just the right amount of family togetherness and private adult time. We were surprised too, that with all the activities for children, it hasn't turned itself inside out to be a kiddie-only type of place. The resort still manages to feel like a quiet place for a couple to enjoy a romantic stay (it seemed there were so many fun things for the children to do here that they were rarely in evidence around the property, either by sight or sound.) We had our own putting contest on the front lawn while several yards away Jack Martinico, 3, watched for koi in the turtle/fish pond with his parents Andrea and Sal, from Brookhaven, New York, and decided with his parents whether the three would take a bike trip to Chappaquiddick the next morning, or stay at the resort and take a bucket and shovel to the beach, or play with the little wooden train set in the Garden Pavilion he had seen earlier. He was 'way too busy to get into other guests' hair…and so were we.
IF YOU GO;
Winnetu Inn
31 Dunes Rd., Edgartown, Martha's Vineyard, Massachusetts
978-443-1733
www.winnetu.com
Julie Hatfield is an award-winning travel writer who was fashion editor of The Boston Globe for 22 years and continues to write travel and a philanthropy column for The Globe. She lives in Duxbury, Mass., with her husband, is the mother of three, stepmother of two, and grandmother of one.
©Copyright 2003. The Beacon Group, Inc. All Rights Reserved.