That's The Spirit: Families Have Fun And Give Back On NCL
By Nancy Schretter, Editor
Family cruises are popular choices for family vacations, but selecting the right ship can be a challenge. Our family has always enjoyed our experiences on Norwegian Cruise Line, primarily because of its ability to cater to those of us who enjoy a relaxed, laid-back schedule on vacations. The Norwegian Spirit has all of the hallmarks of a great Norwegian Cruise Line ship: lots of restaurants, extensive kids programs, cool nightclubs and lounges, and a marvelous "Freestyle Cruising" program that allows families to do whatever - whenever. In addition, the ship's Western Caribbean itinerary also provides the perfect opportunity to combine a family vacation with voluntourism and community service.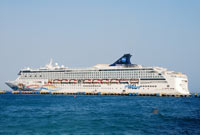 Families will find there's lots to "whatever" on this ship. The waterpark, children's facilities and entertainment facilities are superb. As the ship's name suggests, the Norwegian Spirit offers something much more important as well. The crew of the Norwegian Spirit has an upbeat presence and caring attitude that makes cruisers feel right at home. With this appealing combination of spirit and substance, the Norwegian Spirit is one ship that will keep families coming back for more.
The Ship
After being built by Star Cruises in 1998, the Norwegian Spirit began its life as the SuperStar Leo. The ship's design and decor has strong Asian overtones, since it was designed for that market. In 2004, the ship was transferred to Norwegian Cruise Line (NCL) and became the Norwegian Spirit. Much of the Oriental decor was left intact, making the ship an attractive and unique member of the Norwegian fleet.
The ship was newly restored in the fall of 2008, so families will find it looking quite new. Norwegian's Freestyle 2.0 program has introduced some innovative touches as well, including a champagne welcome at embarkation, Evian spritzes on deck, upgraded dining menus, and new NCL-U classes.
A number of areas aboard the Norwegian Spirit should not be missed:
* For the younger set, Buccaneer's Wet and Wild and Charlie's Childcare Center are simply fantastic. Kids love the elaborate waterpark-style pool complex and the world-class kids' club facility is extremely well equipped. The ship's game arcade is a magnet for teens. The Norwegian Spirit is a wonderful choice for families – see www.ncl.com for complete information on kids' and teens' programs.
* Maharini's Lounge and Nightclub is great for drinks and dancing. The decor is gorgeous and sexy, with plush day beds, velvet curtains, plasma screen televisions, and a dance floor that's jumping all night long.
* The Galaxy of the Stars on Deck 12 is one of the most beautiful observation lounges I've seen on a ship. Floor-to-ceiling windows on three sides provide magical views. This is a wonderful place to relax on days at sea and a good spot for cooling your heels on embarkation or debarkation days.
* Raffle's Terrace, located just above Buccaneer's Wet and Wild, is a good place to enjoy a drink as well as savor the beautiful views off the ship's stern.
* For java fans, The Cafe, located port side in the Grand Centrum, is a nice spot to settle down with your favorite latte and a good book.
* Located just above the Grand Centrum near the shops, Champagne Charlie's features soothing live music in the evenings - head here for drinks before or after dinner.
* The Internet Center and Library on Deck 12 are inviting and well equipped. Plenty of computers are available and wireless access can be found in many public areas. Be aware that Internet access is much slower than on land and plan accordingly.
* Cell service is available on the ship through Cellular at Sea. It's important to check with your network provider before leaving home to see what additional charges may apply under your plan and determine whether you will use your phone at sea. Let every member of your family know your cell phone rules: charges for voice and data can easily run up a several hundred dollar bill if you're not careful.
Dining Options
Norwegian's "Freestyle" approach to cruising means no assigned meal times. Families can eat when and where they please and choose from a wide variety of dining options. The Norwegian Spirit offers 11 restaurant and venues for its guests. Some of these are available at no additional charge, while others require a small per-person surcharge.
Review your dining options before boarding the ship and reserve your preferences early, as popular restaurants book quickly. The restaurant desk is in the Grand Centrum to the right of the purser's desk. Try to make your reservations immediately after boarding on embarkation day or call from your stateroom to avoid waiting in line.
The first specialty restaurant to fill up is typically Teppanyaki, as there is limited seating available. Chefs entertain guests as they cook and the food is delicious. This restaurant is particularly popular with families and large groups.
Le Bistro and Cagney's are also top choices. Le Bistro has a French/European menu while Cagney's is modeled after a traditional American steakhouse. In my opinion, both are well worth the small surcharges. Other notable specialty dining venues include Shogun and La Trattoria, an Italian restaurant.
The Norwegian Spirit's two main dining rooms are the Garden Room and Windows. Windows is a lovely spot, with dark wood touches and huge Palladian windows overlooking the stern. Personally, I preferred the more intimate Garden Room, which also features expansive window views. The attentive staff was particularly excellent.
Room service is also available 24 hours aboard the Norwegian Spirit and many guests take advantage of this option. This is particularly true at breakfast, when the Raffles Café buffet on the Lido Deck tends to become crowded. Food is available continuously at The Blue Lagoon as well. Another of the ship's most popular dining events is the Chocoholics' Buffet – a feast for the eyes as well as the taste buds.
Staterooms
Most cabins aboard the NCL Spirit are brightly colored with comfortable furnishings. There seems to be slightly less storage space in these rooms than on other NCL ships, so try to pack lightly. A few things are helpful to remember:
* Rooms are generally available no earlier than 2 p.m. on embarkation day.
* Many of the staterooms on board are interconnecting cabins – always great for families. If your family will be cruising in one cabin, however, don't worry about noise issues if your stateroom connects. Double metal doors are used on the Norwegian Spirit to eliminate noise problems.
* Be aware that there's a small hidden child lever-type lock at the top of the sliding glass doors in balcony cabins. Ask your cabin steward to point it out and demonstrate how it works.
* Spirit staterooms have sliding doors on their closets – a nice touch. When shutting the doors, however, make sure to push them firmly until a click is heard. That will stop them from sliding back and forth during the night while the ship is sailing.
Opportunities for Fun and Doing Good
The Norwegian Spirit's Western Caribbean itinerary is one of my favorites. The ship visits interesting destinations with lots to see and do. The ship departs from New Orleans, a great place for pre- or post-cruise voluntourism. Ports of call include Costa Maya, Mexico; Santo Tomas de Castilla, Guatemala; Belize City, Belize; and Cozumel, Mexico. This is a wonderful itinerary for families who enjoy beautiful beaches, watersports, Mayan history, cultural interaction and adventure.
This is also a superb itinerary for families who are interested in community service and giving back on vacation. New Orleans and each of the ports of call have a number of excellent opportunities to consider. Here are some top options:
New Orleans: There are many local organizations in New Orleans that offer meaningful experiences for those who want to give back. With its strong commitment to voluntourism, the New Orleans Marriott is an excellent choice for a pre- or post-cruise stay. The hotel offers Voluntour Gumbo, an innovative partnership with non-profit agencies. This program matches groups of voluntourists with service opportunities in the New Orleans area and customizes itineraries to create a personalized experience. Special rates and services are available through this program. Visit the hotel's website at www.neworleansmarriott.com or the Voluntour Gumbo site at www.voluntourgumbo.org for more details. Covenant House assists homeless and at-risk children and youth in their 70-bed Crisis Center and two transitional living residences. They welcome both volunteers and in-kind donations - check their website for more details.
Costa Maya: Families can contact Uai Nat Ze Foundation (www.uainatze.org) for help in setting up community service projects and visits in the Costa Maya region. In particular, school supplies and backpacks are needed for kindergartens and primary schools in Mahahual and Cancun.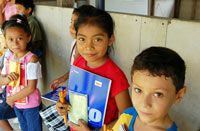 Santo Tomas de Castilla: There are a number of schools and orphanages in the Rio Dulce area of Guatemala that are in need of in-kind assistance. For those looking for an organized tour, Go With Gus Tours offers a Rio Dulce - Livingston Humanitarian Tour for cruise passengers visiting Santo Tomas de Castilla. As part of the tour, participants are taken to visit one of several local schools in disadvantaged areas along the Rio Dulce. For more information, visit Go With Gus Tours (www.gowithgustours.com) or contact Gustavo Turcios at gustavo@turcios.com.
Belize City: Numerous orphanages and schools in the Belize City area welcome cruise passengers interested in community service opportunities. The Liberty Foundation (www.libertyfoundation.org.uk) provides a home for abandoned, abused and neglected children at the Liberty Children's Home, a residential facility located near the Belize International Airport in Ladyville. In addition, the Liberty Education Program provides schooling for these children as well as other preschool aged children in the surrounding community of Ladyville. Closer to the cruise ship dock, The Dorothy Menzies Child Care Centre is a residential childcare facility and orphanage that houses neglected, abused and dependent children. Many schools in and around Belize City are also in need of school supplies, backpacks, and sporting goods items. For more suggestions, contact Lifeline Foundation (www.lifelinebelize.com) or visit Together for Good (www.togetherforgood.org).
Cozumel: Giving back is easy in Cozumel. In Mexico, families must provide their own school supplies and uniforms in order for their children to attend school. The Cozumel Chrysalis Group assists more than 220 low income families whose children would not be able to attend school without assistance. Paradise Beach Club (www.paradisebeach.com) serves as a drop-off facility for the Cozumel Chrysalis Group, so families can have fun in the sun and do good at the same time. In addition, the Ciudad de Angeles orphanage in Cozumel provides a family-oriented living environment for over 20 children who have been abused, abandoned or orphaned. The organization's website, www.ciudaddeangeles.org, provides more information on the orphanage, including a wish list of what they need.
Norwegian Cruise Line offers a wide variety of shore excursions for those sailing to the Western Caribbean aboard the Norwegian Spirit. Some choices, such as swimming with the dolphins in Cozumel, are extremely popular – so make your selections early. Shore excursion options can be found on the NCL website and may be booked in advance of sailing.
In addition to the Western Caribbean itinerary, the Norwegian Spirit also sails to Bermuda in the late spring and summer from Boston, Massachusetts. Cruises to Canada/New England are offered during the prime fall foliage months of September and October. Repositioning cruises between New Orleans and Boston are available in the late spring and late fall, during which the ship calls at ports in Central America and the Caribbean.
For more information on cruises aboard the Norwegian Spirit, visit the Norwegian Cruise Line website at www.ncl.com or contact your favorite travel agent.
©Copyright 2003. The Beacon Group, Inc. All Rights Reserved.