Peter Island Resort: A Caribbean Family Hideaway
By Nancy Schretter, Editor
Families have their own unique definitions of the perfect family vacation. Mine comes with beautiful beaches, luxurious accommodations, attentive service, excellent watersports, and lots of time to relax and unwind together. Peter Island Resort & Spa in the British Virgin Islands fits the bill perfectly. This resort is the antidote for stress, providing a welcome respite for families seeking a break from civilization.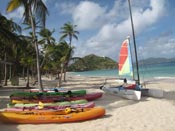 There's nothing like taking a family vacation on your own private island, especially for families who enjoy active pursuits. There's so much to explore. Peter Island is Caribbean oasis for families who enjoy laid back luxury and unspoiled surroundings at their finest. This exclusive Caribbean resort offers stunning villas and suites with gorgeous sea views, five of the world's most beautiful white sand beaches, and outstanding watersports of all types. Peter Island's luxe amenities and low-key approach makes it a favorite with Hollywood celebrities, corporate CEO's and others seeking a private tropical getaway with exceptional amenities and service. For those seeking privacy, no-fly zones can be arranged.
There are many five-star Caribbean resorts that cater to families - some with extensive kids programs. There are very few, however, that make their guests feel as special as Peter Island does. Everyone, from General Manager Wilbert Mason to the housekeeping staff, goes out of their way to make sure guests are happy and cater to their every whim. The feeling is genuine here. Servers quickly get to know your name and preferences, making Peter Island quickly feel like an exclusive "home away from home" for families. It's no wonder that this intimate resort has been named to Travel + Leisure's 500 World's Best Hotels and Condé Nast Traveler's Gold List of hotels time and time again.
Peter Island attracts a homogeneous crowd of upscale guests. Everyone is accustomed to seeking out the best in travel, but there's no pretentiousness here. It's easy to meet other families on the beach or the private launch to the resort. While the resort caters to couples year-round, plenty of families can be found here during the holiday seasons and in the summer months.
Daily rates at Peter Island Resort include breakfast, lunch and dinner, not to mention afternoon tea. The menu choices at Tradewinds Restaurant and Deadman's Beach Bar & Grill are outstanding and the food is delicious. Tempting items for younger guests are always available. Don't miss Jean Kelly's Famous Coconut-Crusted French Toast for breakfast at Tradewinds - it's divine.
Families can do as much as they want - or as little - at Peter Island. The resort is a perfect choice for families who want to reconnect and spend time together. There are no formal kids' programs here, but there's lots for everyone to do. With over 1,200 acres of undeveloped land, the hiking and mountain biking opportunities on Peter Island are extraordinary. There are many trails from which to choose and the sunset loop offers some of the best views of the island's unspoiled landscapes. If your family would like to hike or drive up to watch some of the island's fiery red sunsets, the courteous Peter Island staff are there to make it happen.
There are loads of activities available on the island from swimming and tennis to kayaking, yoga and sailing. Off-island excursions such as scuba diving and deep sea fishing, shopping at boutiques in St. Thomas, dolphin encounters on Tortola, and island tours by helicopter are also offered for families looking for excitement and adventure. Unlimited use of Peter Island's business center (with computers for checking Facebook and e-mail), fitness center, tennis courts and watersports equipment are included in the resort's daily rates.
Peter Island's White Bay is one of the best places for snorkeling in the British Virgin Islands, so make sure to pay it a visit while you're there. You're likely to see turtles, squid and loads of tropical fish relatively close to shore here, especially when the water is clear. Only a limited number of guests can go to White Bay Beach each day, so advance sign-ups are suggested. Large palapas provide much needed shade and picnic lunches (complete with delicious cookies) can be delivered free of charge by the ever-attentive Peter Island staff.
Peter Island is popular with multigenerational travelers, and it's easy to understand why. The resort's lavishly furnished private villas offer multiple bedrooms with magnificent sea views and plenty of space to spread out. With their high cliff-top views, Falcon's Nest and Crow's Nest are my personal favorites. Villa rental rates include all meals for 6-12 people, a private chef, butler and housekeeper - just right for multigenerational groups and family reunions.
There are also plenty of interconnecting room options for families in Peter Island's oceanview rooms and beach front junior suites. Our master bedroom had lovely sea views with gorgeous stonework throughout, a two-person jacuzzi, and double shower. The hammock swinging from two palm trees right outside our bedroom was yet another perfect touch. All rooms offer complimentary WiFi for family members who want to stay connected to the outside world. At Peter Island, dropping off the grid to de-stress and reconnect with family is another popular option as well.
Parents can enjoy treatments at The Spa, a 10,000 square-foot oasis of bliss with views of yet another gorgeous beach. The spa offers a wide range of Ayurvedic therapies as well as the full array of massages, facials, manicures, pedicures and body treatments. The spa's suite retreats and packages are perfect for those needing a little extra pampering.
There's something unusually freeing about spending a family vacation at Peter Island Resort. Maybe it's the fact that you're on your own expansive private island filled with wondrous beaches to explore. Perhaps it's the intimate nature of the resort and its lavish surroundings. More than likely, however, it also has something to do with the genuine caring that comes from the staff. It's sort of like being taken care of by a large, extended family - and that's a special kind of luxury that any parent will treasure.
If You Go:
For more information about Peter Island Resort & Spa, visit www.peterisland.com or contact your favorite travel agent.
Rates at Peter Island are highest from the December holiday period until April and lower during the rest of the year. Excellent specials and package deals are available during the off-season. Make sure to check the resort's website for current offers.
Flights to St. Thomas, USVI are often less expensive than those directly to Tortola. Check out both options before booking. We found it to be quite easy to fly into St. Thomas and take the resort's private launch to Peter Island. Resort transportation to Peter Island from St. Thomas is only available on selected days of the week, but shuttle service to Tortola is available several times daily. Check with the resort's concierge for more details.
Peter Island offers dolphin swims and encounters for families at Dolphin Discovery on nearby Tortola. These programs are very popular with cruise passengers and resort guests on both St. Thomas and Tortola, so make sure to make your reservations early if your heart is set on a specific activity. For more information on the types of programs available, check with the resort's concierge and visit www.dolphindiscovery.com.
Pack plenty of sunscreen. The sun is strong and direct, and it's easy for little ones to get burned. Make sure to reapply sunscreen often if you're out all day.
©Copyright 2011. The Beacon Group, Inc. All Rights Reserved.