Enchanting Puerto Vallarta Family Vacations
By Nancy Schretter
Puerto Vallarta is one of Mexico's most popular family vacation destinations. Located on Mexico's Pacific coast, this colonial city has excellent options for family travel and adventures, great shopping, and a wide variety of family friendly resorts. In addition, this tropical oasis is a watersports mecca with a wide variety of activities to match every family vacationer's interests.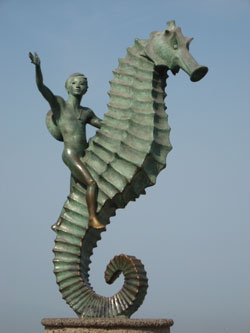 Richard Burton and Elizabeth Taylor fell in love with Puerto Vallarta, as have many other Hollywood stars and film producers including John Huston and Arnold Schwarzenegger. It's easy to understand why. Puerto Vallarta is a picturesque city with cobblestone streets, striking sculptures lining the seaside malecón, and colorful flowers everywhere. Families who visit this enchanting vacation spot overlooking Banderas Bay will easily be caught in the destination's spell as well. In this lush setting where the mountainous jungles meet the sea, there's much for families to see and do. The biggest challenge is to fit it all into just one family trip.
Adventures Abound
Parents who choose Puerto Vallarta for their family vacation won't have to worry about their kids getting bored. Active families can take out a kayak, go diving, take a snorkeling trip to Los Arcos, or fly through the jungle on a zipline canopy tour. There are several of these heart-stopping thrill rides located in the greater Puerto Vallarta area. One of the largest canopy tours is Canopy Tours de los Veranos, with a total of 14 cables offering families the opportunity to zip through the trees and across the river gorge at speeds up to 30 miles per hour. Another is located at El Eden, home to one of the sets from the Arnold Schwarzenegger movie "Predator." This course includes 12 cables in a shady jungle setting and provides guests with the opportunity to fly across the waterfalls of the Mismaloya River. Children must be 6 years of age or older to participate at Canopy Tours de los Veranos and 7 years of age to ride at El Eden. Other restrictions apply, so make sure to check the canopy tour websites for more details. Vacationers can have lunch in the shade and swim in the natural rock pools at El Eden, making it an enchanting place to spend the day.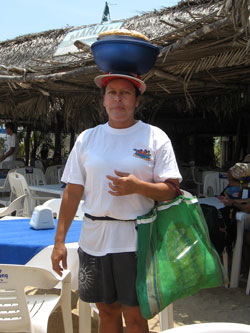 Beach, boating and water-based excursions are plentiful in the Puerto Vallarta area. One of my all-time favorite tours here is a catamaran sail to Yelapa and Majahuitas. Yelapa is a quaint old fishing village set in its own natural cove and only accessible by water. Here, families can relax on the golden sand crescent beach, have lunch, and take a swim. There's also a nice opportunity to hike up to a nearby waterfall, but check first to make sure it hasn't disappeared during the dry season. If you're lucky, Chelly - one of the local Pie Ladies - will come down the beach carrying her delicious desserts on her head. Make sure to try some. Between us, we tried every variety of pie that she had and they were all delicious. My favorite is chocolate coconut ... especially when it's warm. There's something really decadent and different about sitting on an isolated beach in Mexico eating chocolate pie.
Las Caletas is another magical destination for families. Once the private tropical hideaway of famous film director John Huston, this exclusive beachfront preserve is now exclusively available for day or evening excursions. Las Caletas is a privately-owned sanctuary accessible only by the sea. You won't find crowds here. During the day, families can relax on the secluded beach, take cooking classes, go diving or kayaking, hike along jungle paths, or even have the opportunity to snorkel with playful sea lions. A full buffet lunch is served and a variety of spa treatments are offered at Las Caletas' hilltop spa. In the evening, a special "Rhythms of the Night" program is available for adults and children ages 10 and older. The tour includes a spectacular cultural dance show and a candlelit buffet dinner. If you come in the evening, bring along a light jacket and some bug spray in case you need it.
Some of the most popular tours for families are the memorable dolphin swim and dolphin encounter experiences offered by Vallarta Adventures. Signature Swims provide the opportunity to swim and bond with dolphins in small groups, while encounters are designed with non-swimmers in mind. The company also offers special Dolphin Kids programs for children ages 4-8. Make your reservations in advance or at the beginning of your vacation, as these tours sell out quickly.
Other favorite activities for families with 'tweens and teens include jeep and ATV tours, Marietas Islands snorkeling and whale watching cruises (December through March), and sea safaris around Banderas Bay. Another fun tour for families is the Marigalante day cruise aboard a pirate ship that includes pirate shows, sword fights, and a two-hour stop at Majahuitas beach for lunch, snorkeling, and loads of family fun. Your hotel's tour desk can help you find the perfect adventure for your family.
Shoppers and art lovers will find many areas to explore in the colonial city of Puerto Vallarta. Hop on the bus or take a quick cab ride to the picturesque downtown area, where you can stroll along the malecón and admire the beautiful bronze sculptures, shop in the many stores along the city's cobblestone streets, or browse the vendors' craft and souvenir stands in the Rio Cuale area. Puerto Vallarta is filled with an array of architecturally stunning buildings, stores, galleries, and seaside vistas. On Sundays, you'll find lots of local families walking along the malecón and enjoying the antics of the street mimes and clowns.
There are a wide variety of good restaurants and snack shops downtown, so if you head that way, plan to stop for lunch in the Rio Cuale area or at one of the city's many family-friendly eateries. If you can, take time out to sample the wide variety of ice creams and fruit sorbets at La Michoacana. I've been known to walk several blocks out of the way just for a taste of their coconut ice cream.
Resorts To Suit Your Style
One of the attractions of Puerto Vallarta is the wide variety of family-friendly accommodations in the area. Families and multi-generational groups can choose from hotels, all-inclusive resorts, condominium and villa properties, and a number of timeshare rental options. Each area of Puerto Vallarta offers its own special tempo and attractions, so we checked out two different properties to get a feel for all that the areas offer. Families can choose the option that best fits their vacation needs.
Conveniently located close to the town of Puerto Vallarta, the beachfront Sheraton Buganvilias Resort (www.sheraton.com/puertovallarta) charms families with its Mexican architecture and flowering gardens, comfortable rooms, and two great pools. The location is excellent for those who want to have easy access to shopping and dining in Puerto Vallarta's charming downtown area. Club level rooms and suites provide continental breakfast, hors d'oeuvres and wine in the evening and all rooms have wireless high speed Internet capabilities.
Families may wish to take advantage of the hotel's Sheratoon's kids club, babysitting services, tennis courts, and kid-friendly dining options. Don't miss the hotel's Sunday brunch buffet - it's amazing. In addition to a huge selection of food items spanning half the room, the resort also provides Sheratoon entertainers and activities for the kids. If you're in need of a little pampering, the Sheraton's spa offers seaside body treatments and massages as well as a wide variety of treatments to help you relax.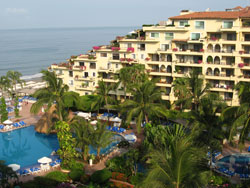 For families seeking an all-inclusive option as well as plenty of room to spread out, the luxurious Velas Vallarta Suites Resort (www.velasvallarta.com) is an excellent choice. Located on ten seaside acres in the Marina Vallarta area with quick airport access, the beachfront Velas Vallarta Suites Resort caters to families with a wide array of daily activities and entertainment for adults and children including the Velas Kid's Club for kids 4-12 years old. The resort offers three huge swimming pools, spa services, a fully-equipped gym, three lighted tennis courts, and a lovely beach area. In addition, vacationers are just steps away from one of the area's best 18-hole golf courses. Although guests feel like they're a world apart, the resort is just a ten minute drive from downtown Puerto Vallarta.
Families will feel like part of the extended family when they stay at Velas Vallarta Suites. Staff members go out of their way to remember names and preferences and seem to be constantly looking for ways to exceed guests' expectations. In addition to excellent service, another selling point for the Velas Vallarta Suites is the expansive size of the resort's one-, two-, and three-bedroom suites. Most units have a view of the sea and all suites have fully-equipped kitchens - even the studio units have kitchenettes. Guests on the all-inclusive plan can dine at their choice of several restaurants at the resort as well as at nearby Casa Velas, a sister property located just across the street. Entertainment is offered at night and a grand Mexican Fiesta takes place on the beach on Sunday evening. One tip: don't miss the sunsets here - they're amazing!
Additional family-friendly resort options include Garza Blanca Preserve Resort, the CasaMagna Marriott Puerto Vallarta Resort & Spa, the Westin Resort & Spa Puerto Vallarta, the Barceló Puerto Vallarta, and the Dreams Puerto Vallarta Resort and Spa.
If You Go:
* For information and resources for planning a Puerto Vallarta family vacation, visit the Puerto Vallarta CVB website at www.visitpuertovallarta.com.
* High season in Puerto Vallarta generally runs from November through April and hotel and rental rates are more expensive during this time period as well. During the summer months of June through early October, the weather is hotter and more humid with a higher likelihood of rain.
* For more information on Puerto Vallarta canopy tours mentioned, visit the El Eden website at www.canopyeleden.com or the Canopy Tours de los Veranos website at www.canopytours-vallarta.com.
* Vallarta Adventures is one of Puerto Vallarta's leading tour companies, offering a wide variety of family friendly options including day and evening excursions to Las Caletas, dolphin swims and programs, whale watching safaris, boat trips to Yelapa and Majahuitas, canopy tours, snorkeling and diving adventures, and much more. For information and details, visit their website at www.vallarta-adventures.com. Some of these programs have limited availability, so be sure to book early for best selection.
* Lined with a large number of open-air shops and restaurants, the Isla Rio Cuale area is a good choice for souvenir shopping in Puerto Vallarta. The River Cafe is a nice spot for lunch here. Another good shopping plan is to head to the main downtown shopping areas along Libertad, Juárez and Morelos Streets and walk towards the Puerto Vallarta Municipal Flea Market located near the Isla Rio Cuale. Most stores are open from around 10 a.m. until 8 p.m., but close between 2 to 4 in the afternoon. Another good place to shop for higher end items is in Puerto Vallarta's Southside (often called the "Zona Romantica") on streets such as Ignacio Vallarta, Olas Altas, Insurgentes, Lazaro Cardenas, and Basilio Badillo. The Marina Plaza, located near the entrance to the Marina complex, also has many nice shops and restaurants.
* If you're going to be doing one of the canopy tour excursions in Puerto Vallarta's jungle areas, bring along some Deep Woods Off wipes or other bug repellent. I brought along some insect repellent wipes and we had no problems.
©Copyright 2010. The Beacon Group, Inc. All Rights Reserved.