Rocky Mountaineer Brings Families Together
By Nancy Schretter
According to recent surveys, parents' main family vacation goals are to make family travel memories and reconnect as a family. Family vacations give everyone time to travel to exciting places, share new experiences, and bond together. This is particularly true on an iconic Rocky Mountaineer family vacation in Western Canada's outdoor wonderland.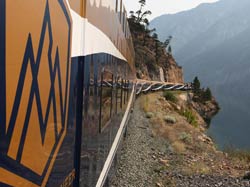 Rocky Mountaineer offers spectacular rail journeys through the Canadian Rockies, Alberta and British Columbia. These areas have some of the most stunning scenery in the world as well as amazing destinations full of wildlife and adventure. While the sights outside the cars are breathtaking, the service and cuisine onboard the Rocky Mountaineer are equally memorable. In fact, National Geographic included Rocky Mountaineer in their Journeys of a Lifetime as one of the World's Greatest Trips and the Society of American Travel Writers named it the Best Train Experience in the World. So, here's one for the bucket list!
Kids love trains - and most parents do, too. Train travel takes the dreaded "are we there yet" out of family vacations, allowing parents and kids to enjoy the ride just as much as the destination. That was certainly the case on my recent Rocky Mountaineer trip. These journeys along the rails connect incredible vacation destinations in an exciting way, taking the "humdrum" out of the travel experience. This is one vacation where getting there is easily more than half the fun.
Spending Precious Time Together
There's something special about traveling with your kids. Sitting together watching the world go by allows parents to wind down from the stresses of everyday life, relax and reconnect with the family. Add lots of incredible scenery and delicious food into the mix and you have one positively pampered ride. That's the Rocky Mountaineer GoldLeaf experience - and it's certainly one that kids will enjoy.
As I settled into my seat aboard the Rocky Mountaineer train bound for Jasper, I heard the school-age boy sitting across from me whisper to his father, "Thank you, Dad!" Those three words are music to any parent's ears – especially one who's spent weeks or months planning a family vacation. Relaxing in the comfortable chairs onboard the Rocky Mountaineer train, it's easy to make friends with your traveling companions. Before long, I was chatting with this wonderful family of five and learning more about how they chose this trip.
The Good family (Mom, Dad, children 13, 11 and 9) wanted to spend time together on their family vacation and thought a rail tour would be fun. This was their first adventure trip – and they wanted it to be something special. After deciding on a trip to Western Canada and researching their options on the Internet, they focused in on a Rocky Mountaineer vacation package. Mike and Stacey Good knew that the scenery was going to be incredible - and they wanted the whole family to be able to take it in and savor the experience. "If we took a driving trip, then Michael would have to be concentrating on the road," said Stacey. "This way, we can all be together and enjoy it."
The train trip plans were a hit from day one. "The kids were so excited," said Mike Good. "They had never been on a train." The Goods found the booking process with Rocky Mountaineer to be painless and stress-free, even with only a few weeks' lead time. "Right from the start, everything was so easy," said Mike. The reservation staff quickly found two weeks of available space for their family of five and took care of all the details.
Even though the cost was a bit pricey, the Good's chose Rocky Mountaineer's GoldLeaf service with its two-story glass-domed coach cars and five-star service. "The glass-dome top on the cars was what sold me," said Mike. The kids pitched in with Internet research, finding hotels with cool pools and other amenities.
Mike Good's job involves working long hours, so the one-on-one time spent with the kids on the Rocky Mountaineer trip was invaluable. "I don't know of a better way to travel for a family on vacation," said Mike. "Where else do you sit across from each other with the kids for twelve hours?"
Stacey Good was pleased with the way the trip turned out for her family. "The goal was to spend this much time together - really together - without a lot of distractions and stress." The Rocky Mountaineer trip delivered perfectly. The seats in each GoldLeaf coach car swivel around so that families can sit facing each other and there are lots of opportunities to get up and move about the cabin or go out to the open-air vestibule to take pictures. With all of the opportunities to relax and be pampered on the train, Stacey said, "This is a vacation for me, too!"
The kids were equally thrilled with the Rocky Mountaineer experience and thought it lived up to their expectations. Jake, age 9, enjoyed looking for all the wild animals. "We played this game where we got 30 points for bighorn sheep and we saw lots - like 10!" said Jake. Rocky Mountaineer attendants go out of their way to make families happy, and Jake appreciated the way the Rocky Mountaineer staff treated him and his sisters on the train. "I like how they talk to us and ask us if we want any more food or drinks ... that's really nice," he said.
Sister Chloe, age 11, liked the Rocky Mountaineer trip better than her family's usual Florida family vacations. "On this trip, every night you're in a new spot, so you get to see more - and that's kind of cool!" said Chloe. She also liked the food served on the Rocky Mountaineer and the domed glass car with its big windows - so "you don't miss anything." Chloe's advice to other kids? "Make sure to bring a camera and don't expect to be doing something all the time."
Lauren, the oldest at age 13, enjoyed the new experience of being on a train. "I like going to different places all the time because it's not the same routine ... and it's different from our little town," said Lauren. She also liked the opportunity to be with her younger sister, since they no longer attend the same school. "It's been different now on the train," said Lauren. "We get to play together a lot." Lauren also felt that this was a trip she would remember for a long time - especially all the wildlife and the beautiful snow-capped mountain vistas. According to Lauren, her family's Rocky Mountaineer experience is "something I'll never forget."
Panoramic Vistas, Sumptuous Service
Rocky Mountaineer offers travelers a chance to relive the golden age of train travel on half-day and multi-day trips to Whistler, Quesnel, Banff and Jasper - the latter two via Kamloops. All of these daylight rail excursions offer the promise of magnificent scenery, especially as the train snakes its way through the world-famous Canadian Rockies. I chose Rocky Mountaineer's two-day Journey through the Clouds route from Vancouver to Jasper for the opportunity to view majestic Mount Robson, the highest peak in the Canadian Rockies, as well as breathtaking Pyramid Falls. I also wanted to spend several days in Alberta's unspoiled Jasper National Park before heading down the fabled Icefields Parkway to more of Alberta's fantastic family playgrounds - Lake Louise, Banff and Calgary.
Guests aboard the Rocky Mountaineer can choose from several levels of service. Those selecting super luxe GoldLeaf Service have cushy seats in two-story, glass-domed coaches, enjoy gourmet meals prepared by onboard chefs, and are continually pampered by attentive staff. SilverLeaf Service, available on some of Rocky Mountaineer's popular First Passage to the West three-night itineraries, gives guests the opportunity to journey on a single-level partially-domed coach car as well as hot meal service at their seats. Value-priced "classic rail service" in the RedLeaf category includes chilled breakfasts and lunch selections in Rocky Mountaineer's standard coach rail cars - without the glass dome. Although GoldLeaf Service is often more than twice the price of RedLeaf Service, it's very popular - and for good reason. This is the old-world luxurious "trip of a lifetime" aboard the rails that many travel enthusiasts dream of taking.
The welcoming staff aboard our GoldLeaf coach provided five-star service and went out of their way to make sure that guests had a marvelous time. Each day started with big smiles and a welcome toast before inviting us down to the lower level dining room for our gourmet breakfast. Throughout the day, these same knowledgeable attendants who served us drinks and snacks in our chairs doubled as tour guides, sharing their insights about the history, scenery and wildlife we were seeing along the way. Avid photographers will appreciate their well-timed advance notifications of great photo opportunities ahead.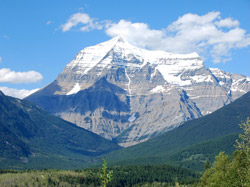 The stunning landscapes and topography of British Columbia and Alberta draw many people to this journey, and ours did not disappoint. We saw snowcapped mountain peaks, bald eagles and ospreys, Hell's Gate gorge, stunning waterfalls, blue-green lakes and rivers filled with fish, icy glaciers cascading down mountainsides, herds of elk, mule deer, and lots of bighorn sheep. Although spectacular Mount Robson is only visible for a limited number of days each year, sunny skies allowed us to have a perfect unobstructed view of all 12,972 feet of its enormous peak as we rolled by. The hours passed quickly as our tiny group of travelers sat mesmerized at the windows, enveloped by the ever-changing scenery surrounding us through the domed glass.
When we weren't taking pictures or talking to each other, we were enjoying Rocky Mountaineer's delicious food. GoldLeaf guests have breakfast and lunch in the cozy dining area located on the car's first level, with all items cooked to order in the galley kitchen. Breakfast started with fresh fruit, juice and croissants or scones (the best ever), followed by hot main course entrees like scrambled eggs and smoked salmon with caviar or eggs Benedict. For lunch, guests could choose from delectable items like Fraser Valley Chicken Breast with wild B.C. mushrooms or Alberta Pork Tenderloin. Rocky Mountaineer does an excellent job of serving local foods and the wine list consists of award-winning selections from British Columbia's Okanagan Valley. Chairside drink service (sodas, juices, coffee, tea, wine, beer, mixed drinks) started upstairs at 10:30 a.m. each morning and continued throughout the day with a mid-day snack and late afternoon warm cookies (and milk upon request) served as well. With this kind of service, it's hard not to feel incredibly pampered.
While families and others may have some reservations about spending two full days on a train, those thoughts are quickly banished after settling in aboard the Rocky Mountaineer. The scenery is breathtaking, the service extraordinary, and the old-fashioned luxury of traveling by rail allows you to slow down and appreciate your companions and the world around you. Furthermore, the experience is seamless. Attendants pass out lodging room keys before arriving in Kamloops and buses are waiting to whisk you to your overnight hotel there - and once again in Jasper. Every detail is taken care of ... by someone else. That's just the kind of stress-free vacation parents dream of taking. With all that Rocky Mountaineer and Western Canada have to offer, these extraordinary family vacation memories will last a lifetime.
If You Go:
* Rocky Mountaineer offers family-friendly vacation packages and rail routes through British Columbia and Alberta. For more information, visit www.rockymountaineer.com. Book several months in advance to make sure you get the dates and itinerary that your family wants.
* Strongly consider adding several nights on before and/or after your train trip to explore Alberta and British Columbia. For more information on planning trips to British Columbia, visit www.hellobc.com. For more information on planning family vacations to Alberta, visit www.travelalberta.com.
* If your rail journey departs from Vancouver, check out the family-friendly Fairmont Pacific Rim, ideally situated in the heart of Vancouver. Rocky Mountaineer picks up directly from the hotel on departure mornings. For more information, visit http://www.fairmont.com/pacificrim.
* Consult Rocky Mountaineer's Mile Post newspaper for maps of the sights and check outside your window for mile markers. The Mile Post notes important sights by mile marker number, allowing you to go to the vestibule to get great photos. Families may wish to purchase one of the Rocky Mountaineer maps to chart their course, and it makes a great souvenir.
* Bring sweaters onboard the train in case it's cool, and shorts during the summer in case it gets too warm. On my trip, the rail car was a little cool in the morning and then heated up during the day. Also remember that due to unanticipated heavy freight traffic, the Rocky Mountaineer may arrive at its overnight destinations several hours later than expected. Don't worry, though - you will be very well fed if there is a delay!
* Families should bring along a few travel games in their carry-on luggage, as well as books and/or iPods for the kids.
* If you're unsure about how your kids will do on a multi-day train excursion, consider the one-day Whistler Sea to Sky Climb route connecting two of British Columbia's favorite family playgrounds - the coastal city of Vancouver and the mountain village of Whistler. The trip is just three hours each way. Although the rail journey can easily be done in one day, I would recommend staying at Whistler for one or more nights to experience many of the outdoor family attractions the area has to offer.
To learn more about the exciting destinations Rocky Mountaineer visits, make sure to read this companion article on the Family Travel Network.
©Copyright 2011. The Beacon Group, Inc. All Rights Reserved.