Sea Kayak Adventures Delivers Close Encounters of the Whale Kind
By Nancy Schretter, Editor
The parade started at sunrise. I was standing on the bluff watching the inlet's colors turn to violet when I heard the first "phoof." A mother California Gray Whale and her baby calf were making their way through the water, less than a stone's throw away. Suddenly, the colors of the sunrise took a backseat to what I was watching before me. Our little group of campers had front row seats for one of the most beautiful and inspiring shows on earth.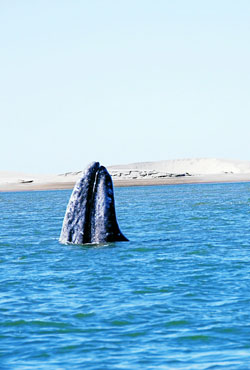 In less than an hour's time, four pairs of mothers and calves slowly made their way past our campsite. Some were surrounded by schools of dolphins, jumping and frolicking together. Others put on an acrobatic display, breaching multiple times and then spy hopping as if to make sure we were watching. The last pair came within several feet of the shore, so close that we could almost feel the fine mist from their blowholes as they exhaled. We stood, cameras in hand, watching the magnificent spectacle.
Every fall, hundreds of California Gray Whales leave their cold Artic feeding grounds in the Bering and Chukchi Seas and journey more than 5,000 miles to Baja California's shallow lagoons to mate and bear their calves. From our campsite at Magdalena Bay, it was quite common to see young calves swimming next to their mothers. These newborns are anything but tiny. According to our guides, the calves weigh close to a ton when they are born and are approximately twelve to fifteen feet in size. When viewed next to their forty-foot mothers, however, the young calves do look quite small. The whales usually remain in the estuaries from mid-January through mid-March before returning back to Alaska.
Sea Kayak Adventure's Gray Whales of Magdalena Bay trip is one of the best ways to get up close and personal with wild California Gray Whales. Tour participants arrive and overnight in Loreto on Mexico's Sea of Cortez before journeying across the Baja peninsula to Puerto Lopez Mateos on Magdalena Bay. "Pangas," small motorized wooden skiffs, ferry group members to the Isla Santo Domingo campsite and on daily whale watching trips. Tours range in length from five to seven days, and sea kayaking is usually included as part of the six- and seven-day itineraries.
This trip is well-suited for adventurous families with children ages twelve and older. Although comfortable two-person dome tents and warm sleeping bags with extra thick self-inflating pads are provided, children should have prior camping experience and be able to "rough it" at a campsite with no running water or electricity. The Sea Kayak Adventures campsite has a solar shower and a porta potty in a shelter, but there are no fresh water sources on the island. Three meals are cooked daily by the tour guides and special dietary needs can easily be accommodated if notified in advance.
On my recent trip, we spent our days whale watching, sea kayaking, beachcombing along miles of deserted beaches, and hiking in the sand dunes. The daily itinerary varied and was based on the interests of the group. Some days included two sessions of whale watching, while on other days we went whale watching in the morning and sea kayaking in the afternoon. Our group also enjoyed a full day of sea kayaking and birding in the mangrove areas of the Bay.
Gray whales came close to our boat on every one of our group's whale watching sessions, often with babies in tow. We watched countless spy hops, a behavior in which the whale pokes its head out of the water, as well as a number of impressive breaches. All of them were fantastic, but the best was saved for last.
On our final whale watching excursion of the trip, one mother whale and her baby calf lingered in our area for a long time. They meandered slowly from one panga to the other, occasionally coming up and spy hopping right next to the boat as if to get a good look at its occupants. The mother went under one of our group's two boats to scratch her back as her baby enjoyed being stroked. Then, they turned in our direction and the mother seemed to shepherd her baby towards our skiff. We collectively held our breath.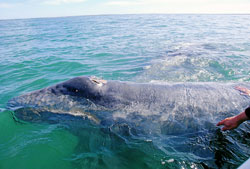 At last, the mother surfaced next to our panga, almost like a house rising out of the water. Her baby was right next to her. The two of them hovered there, close enough for us to reach out and stroke their smooth, silky skin. It felt soft and rubbery under my fingertips, almost like a wet inner tube, and my hand lingered in the water. The mother turned, and for a moment, her eye caught mine. Then the baby rolled on its side, one flipper out of the water, as if to say goodbye. They moved away, splashing and churning the water, before returning once more for a final pat.
We were very lucky to have such a close encounter with a pair of whales. Panga operators in Magdalena Bay abide by strict rules prohibiting them from chasing whales, so whales approach the skiffs only when they choose to do so. Although the gray whales of Magdalena Bay are known for their friendly behavior, these gentle giants certainly do not perform on command.
One expert suggested that approximately one out of fifty gray whale mothers or babies will come up to the pangas and allow themselves to be touched. Sometimes, it's the curious calves who come in search of human contact. At other times, however, the mothers appear to nudge their shy offspring towards outstretched hands. Nancy Mertz, co-owner of Sea Kayak Adventures, estimated that at least one or two parties per trip have the opportunity to touch a whale. "When I started guiding there in 1990, it was super rare," said Nancy. Close encounters may happen a bit more frequently from mid-February through early to mid-March, when the calves are a bit older. Since the contact is initiated by the whales, any form of interaction with these magnificent creatures is completely up to them.
Sea Kayak Adventures also operates sea kayaking trips on the west coast of Canada during the summer months. There, the close encounters are with whales of a different kind. Orca whales are often seen on Sea Kayak Adventures' Johnstone Strait and God's Pocket Provincial Park trips. According to Nancy Mertz, "Johnstone Strait is the best place in the world to paddle with orcas, due to the natural 'fish funnel' in nature." Salmon come in from the Pacific Ocean to the narrowest part of the Inside Passage, called Johnstone Strait. The "northern resident orcas" in that area eat only salmon, and they converge on the area to feast on the fish in the summer months. In late August of last year, Nancy says she saw 100 orcas in just a couple of hours in Johnstone Strait because "all the family pods get together there from mid July through early September to feast, socialize and hang out in the Strait."
Kids over 14 are eligible to participate in the sea kayaking trips and teens ages 14-18 receive a 10% discount on their tours. Participants must be at least 5 feet tall and weigh 100 pounds or more in order to paddle in their double kayaks. Several family teen trips are also held each summer. For further information on these trips, see the Sea Kayak Adventures website for more details.
If You Go:
* At the Magdalena Bay campsite, temperatures range from daytime highs in the mid- to upper 70's to nighttime lows in the high 40's and low 50's. Bring plenty of warm clothing, including long underwear, fleece jackets and Polartec tops and pants, to avoid being chilly on cool nights. Although the weather is usually sunny, rain gear is strongly recommended to protect against possible showers and wind. Sea Kayak Adventures provides an excellent packing list to follow for this trip. In addition to the items noted on their list, I would recommend bringing an inflatable travel pillow and a warm travel blanket or sleep sack.
* Whales breach, spy hop and move quickly, and it's much easier to get good pictures if you have a camera with a fast shutter speed. Bring along an SLR camera if you have one. Due to possible wet conditions and the fine blowing sand in the area, it's important to protect your camera equipment as thoroughly as possible. Although Sea Kayak Adventures provides each guest with several dry bags, I would recommend bringing one for your camera for convenience.
* My Cingular cell phone equipped with an international chip worked well in Loreto and at the Magdalena Bay campsite. Other cell phones had varying levels of reception, but most were able to make outgoing calls.
* On the days before and after your whale watching trip, take the time to explore the appealing community of Loreto. Although Loreto is entering a new wave of development, it still retains its small town charm. Visit the Mission de Nuestro Senora de Loreto, one of the oldest missions in Baja California. Stroll along the shaded plazas, visit the many gift shops, and make sure to sample the wide variety of ice creams and fruit sorbets at Michuacon. The town's supermarket, El Pescador, is a good place to purchase suntan lotion, bottled water, and other supplies.
* Plan to stay an extra day in Loreto to go on Sea Kayak Adventures' Coronado Island "Skiff and Snorkel" day tour. Visiting this beautiful volcanic island in the Sea of Cortez is an excellent addition to the Magdalena Bay whale watching adventure. Coronado Island is part of the Loreto Bay National Marine Park and is accessible only by private pangas. On our trip, we saw a number of magnificent rock formations as well as a large colony of sea lions, blue footed boobies, pelicans, cormorants, osprey and dolphins. The white sand beach on Coronado Island is picture perfect and the snorkeling is excellent around the island's rocky outcroppings. Be aware that the water here is usually very cold, but Sea Kayak Adventures provides shorty wetsuits. Bring along dive skins if you have them.
* For more information on this trip as well as others, visit the Sea Kayak Adventures website at www.seakayakadventures.com or call their office at 800-616-1943.
ęCopyright 2003. The Beacon Group, Inc. All Rights Reserved.