Resort Spotlight: Terranea Resort
By Nancy Schretter, Editor
Looking for a wonderful spot for your next family vacation? Southern California immediately comes to mind. The greater Los Angeles area is filled with beautiful beaches, world-class theme parks, legendary Hollywood attractions and more. It's also home to a spectacular oceanfront property that knows how to cater to family travelers - Terranea Resort.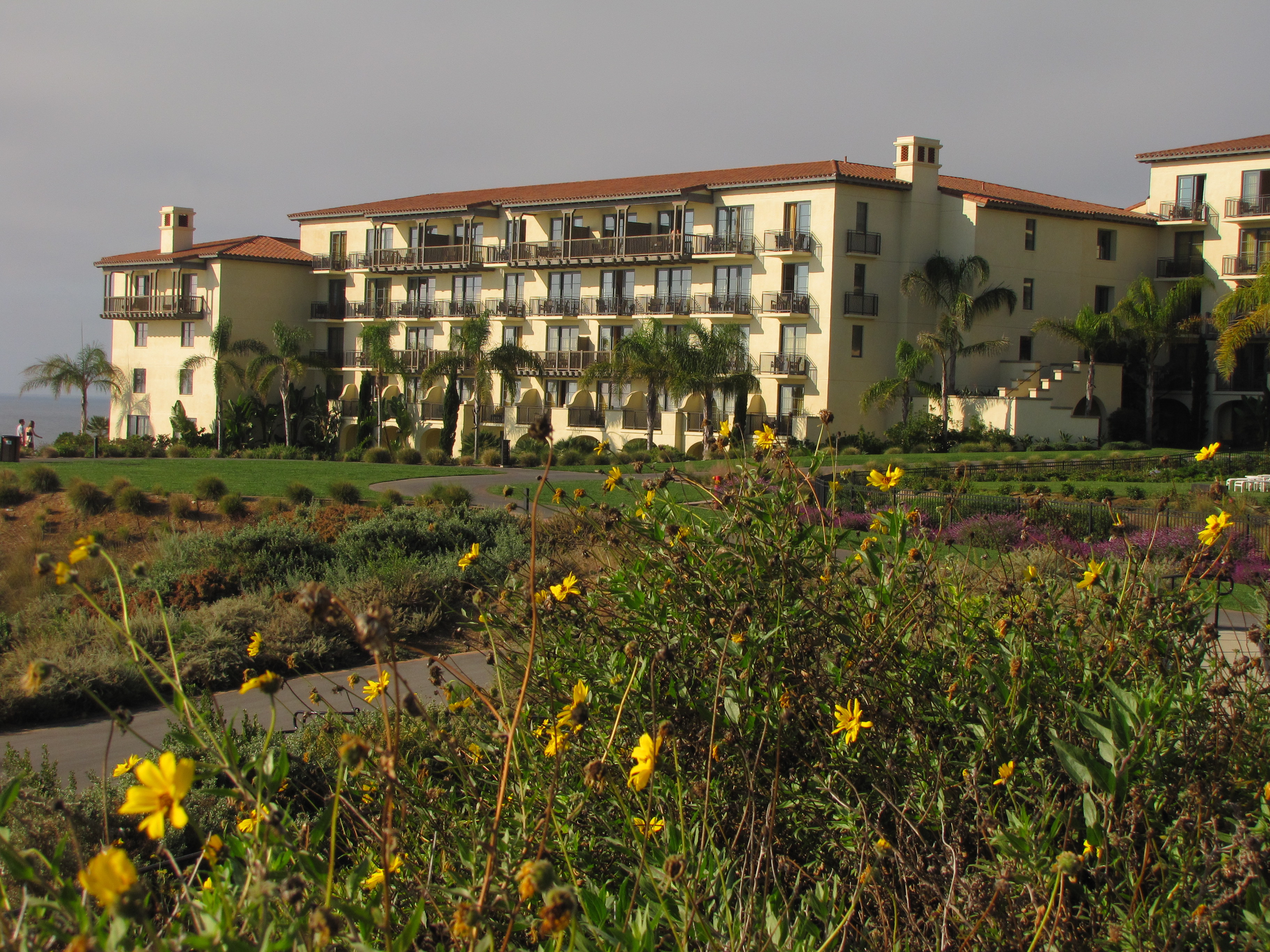 Located on the Palos Verdes Peninsula with 270-degree oceanfront views, Terranea (Ter-a-NAY-a) gives families a myriad of opportunities to enjoy all that the Pacific Ocean has to offer. Terranea is a tranquil place to relax and unwind - whether you're coming from nearby Los Angeles or the East Coast. My daughter and I visited Terranea on a non-holiday weekend and it was packed with families enjoying the resort's amenities and each other's company in this splendid coastal setting.

What's Special:
Location, location, location. Terranea's 102-acre location is the stuff California dreams are made of. Formerly the site of Marineland of the Pacific and used as a set location for major Hollywood productions, Terranea combines easy access from Los Angeles and the International Airport (just 20 miles away) with breathtaking scenic coastal views.
Family room. The resort offers a wide range of accommodations to meet the needs of families and multigenerational groups - from hotel guest rooms and suites to multi-bedroom villas, Casitas and bungalows. The majority of these feature exquisite ocean views and the villas, Casitas and bungalows also provide families with kitchen and laundry facilities. Pets are allowed in some rooms in the main hotel building.
Water, water everywhere. Although it's not a beach resort, Terranea is surrounded by water. The main Resort pool features a 140-foot corkscrew waterslide, a children's splash zone perfect for little ones, two hot tubs and a fire pit. For those seeking an adults-only escape while the kids are being entertained, the Cielo Point pool and the Spa pool offer serenity and spectacular ocean views. A wide variety of ocean watersports, including kayaking tours and surf lessons, are available onsite or nearby. Terranea's non-swimmable beach cove is rocky, but it's a good place to see what the tide brought in and get a closer view of the Pacific.
Something for everyone. As any vacation planner knows, families come with a wide variety of ages and interests. This world-class destination resort has activities and amenities to please every family member including a 50,000-square-foot spa, a family-friendly 9-hole golf course, tennis, casual and upscale dining venues, hiking and outdoor adventures, watersports, upscale retail outlets, and extensive kids' programs offered through the Tide Pool Kids Club. Although the resort is probably best suited for families with kids ages 12 and under, a Teen Lounge and activities are also available during peak family leisure vacation times, such as summer and December holiday periods.
Focus on fun. Pleasing families is a full-time job for Terranea's Director of All Things Fun, Marissa Edwards. She has created an extensive menu of services, activities and amenities to give families a wide variety of choices in recreation, children's programming and entertainment. Edwards goes into high gear during the summer months, when Terranea features day camps, special games and events, and week-long programs for kids.
Rooms with a View
It's often hard to find luxury resort accommodations that offer privacy for parents, space for kids and teens to spread out, and activities and amenities to keep active families entertained. Terranea Resort fits the bill well.
Terranea feels like a family-friendly property in Hawaii or along Italy's Amalfi Coast - without the mind-numbingly long plane ride. The 582-room resort includes a 360-room hotel with 326 guest rooms and 34 suites, some of which allow pets. Hotel rooms are spacious, ranging from the standard 450-square-feet units to the massive 1,800-square-foot Presidential Suite. All rooms have incredibly comfy beds (1 king or 2 doubles), private balconies, flat screen TVs and wireless high-speed Internet access - and the majority offer views of the Pacific Ocean. Odd-numbered guest rooms are generally more likely to have the best sea views. The property is beautifully landscaped with flowers and lush vegetation and 225 fire pits are scattered around the resort.
Families can also choose from 20 two-bedroom bungalows, 50 three-bedroom ocean view casitas and 32 two- and three-bedroom villas. Casitas, bungalows and villas have laundry facilities and full kitchens, allowing families to enjoy their own home-cooked meals. The resort provides free transportation within a five-mile radius, as well as throughout the property, making Terranea an excellent choice for multigenerational vacations. Grocery stores, alternative dining options and shopping centers are located within the free shuttle range.
It's not just the bedrooms that have great views - Terranea's food and beverage facilities feature scenic vistas as well. At some resorts, the best views are saved for the adult-oriented restaurants - but not at Terranea. Nelson's, a casual family-friendly eatery, is located directly above the Pacific with a view of the Pointe Vicente Lighthouse. Parents and kids can enjoy California regional favorites while relaxing outdoors by the outdoor fire pits or in the restaurant's indoor casual setting. We ate here several times during our visit and the entrees are large enough to share in many cases. The fish tacos, pulled pork BBQ sandwich, Cobb salad, fish & chips, and the decadent ice cream sandwich are particularly delicious.
Terranea's signature restaurant, mar'sel, offers classic Southern California cuisine along with magnificent ocean views. Catalina Kitchen is a great bet for breakfast and is also open, along with the poolside Grill, throughout the day. If you're looking for your favorite coffee drink or an iced tea, Sea Beans Café & Market is the place to go. All of Terranea's restaurants have kids' menus and gluten-free options are available.
Activities Abound
Families vary widely in terms of interests and needs, so Terranea offers programs and activities to match. No matter whether your kids are toddlers or ten-year-olds, there are things to keep them interested and engaged here. As befitting a California resort, Terranea delivers "fun, fun, fun" from arrival 'till you take the kids away.
One of the main draws at Terranea is the water. The huge Resort pool here features a 140-foot corkscrew waterslide, children's splash play area, two hot tubs, and a fire pit. Supervised activities and interactive programs for kids ages 4-12 are available daily at the Tide Pool Kids Club. Potty-trained children ages 2-4 can participate as well. The Club is open from 9 a.m. to 10 p.m. daily (closed between 5-6 p.m.) with half-day daytime and evening camps as well as fun hours programming available. All camp leaders have childcare, first aid and CPR certification. Scheduled activities change daily, from pirate or Olympics themes to Hollywood or ocean-oriented programs. Teens ages 13-17 can enjoy recreational activities such as movies, kayaking and biking.
The resort's Family Fun Night is a popular draw with events such as Beach Blanket Bingo, hermit crab races, bubble blowing contests and more. During the summer months, Terranea goes all out for families with an even wider range of programming and services. Adventure clubs, day camps, weeklong programs, and sport camps are offered for kids ages 2-12.
Another one of the resort's unique features is Pointe Discovery, an active-living store that offers guests the opportunity to explore the area's ocean environment and natural terrain. The store's Aqua-Terra Adventures offers daily programs and tours such as kayaking, horseback riding, biking, fishing, coastal hikes, and even falconry. The Links at Terranea, a 9-hole par 3 oceanfront course, also caters to families. The coastal hiking trails at Terranea offer spectacular views - make sure to watch for migrating whales in the fall and spring. Other activities include bocce ball, croquet, nature walks, and water sports including kayaking, snorkeling and surfing lessons. Marissa Edwards, Terranea's Director of All Things Fun, makes sure families stay happy and entertained.
For those seeking some serious pampering or simply a great place to work out, The Spa at Terranea is the place to be. This 50,000-square-foot world-class facility offers an oasis for world-weary travelers in need of rejuvenation. With breathtaking views of the Pacific Ocean and Catalina Island, The Spa features 25 treatment rooms, separate men's and women's indoor and outdoor relaxation areas, a spa café , a 5,000-square-foot state-of-the-art fitness facility, and huge outdoor area reserved for spa guests complete with ocean view terraces, hot tubs and a Spa pool. Parents will come away from their visits relaxed, renewed and energized.
Although Terranea is not your typical classic beach resort, there are certainly great beach towns located nearby. Redondo Beach, a perfect choice for families, is located just 15-minutes away. Teens and young adults may prefer nearby Hermosa Beach, a classic surf town, while Manhattan Beach's high-end fashion boutiques and fine dining establishments are 25-minutes by car. Some families visiting the West Coast choose to use Terranea as a home base, visiting Hollywood, Disneyland or Universal Studios by car or on tours. The Cabrillo Marine Aquarium in nearby San Pedro is another great place to take the kids.
If You Go:
For more information about Terranea Resort, visit www.terranea.com, call (310) 265-2800, or contact your favorite travel agent.
If you're staying in the casitas with small children, request one of the casitas that are closest to the pool area. That will make it easier to tote the kids and gear.
I spoke with a number of parents during my visit and all had very positive experiences with Terranea and its amenities during their stay. They particularly liked the resort's easy access and spectacular setting, its pool facilities, and the Tide Pool Kids Club. One Los Angeles area couple had come down to Terranea during a sold-out summer holiday weekend and said that the pool was packed to the gills with kids and families during that time. The resort's pool space tends to get the most crowded on popular weekends. If you want more space, call in advance and book a cabana.
If you will be staying in accommodations with kitchen facilities, stop at the store for food on the way to Terranea or have them stock your refrigerator in advance.
Nelson's is a fantastic choice for a family dinner. No reservations are accepted, so arrive between 5-5:30 p.m. for the fastest seating. There are often live bands here on Saturday evenings during the summer months.
Babysitters are available for parents whose kids are too young to use the Kids Club programs. The resort's concierge will provide a list of local licensed, bonded babysitting services for parents to call.
If you're coming to Terranea during a popular time period, such as summer and holiday weekends - plan ahead. Make reservations for the kids program and babysitters in advance. Set up dining reservations at the resort and local restaurants ahead of arrival. Call Terranea's Activities Concierge and talk about what you might want to do on your vacation. There's a wide variety of things to do at the resort and in the area, and the Activities Concierge is happy to help.
©Copyright 2011. The Beacon Group, Inc. All Rights Reserved.