Waikoloa Beach Resort Adds The "Wow" To Family Vacations
By Nancy Schretter, Editor
Family travel is all about making great family vacation memories and choosing the right destination is critical. Parents and grandparents are always searching for a special place that offers something extra for their next family vacation. For families seeking loads of new adventures, Hawaii's Waikoloa Beach Resort is the place to be.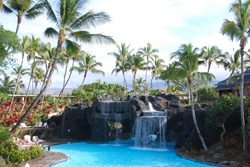 This sprawling 1,350-acre property on the Kohala Coast of Hawaii's Big Island keeps every member of the family happy with a wide variety of programs and amenities. Favorites include the opportunity to meet friendly dolphins at Dolphin Quest, experiencing a challenging round of golf on the Waikoloa Kings' Course, zipping down the waterslide into the Hilton's huge Kona pool, being immersed in Polynesian culture at a luau, and enjoying a relaxing massage at the Kohala Spa.
While the resort is an attractive choice for families, its location on Hawaii's Big Island adds even more appeal. Where else can you hike to an active volcano, stroll through the rainforest to a cascading waterfall, snorkel amid colorful fish and corals, bask on a black sand beach and see whales breaching - all in one action-packed day? The Big Island offers countless adventures and activities for families, from charming farmers' markets and scenic horseback rides to catamaran sails and challenging hikes. It's all waiting for you to explore.
Hawaii's Family Playground
The perfect family vacation starts with a great place to stay. Waikoloa Beach Resort's premier hotel, the Hilton Waikoloa Village, is a huge family playground overlooking the Pacific Ocean. This lush 62-acre resort with 1,240 nicely furnished guest rooms has a fanciful, over-the-top feel that many parents and children love. Guests can wander from rooms to beaches and other attractions via grand canal boats or monorails, giving the property a bit of theme-park allure for kids.
"I feel like I'm at Disneyland!" exclaimed a little girl to her mother as they boarded on the tram at the Hilton Waikoloa Village. That's a comparison I heard multiple times during my stay. In fact, the property does share Disney's meticulous attention to detail as well as its appeal to kids of all ages.
Here's just a few of the things that make this five-star resort stand out from the crowd:
* Water Works. The resort features three swimming pools including the Kona pool, one of the largest in the Hawaiian Islands. The kids will love the 175-foot waterslide and huge waterfall, while the little ones can play in the sand-bottomed kids' pool. The fun-filled Kohala River pool is really four pools interconnected by waterslides and a flowing river - definitely a kids' favorite. Adults seeking quiet and privacy can be found relaxing at the Ocean Tower Pool. In addition, there's a four-acre ocean-fed snorkeling lagoon flanked by a white sand beach for guests to explore. Green sea turtles and lots of colorful tropical fish can be spotted here.
* Dolphin Discovery. The Hilton Waikoloa Village is the only Hawaii hotel with a dolphin encounter program on property. The emphasis at this facility is on education and appreciation for the world's oceans and the creatures that live there. Programs range from a Wee Tots Experience for kids ages 2-4 to Trainer for a Day and many other activities. Make your reservations far in advance, as the encounters and other programs are very popular.
* Family Fun. The Hilton's Camp Menehune offers day and evening camps for children ages 5-12 with a wide variety of activities and cultural experiences. As part of the program, kids can explore tide pools, take a whale watching trip, paint coconuts, and participate in hula dancing contests. Half- and full-day programs are available. In addition, the hotel features a number of family adventures including Mo'olelo storytelling, Whacky Luau Night and Stargazing. Kids also love the many free things to do around the resort including riding the mahogany canal boats and Swiss-made trams, watching summer Dolphin Quest shows, and daily hula and ukulele lessons.
* Spirit of Aloha. A Hawaii family vacation is different that many others because of the unique cultural experiences found in the Islands. Both the Hilton Waikoloa Village and the Waikoloa Beach Resort celebrate Hawaii's rich cultural heritage and work hard to share it with their guests. Families can explore the historic King's Trail that lines the resort's shoreline, hike the property's ancient petroglyph trail and visit the Hilton's mile-long Museum Walkway filled with 1,800 pieces of art - the largest art museum on the Big Island of Hawaii. While you're here, don't miss the Hilton's Legends of the Pacific Luau. The entire family will enjoy the dance and music of the Polynesian cultures of the Pacific Rim - and the food is delicious.
* Exotic Wildlife. The Hilton's grounds are home to more than 46 kinds of Island wildlife, giving kids a chance to have close encounters with some incredible creatures. Make sure to take your children to the flamingo sanctuary and check out the guided Fish Frenzy and Parrot Talk sessions. During the winter and early spring, humpback whales flock to the waters in front of the Waikoloa Beach Resort. Watch them from land or take the kids on an Ocean Sports catamaran whale watching trip to see them breach and spy hop at close range.
* Delectable Dining. The resort offers nine hotel dining outlets including my personal favorite, KPC (Kamuela Provision Company), providing breathtaking views of the sunset and Wailulua Bay. The food is delicious and the scenery is superb. Families can dine while watching whales breach offshore during winter and early spring months.
* Sumptuous Spa. Need a little pampering? The 25,000 square-foot Kohala Spa is at your service with a wide variety of soothing massage therapies, body treatments, facials, and salon services. Native Hawaiian techniques and pure island ingredients combine to create a relaxing, rejuvenating experience for adults. Seaside cabana massages are also available. Younger family members can take advantage of the Keiki & Teen Program services provided in a limited area of the spa.
There's much more for families at the Hilton as well. The hotel's location within the Waikoloa Beach Resort allows guests to play golf on two of the most beautiful courses in Hawaii: the Robert Trent Jones, Jr. oceanfront Beach Course and the Scottish links-style Kings' Course. Through the Resort's Ocean Sports tour company, guests can go snorkeling, whale watching, kayaking or scuba diving in the surrounding waters.
Shoppers will have a field day at the Hilton Waikoloa Village. In addition to great hotel stores such as Things Hawaiian, Kohala Bay Collections, Kohala Spa Essence and the Dolphin Quest Gift Shop, guests can indulge their shopping urge at the Waikoloa Beach Resort's Kings' Shops and Queens' MarketPlace. The Kings' Shops complex contains 75,000 square-feet of shopping, dining and entertainment with cool stores like Under the Koa Tree and Noa. Hawaiian musical acts and performances take place nightly here. The Queen's MarketPlace contains casual family-friendly restaurants as well as surfing and clothes stores.
Size has its benefits at the Hilton Waikoloa Village. The grounds are so expansive that the resort never feels crowded and the wealth of on-property attractions makes it tough to run out of things to do. Indeed, families can easily spend five nights at the Hilton Waikoloa Village and still feel like they haven't seen everything. As exciting as this resort is for families, however, make sure to rent a car or take a few tours to experience all that the Big Island has to offer.
Big Island Adventures
The Big Island got its name for a reason. At 4,028 square miles in size, the Island is twice the combined size of the other Islands in the Hawaiian chain, providing much to explore. In addition, the Island has 11 of the 13 climatic regions found on earth, so visitors can go from the rainforests above Hilo to the desert-like plains of Kau in a matter of hours.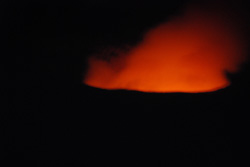 The Big Island is home to Kilauea, the world's most active volcano. A visit to Kilauea is a must, either by car or with a tour group. Many families rent a car and combine a drive to Hawaii Volcanoes National Park with a scenic trip through the rainforest areas near Hilo to visit sites such as Akaka Falls and Hawaii's Tropical Botanic Garden. If you'd like to see molten lava up close and personal, however, Hawaii Forest & Trail offers a full-day Twilight Volcano Adventure that allows guests to see eruptions at Halemaumau Crater as well as potential lava flows into the sea on the coast at Kalapana, Hawaii. Tour itineraries may vary due to volcanic activity, so check with Hawaii Forest & Trail for more information.
Families seeking an adrenaline rush should try the Big Island Eco Adventures' Zipline Canopy Tour located in the Island's oldest tropical rainforest. Set in the lush mountainous region of North Kohala, the four-hour tour includes an off-road safari ride in a Swiss Army vehicle as well as 8 ziplines, 2 bridges, 3 waterfalls and a cantilevered lanai overlooking a 32-foot waterfall. If you drive to Big Island Eco Adventures' base in Hawi, you might want to stay for awhile after your tour to explore the shops and galleries there and in nearby Kapaau.
Black, green, white and pink sand beaches can be found on the Big Island, so make sure to check out a few. Ocean Sports at the Waikoloa Beach Resort can take families on a short boat ride to a private black sand beach created by ancient lava flows - a quintessential Big Island experience. In addition, families with a car can take a short drive up the road to the beautiful white sands of Hapuna Beach, often named as one of America's Top Ten Beaches by Dr. Stephen P. Leatherman, also known as "Dr. Beach."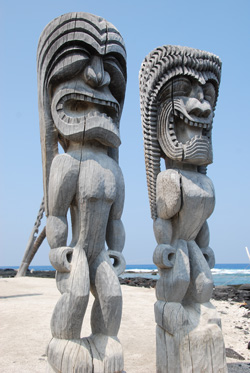 One of my favorite places on the Island is Pu'uhonau o Honaunau National Historic Park, also known as the "Place of Refuge at Honaunau." Families can easily find their own refuge here for a few hours. Built around 1550, this location was a sanctuary to provide defeated law breakers and warriors with a second chance. The Park is located directly next to Honaunau Bay, which has excellent snorkeling.
The drive down to the Place of Refuge is a trip back in time to the Hawaii of coffee plantations, browse-worthy craft shops, farmers markets, second-hand stores and casual restaurants. If you have the time, go snorkeling near the Captain Cook Monument at Kealakekua Bay, visit the Painted Church (St. Benedict's Catholic Church), and stop for a big cone of Hawaiian Shave Ice. You'll find it to be just as refreshing as the Big Island itself.
If You Go:
* For more information on the Waikoloa Beach Resort, visit www.waikoloabeachresort.com.
* For information and reservations at the Hilton Waikoloa Village, visit www.hiltonwaikoloavillage.com or call 1-800-HILTONS.
* Families who prefer to have full kitchen facilities or more room to spread out may enjoy staying at Kings' Land, the newest Hilton Grand Vacations Club property at the Waikoloa Beach Resort. Kings' Land offers 1- and 2-bedroom suites, fully-equipped kitchens, washers and dryers in each suite, high speed wireless Internet access, and much more. A children's club and large swimming pool - complete with lazy river and waterslides - is available at the property. Guests also enjoy full access to all Hilton Waikoloa Village amenities. For more information, visit www.hiltonworldwide.com.
* Car rentals are available at the airport or a Budget rental car office is conveniently located at the Hilton Waikoloa Village. For more information, visit www.budget.com.
* If shopping is high on your list, check with the hotel's concierge or the Big Island's activities calendar to see if a Kokua Kailua Village Stroll will be taking place during your stay. It's a great way to purchase works by local artists and bags of farm-grown Kona coffee. Nearly 95 vendors participated in the March Village Stroll when I was there. Other places to find beautiful souvenirs include Discovery Antiques in Kealakekua, Elements Jewelry & Fine Crafts in Kapaau, Gallery of Great Things in Waimea, and Under the Koa Tree in the Kings' Shops.
* Foodie alert: If you have a rental car and are taking a morning drive towards Hilo to visit Akaka Falls and Hawaii Volcanoes National Park, Tex's Drive-In in Honoka'a is a mandatory stop. Their malasadas, large Portuguese filled donuts, are to die for. Whats Shakin', along the same route near the 4-mile Scenic Drive, has delicious (and healthy) fresh fruit smoothies. The kids will also love sampling the local Tropical Dreams ice cream found at the Waikoloa Beach Resort and in Hawi.
ęCopyright 2010. The Beacon Group, Inc. All Rights Reserved.