Take The Family To Yosemite National Park
By Nancy Schretter, Editor
It's a little after 7 a.m. and our tiny band of hikers is marching up the road towards Mariposa Grove. A freak May snowstorm has closed the two-lane road to cars, but we don't care. We're determined to see Yosemite National Park's famous Giant Sequoias.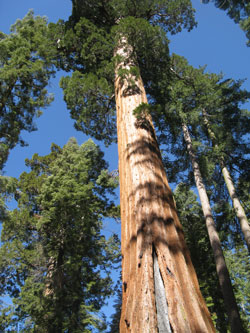 Our early morning departure pays off, and we have this natural wonder almost all to ourselves when we arrive. Standing at the base of the trees and gazing upward, we can't believe the sheer size of these leviathans. The tallest tree in the grove is about 290 feet tall (higher than the Statue of Liberty) and some of these giants are more than 3,000 years old.
As families soon find out, much of Yosemite is ancient, enormous - and breathtaking. Sprawling over 1,169 square miles, this iconic national park is about the same size as the state of Rhode Island, so there's much to explore. Half Dome, one of Yosemite's most distinctive monoliths, is 8,842 feet high and 87 million years old. Another well-known rock face, El Capitan, is the largest granite mountain in the world at 3,593 feet tall and a favorite with climbers. Hikers throng to the Glacier Point area to hike up to Sentinel Dome, where they can enjoy a 360-degree view of Yosemite Valley. Then, of course, there are the towering springtime waterfalls: Bridal Veil and Yosemite just to name a few. As we found out, however, these natural wonders are only some of the many reasons families should come to Yosemite.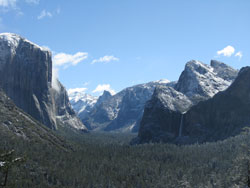 Approximately 3.9 million people visit Yosemite National Park each year. Many families plan their Yosemite vacations for the summer months, but there's something to be said for avoiding the summer crowds. Yosemite is a spectacular place for family adventures during the other three seasons of the year and rates are substantially cheaper as well. In addition, catching sight of El Capitan and Half Dome from Tunnel View is all the more stunning without the added throngs of people.
Frankly, I didn't even realize that Yosemite was open during the winter months. Silly me. The park is packed with winter options including cross-country and downhill skiing, snowboarding, tubing, ice skating, and snowshoeing tours with a Ranger. During the spring, wildflowers and waterfalls are at their best. In fact, Yosemite Valley has more waterfalls than any other similarly-sized place in the world. Moderate temperatures and brilliant colors make fall an excellent time to visit and take hikes through the area's captivating scenery.
Yosemite is a fantastic place to teach kids about the wonders of nature, conservation, and the thrill of being outdoors. There are approximately 800 miles of hiking trails and another 12 miles of paved bike paths that are perfect for families. Kids and teens love rafting on the Merced River. In addition, Yosemite has a popular Junior Ranger Program for children ages 7-13 and a Little Cubs program for kids ages 3-6. Last year, more than 27,000 kids became Yosemite Junior Rangers. Check for the schedule of family-oriented interpretive programs, including special Junior Ranger activities, in the Yosemite Guide newspaper.
Another great way for kids to experience Yosemite is through the programs offered by the Yosemite Institute. The Yosemite Institute offers residential field-science programs, summer youth programs, service learning projects and other activities. Free art classes are also available as well. Families also enjoy the daily ranger-guided strolls offered by the Park Service, where they can learn about bears, waterfalls, Yosemite Indians, and much more.
Yosemite National Park has a nice assortment of family-friendly places to stay within most price ranges. The majestic and historic Ahwahnee Hotel is Yosemite's best known property and a tourist attraction in its own right. Nestled in the trees just two miles from the south entrance to the park, Tenaya Lodge caters to families and multi-generational groups with a variety of rooms, suites and cottages. Situated on 48-acres, this Four Diamond property has much to offer families year-round, including two indoor and one outdoor pool, many children's and family activities, extensive dining options, a large spa, ice skating in the winter, and so much more. Yosemite Lodge at the Falls is a more moderately priced property offering a centralized location and casual dining. The oldest of Yosemite's accommodations, the Victorian-era Wawona Hotel is charming spot for a family stay. Curry Village offers motel rooms, cabins and tented cabins for those on a budget. Vacation home rentals are also available within the bounds of the park. Just steps from the entrance to the National Park, the Yosemite View Lodge provides some of the area's most amenity-laden accommodations along the banks of the Merced River – all at a good value.
Yosemite's National Park Service officials estimate that the majority of their visitors never leave the park, but that would be a mistake. There's so much to see and do outside of Yosemite's boundaries. Mariposa County, home to Yosemite National Park, has many attractions to lure visitors including its rich gold rush history. Families enjoy half- and full-day whitewater rafting adventures on the Merced River, watersports and fishing on the county's lakes, mountain biking, and playing golf.
In the charming town of Mariposa, vacationers can visit the Mariposa Museum and History Center to see a wide variety of historical artifacts, watch a stamp mill work, and try their hand at gold panning. The California State Mining and Mineral Museum is another good place to learn about the area's colorful history and mineral wealth. The town also offers a wide variety of shopping, dining and lodging options as well as a full calendar of year-round events. One of the best for families is the annual Butterfly Festival in early May. The three days of family fun include butterfly releases, a parade, musical entertainment, exhibits by artists and craft vendors, and "A Taste of Mariposa" with food samples from local restaurants.
If you've never been to Yosemite – or even if you have some time ago – bring the kids to experience this incredible national park. It's a mouthwatering feast for the senses that you and your family won't soon forget.
If You Go:
· For more information on Yosemite National Park, visit www.yosemitepark.com.
· To plan your visit to Yosemite and Mariposa County, visit www.homeofyosemite.com or call 1-866-HALF-DOME.
· If you're staying in Mariposa or just driving through, check out some of the great restaurants in the area. The Butterfly Café has delicious salads and sandwiches and a lovely outdoor patio for al fresco dining, Savourys is an excellent choice for dinner, and don't miss breakfast or lunch at the Sugar Pine Café.
· Research your Yosemite vacation and make lodging, dining and activity reservations in advance – particularly during the popular summer season.
· In addition to hiking and biking, families can see Yosemite by train, on horseback, or in a Model T Ford. The Yosemite Mountain Sugar Pine Railroad is a popular tour with families and the Yosemite Trails Pack Station offers trail rides, horse drawn sleigh rides, a Chuck-Wagon Jamboree, and lead horse rides for children less than 7 years of age. For a historical perspective on touring Yosemite, take the family for a drive in an original Model T or Model A Ford with Yosemite Model T-Tours.
· Weather in Yosemite changes rapidly, so dress in layers and plan for a variety of contingencies.
©Copyright 2010. The Beacon Group, Inc. All Rights Reserved.