Romance In The Virgins - On Any Budget
By Nancy Schretter, Editor
Dreamy days spent lounging on white sand beaches, delectable dinners overlooking azure blue waters, night time strolls under palm trees and starry skies ... endless time to reconnect with each other. That's what a romantic vacation is all about - without the kids. Romantic getaways don't just happen in February. Remember, any day can be Valentine's Day when you're alone together.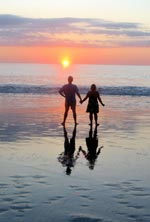 Many stressed-out parents need an adults' only tropical getaway with plenty of time to relax and focus on romance. There's no worrying about what the kids will eat or whether they will like the children's program. No chasing the kids down the beach or entertaining them in the room. No quiet stolen kisses while the kids are asleep in the next bed. This is your time for vacation ... and our readers tell us they are more than ready.
The Virgin Islands, both U.S. and British, are the perfect place to soak in the romance. Cool trade winds gently caress your skin, the palm-studded beaches are gorgeous, and the clear Caribbean waters are warm and tempting year-round. There's also something for everyone here - for those who want to do more than romantic lounging around. The Virgin Islands are home to world-class snorkeling and diving, championship golf and tennis, historical sites, tempting shops and boutiques, and so much more.
You don't have to break the bank to enjoy a Virgin Islands getaway, either. A romantic escape to the Virgin Islands is possible, whether you have hundreds or thousands to spend on lodging. Here are three options for romance that offer the best of what the Virgin Islands have to offer - on any budget.
$ Estate Concordia: Many Stars, Few Dollars
$$ Long Bay Beach Resort: Island Hopping on a Moderate Budget
$$$ Peter Island Resort & Spa: An Oasis of Luxury and Romance