Family Vacation Guides:
New York City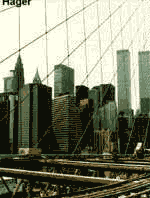 What to Do
Where to Stay
Where to Eat
Money $aving Tips

New York is unlike any other city in the world! It is a great place for a family vacation. The museums, theaters, restaurants and the holiday season are kid-friendly attractions. It is a good idea to plan your trip ahead to get the most out of it.

There are many resources available to help you plan your trip to the Big Apple. Use them, as they can save you a great deal of time and aggravation. Here are some organizations, online services (click on the blue text to see web sites), books and phone numbers to help you plan your trip:

** New York City Convention & Visitors Bureau (800) NYC-VISIT or (212) 397-8222 They have free maps, brochures and sightseeing suggestions.

** The New York Times site contains a great deal of useful information on the New York area. Be sure to take a look at it before you go.

** Travel Guides and Other Publications -- A good travel guide, such as Fodors or the Insider's Guide, is strongly recommended for this trip. Another good guide specifically for families is "New York City With Kids" by Frommer's. The book provides a great deal of information on the NYC area specifically for families. If you're in the New York City area on Fridays, pick up a copy of "Newsday". The Weekend section is particularly excellent. "New York Magazine" is a good resource.

What to Do

**American Museum of Natural History-- This is the largest museum of its kind in the world. Children will love the Barosaurus skeleton that stands five-stories high and the 94 foot blue whale hanging above the Hall of Ocean Life. The Mammals exhibit is quite impressive.

Address: Central Park West at 79th Street

Phone Number: (212) 769-5000

Admission: $8 Adults $4.50 Children

Hours: Sunday-Thursday 10:00am-5:45 pm Friday-Saturday 10:00am-8:45pm

**Children's Musuem of Manhattan-- The museum has great hands-on exhibits for children of all ages. Permanent features include the playroom for children 4 and under, the Winnie-the-Pooh playland sandbox, puppet theater for kids to perform shows and computers. Check the schedule for special daily activities.

Address: 212 West 83rd Street (between Broadway& Amsterdam Avenue)

Phone Number: (212) 721-1223

Admission: $5 Adults $5 Children children under 2 are free

Hours: Wednesday-Monday 10:00am-5:00pm

**Ellis Island Immigration Museum--Taking the ferry to the island is just the beginning of the fun. It is fascinating to see the Wall of Honor where the immigrants names inscribed, Treasures from Home is a collection of heirlooms brought to America, and the Registry Hall where interviews with immigration officials took place.

Address: Ellis Island in New York Harbor

**Statue of Liberty-- Lady Liberty is quite impressive. As the ferry gets closer to the island, you realize how big she really is! There is a lot to see and do even if you don't climb the 354 steps into her crown. See her original torch and models of her foot and ears.

Address: Liberty Island in New York Harbor

Phone Number: (212) 363-7620

Admission: Free for Island Ferry Admission $ 7Adults $3 Children children under 2 are free

Hours: 9am-5pm Daily

Phone Number: (212) 363-3200

Admission: Free for Island Ferry Admission $ 7Adults $3 Children children under 2 are free

Hours: 9am-5pm Daily

**United Nations-- The flags of all of the member countries and the building will amaze everyone. Guided tours are offered in many languages. If the General Assembly is in session, you can watch the delegates in action. You can wear headphones to hear the translations of the speeches.

Address: First Avenue and 46th Street

Phone Number: (212) 963-7713

Admission: $ 6.50Adults $3.50 Children grades 1-8 Children under 5 not permitted on tours

Hours: 9:15am-4:45pm Daily

**South Street Seaport Museum-- There are 3 different museums that are in 19th century buildings. The Children's Museum has hands-on exhibits, the Boat Building Shop , Printing Shop and the Historic Ships are interesting to visit. The Pier 17 shopping mall is filled with trendy shops and a food court. The view of the East River and Brooklyn from the pier is great and there are usually entertainers walking around too.

Address: 12 Fulton Street

Phone Number: (212) 769-9424

Admission: $ 6 Adults $3 Children grades

Hours: 10:00am-5:00pm Daily

**Sony Wonder Technology Lab--This interactive, multimedia playground lets visitors experiment with high-tech toys. You will be an ID card that is magnetically encoded with your name and picture that are inserted into each of the activities. A personalized certificate is printed out with all of the activities that you did during your visit. Address: 550 Madison Avenue (Entrance on 56th Street)

Phone Number: (212) 883-8100

Admission: Free

Hours: Tuesday-Saturday 10:00am-6:00 pm Thursday until 9:00 pm and Sunday 12:00-6:00pm

**Metropolitan Museum of Art--Kids will be interested in seeing some of the unique exhibits including the Costume Institute, arms and armor, musical instruments, and Egyptian rooms. The museum shop has lots of stuff for kids.

Address: 1000 Fifth Avenue (at 82nd Street)

Phone Number: (212) 535-7710

Admission: Suggested Donation $7 Adults $3.50 Students and Children under 11 are free

Hours: Tuesday, Thursday and Sunday 9:30am-5:15pm Friday and Saturday 9:30am-8:45pm

**Central Park Wildlife Conservation Center-- This is a small zoo but has a Sea Lion pool, Polar Bear circle, Monkey Island, and the Tropical Zone. It is always a treat to watch the sea lion and penguin feedings.

Welcome to Central Park click on the blue text to go the the park's homepage. Address: Fifth Avenue and 64th Street

Phone Number: (212) 861-6030

Admission: $2.50 Adults Children ages 3-12 $.50 and under 2 are free

Hours: Monday-Friday 10:00am-5:00pm, Saturday and Sunday 10:00am-5:30pm

**Bronx Zoo-- The zoo is home to more than 4,000 animals including Siberian tigers, condors, vultures and meerkats. They also have the House of Darkness, World of Reptiles, Mouse House, Monkey House and Giraffe House. There are other ways to get around the zoo besides walking it's 265 acres. The trams, cable cars and monorail help out tired feet!

Wildlife Conservation Society click on the blue text to check out their homepage.

Address: Bronx River Parkway and Fordham Road

Phone Number: (718) 367-1010

Admission: $6.75 Adults Children ages 2-12 $ 3 and under 2 are free

Hours: Monday-Friday 10:00am-5:00pm, Saturday and Sunday 10:00am-5:30pm

**Museum of Television and Radio--This is the place for television lovers of all ages! You can see historic news clips, old sitcoms, vintage commericials and episodes of new favorite shows too. From the computer library you search the museums database for the programs that you are interested in viewing. Then you sit in front of consoles with headphones to enjoy your selections. It brings out the couch potatoes in everyone!

Address: 25 West 52nd Street (between Fifth & Sixth Avenues)

Phone Number: (212) 621-6600

Admission: $6 Adults Children ages 12 and under $ 3

Hours: Tuesday-Wednesday and Friday-Sunday 12:30pm-6:00 pm THursday 12:30pm-8:00pm

**FAO Schwarz-- It is more than a toy store and a must see for families! You are welcomed in by the song "Welcome to Our World". There are giant stuffed animals, LEGO department, Barbie Boutique, imported toys and FAO originals. It is a lot of fun even if you are just browsing.

Address: 767 Fifth Avenue (at 58th Street)

Phone Number: (212) 644-9400

Admission: Free

Hours: Monday-Wednesday 10am-6pm Thursday & Friday 10am-7pm Saturday 10am-6pm and Sunday 11am-6pm

**Empire State Building--This building has been made famous in the movies including "King Kong", "Sleepless in Seattle" and the classic "An Affair to Remember". The enclosed observation deck is on the 86th floor and the outdoor promenade is on the 102nd floor, 1,250 feet above the city. The gift shops sell all kinds of NY souveniers.

The SkyRide is a 7 minute roller-coaster simulation ride. It takes you crashing around New York landmarks.

Address: Fifth Avenue and 34th Street

Phone Number: (212) 736-3100

Admission: $4.50 Adults Children ages 10 and under $2.25

Hours: 9:30am-midnight Daily

**NBC Studio Tour-- Go on a behind the scenes tour of working television studios including 8H home of Saturday Night Live. You can do the weather in a mini-studio and see yourself on TV. See the latest technology of how shows are broadcast around the world too. The gift shop sells things from your favorite NBC programs.

Between 7 to 9am you can stand in front of the big glass windows to watch the Today show being broadcast live.

Address: 30 Rockefeller Plaza (50th Street between Fifth & Sixth Avenues)

Phone Number: (212) 664-7174

Admission: $10 per person Children under 6 are not permitted Hours: Tours run every 15 minutes Monday-Friday 9:30-4:30 Saturday 9:30-7:00 and Sunday 9:30-4:45

Where to Stay

To give you some idea of New York hotel prices, you'll find dollar signs after each entry. These are meant to give you general ranges for comparison purposes, only. When you call, make sure to ask about weekend specials and any available family package rates. $ = less than $150; $$ = $150 to $250, $$$ = $250-$325 and $$$$ over $300.

All rates do not include the 13.25% New York City and State tax. There is also an occupancy tax of $2 per room per night.

Here are some recommended places to stay with children in New York, in no particular order.

DOUBLETREE GUEST SUITES
1562 Broadway (47th Street and Seventh Avenue) (800) 222-TREE or (212) 719-1600 This property provides standard two-room suites that sleep four or six, kitchenettes, child-proofed rooms, and a playroom for toddlers. Children activities are also available. $$

LOWES NEW YORK
569 Lexington Avenue (51st Street) (212) 752-1000 This hotel is very family-friendly! They offer child-proofing kits, high chairs, board games, Nintendo and kids menu in the restaurant and room service. The concierge has a list of the best places for families to see and do in the city. $$

LE PARKER MERIDIEN
118 E. 57th Street (between Sixth & Seventh Avenues) (212) 245-5000 This property offers full kitchenettes, CD Players and VCR's. Kids get a fanny pack filled with crayons and other fun activities. The location is in the heart of all of the great restaurants and shops on 57th Street. $$$

TRAVEL INN
515 West 42nd Street (between Tenth & Eleventh Avenues) (212) 695-7171 This is a clean and CHEAP place to stay in the city. It has a great pool and offers free parking. They book up quickly, so plan ahead. $

CROWNE PLAZA MANHATTAN
1605 Broadway (between 48th and 49th Streets) (800) 2-CROWNE or (212) 977-4000 The guest floors start on the 16th floor and most rooms have amazing views of the skyline or the river. There are a lot of layout options including double rooms, one or two bedrooms connecting or Murphy beds are available on a limited basis. The health club has a 50 foot lap pool and lanes can be reserved. $

WASHINGTON SQUARE HOTEL
101-105 Waverly Place (between Sixth Avenue & MacDougal Street) (800) 222-0418 or (212) 777-9515 The hotel is located at the corner of Washington Square Park in Greenwich Village. Most rooms have great views of the park. There are many trendy shops and restaurants that teens will love. The hotel is small, so make reservations far in advance.

U.N. PLAZA PARK HYATT
One United Nations Plaza (44th Street & First Avenue) (800) 233-1234 or (212) 758-1234 This hotel is located across the street from the United Nations. The rooms have great views of the East River or the famous NY skyline. Some even have floor-to-ceiling windows for panoramic views. The pool is a family favorite and usually isn't too crowded. $$$$

BEEKMAN TOWER
3 Mitchell Place (First Avenue at 49th Street) (800) ME-SUITE or (212) 689-5200 This all suite hotel gives you the comforts of a small apartment with hotel services, a great view of the River and located in a residential neighborhood. The Top of the Tower restaurant is well known for it's views of the East River and skyline. $

THE MAYFLOWER
15 Central Park West (at 61st Street) (800)223-4164 or (212) 265-0060 This hotel is across the street from Central Park and is close to Lincoln Center. They offer family-friendly connecting rooms and suites. Summer packages are available and this is a great place to watch the Macy's Thanksgiving Day parade. $

HOTEL WALES
1295 Madison Avenue (at 92nd Street) (212) 876-6000

This hotel is located a block away from Museum Mile and Central Park. Kids will enjoy the "Puss-in-Boots" decor in the rooms with posters and bath items. Each room has a VCR with a library of kid-videos at the front desk. $

THE PLAZA
765 Fifth Avenue (between 58th and 59th Streets) (800) 759-3000 or (212) 759-3000 This hotel is a National Historic Landmark and across the street from Central Park and FAO Schwarz. It is kid-friendly, as seen in Home Alone 2. This is a truly special place to stay in NY. Park views are more expensive, but worth every penny! $$$$

NEW YORK MARRIOTT FINANCIAL CENTER
85 West Street (at Albany Street) (800) 228-9290 or (212) 385-4900 This hotel has great skyline and New York Harbor views. They offer double rooms and suites which are very comfortable for families. They are located across the street from Battery Park City and near the Statue of Liberty ferry. The pool is a great place to splash around to relax. Weekend packages are often available. $$$

BEST WESTERN SEAPORT INN
33 Peck Slip (between Front & Water Streets) (800) HOTEL-NY or (212) 766-6600

This hotel is in a 19th Century red-brick building. It is located a few blocks from the South Street Seaport and Fulton Fish Market. Each room has a VCR and there is a video rental machine in the lobby. There are rooms with views of the East River and Seaport. This is not a fancy hotel, but it is clean and family friendly. $

Where to Eat

Tavern on the Green
Central Park at West 67th Street (212) 873-3200

This is a glamorous restaurant with a breathtaking view of Central Park. They even have an extensive children's menu. The jazz shows in the Chestnut Room are enjoyable too. Both lunch and dinner are served daily and brunch is served on the weekend.

American Festival Cafe
20 West 50th Street (212) 332-7620

This restaurant has a great view of Rockefeller Center. It is located on the lower level, next to the ice-skating rink in the winter and patio in the summer. Kids will enjoy the ride down in the glass elevator. They offer kid-friendly food and have classic American fare for parents.

Carnegie Deli
854 Seventh Avenue (between 54th & 55th Streets) (212) 757-2245

This is a classic delicatessen serving delicious corned beef and pastrami sandwiches. There is a bowl of crunchy pickles on every table. The menu is huge and so are the portions. This is just like the good old days in New York from the 1950's era.

Ellen's Stardust Diner
1650 Broadway (at 51st Street) (212) 956-5151

This restaurant will make you think that you traveled back in time to the 1950's! The decor is chrome, turquoise vinyl, old movie posters and black and white televisions showing the Ed Sullivan Show. The menu has typical diner food, but everything has cool names from old television show characters. This is a fun experience!

Fashion Cafe
51 Rockefeller Plaza (between 5th & 6th Avenues) (212) 765-3131

This restaurant is owned by "supermodels" and the theme is fashion. The decor consists of clothing worn on the runways, videos of model shoots and a store selling merchandise. The menu offers the model's favorite foods including shrimp, steak and fish'n'chips.

Hard Rock Cafe
221 West 57th Street (between Broadway & Seventh Avenue) (212) 489-6565

This is the classic rock'n'roll themed restaurant. There is loud music with a good menu. Elvis' rhinestone jumpsuit, John Lennon's glasses and of course the Cadillac out front is all part of their decor.

Harley-Davidson Cafe
1370 Sixth Avenue (at 56th Street) (212) 245-6000

The Harley motorcycle spinning above the entrance welcomes you into the restaurant. There are many autographed items from celebrities all around. The menu consists of roadhouse fare such as chili and sloppy Joes.

Jekyll & Hyde Club
1409 Sixth Avenue (near 57th Street) (212) 541-9505

This restaurant's theme is Halloween 365 days a year. This is a thrilling experience especially when the ceiling crashes in and the creepy artwork seems to be starring at you. The servers put on a ghoulish show and tell jokes. They have a standard Ameican menu.

Motown Cafe
104 West 57th Street (between 5th & 6th Avenues) (212) 581-8030

This restaurant pays tribute to Motown Records and the 960's. There are vidoes running of the stars and live performances by new artists playing the oldies. The 30 foot 45 rpm record that hangs from the ceiling will wow the whole family. The menu features Southern American classics such as fried chicken and ribs.

Official All Star Cafe
This restaurant is owned by Joe Montana, Ken Griffey Jr., Wayne Gretsky, Andre Agassi, Monica Seles and Shaquille O'Neal.

There are huge screens showing the athletes in action. Smaller screens show live sporing events and there is cool memorabilia everywhere. The menu has 51 kinds of burgers and 5 kinds of hot dogs from different ball parks. Great fun for sports fans!! Planet Hollywood
140 West 57th Street (between 6th & 7th Avenues) (212) 333-7827

This restaurant's theme is blockbuster movies, especially ones that starred the owners (Arnold Schwarzenegger, Sylvester Stallone and Bruce Willis). The placemats feature movie trivia questions and there are non-alcoholic drinks with cute names of movie characters. The menu is basically burgers and California fare. Kids might be frightened by some of the movie memoribilia.

Serendipity
225 East 60th Street (between 2nd & 3rd Avenues) (212) 838-3531

This is a great place for outrageous desserts! They have been in business for over 30 years and have a huge following. Their regular menu features 12-inch hot dogs and burgers. Beware of the crowds!

Carmine's
200 West 44th Street (between Broadway & 8th Avenue) (212) 221-3800

This Italian restaurant is located in the Theater District. The food is served family-style, which is a big plus. It's really tasty too! The atmosphere is casual and the service is quick.

Money $aving Tips

** Call one of the hotel consolidators and see if they can offer you a great rate on the New York hotel of your choice. Consolidators handling New York City bookings include:

Central Reservations (800) 356-1123 They handle 25 hotels including The Plaza, Raddison Empire, Crowne Plaza, Le Parker Meridien and the Sheraton chain. Discounts range from 25%-30%.

Central Reservation Service (800) 873-4683 This nationwide service works with chain hotels and can offer discounts between 10%-40%.

Hotel Reservations Network (800) 96-HOTEL New York Area Hotels Discounts on hotels of up tpo 65% off of the published rates.

** Consider purchasing the Entertainment book for the Manhattan. It is packed with 2-for-1 coupons on dining. Entertainment books are available from Entertainment Publications (800-374-4464).

**When at all possible, take buses or the subway to your desired destination. Manhattan Subway Map Parking in New York City is very expensive, and you will save a great deal of money by using public transportation. Hailing taxi cabs are another option.

** www.b-apple.comis a site that offers cost effective alternatives to expensive hotels, 5 day forecast and links to other NY home pages.